Many men ditch the blade because they can't deal with the itchy red, sore skin that results. And having to shave day after day can be a unpleasant experience. That's why men decide to try an electric cordless shaver.
While an electric shaver can minimize discomfort, if you have sensitive skin you may also suffer some discomfort, even from an electric. When you want to find the best shaver for sensitive skin, you want one that provides a clean, smooth shave, while being pain-free too.
So which one is the best electric shaver for sensitive skin?
Panasonic ES-LA63-S Arc4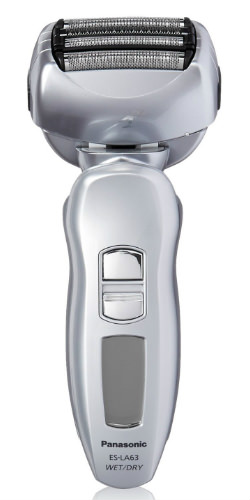 The Panasonic ES-LA63-S Arc4 is a high-performance electric shaver. It has a powerful 14,000 RPM linear motor, and a four blade cutting system with nano blades. If you want to keep your costs low, this option does not have the additional cleaning and charging station. While this shaver may run at a higher cost than others, the resulting clean, smooth, and comfortable shave is worth the additional cost.
Panasonic ES-LA93-K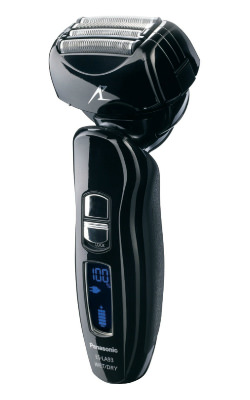 If you wish to get the additional cleaning and charging station, the model with the Panasonic ES-LA93-K is the one to get. It's basically the same model as the LA63, but you're getting the cleaning and charging system too. This unit will keep your shaver in tip-top running order, and the lubricating cartridges will keep the motor running smoothly.
Braun 7 Series 790CC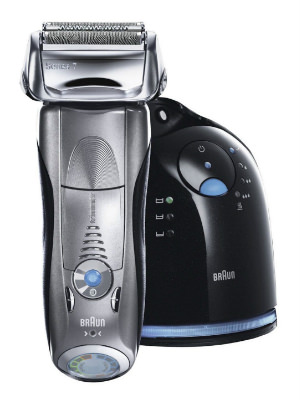 The Braun 7 Series 790CC comes with both a cordless electric shaver, and a cleaning and charging unit. This model is one of the top-rated shavers on the market today, backed by Braun's good name. This shaver is built with a powerful motor that makes short work of the morning shave. The foil head is built with a three blade cutting system. Each of these blades oscillates under the foil. The foil built into this Braun shaver is designed to provide a comfortable shave, when moved against the skin.
This shaver is built with micropulsations and a special middle trimmer, to capture all hairs in one pass. It's effective to shave long, coarse, or stray hairs off, without any discomfort. It will even tackle hair that grows in multiple directions.
This shaver's price is around the Panasonic ES-LA63-S, but you do get the cleaning and charging unit as well, which always drives the price of shavers up.
Read our deep review of Braun 790CC
Braun Series 3 380s-4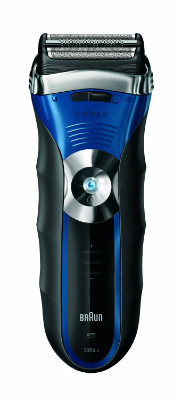 If you're searching for a budget shaver, without the cleaning and charging unit to drive up the costs, the Braun Series 3 380s-4 shaver may be perfect for you. This shaver will still provide a clean and smooth shave, and be comfortable while doing it. It's perfect for sensitive skin, and won't leave any lingering redness after shaving.
While some men may claim it's not as good as the Braun Series 7, it depends on how much money you want to spend. If you don't mind spending a slightly longer time shaving in the morning, it should work out fine for you.
Read our deep review of Braun 380s-4
Philips Norelco 1250X SensoTouch 3D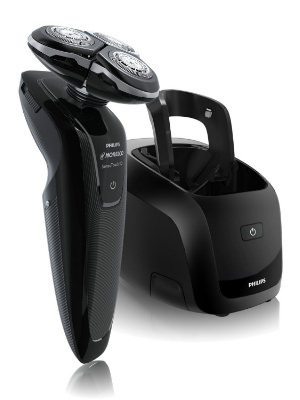 The Philips Norelco 1250X SensoTouch 3D is the only shaver on the list that is rotary-style. Some men claim they get a better shave with a rotary shaver, particularly around the jawline, but that the rotary may not provide as much comfort as the foil.
Read our deep review of Philips Norelco 1250X
One shaver may work perfectly for one man, while not for another. It depends on how coarse or fine your hair is, whether you have lots of flat lying hairs or not, and even how quickly it grows back. Basically, the right shaver brand for you, is the one that works best for you. It may take a bit of research to get to the point where you feel comfortable placing an order for a new shaver for sensitive skin.
Compare Electric Shavers for Sensitive Skin
| | | | | | |
| --- | --- | --- | --- | --- | --- |
| | Panasonic ES-LA63-S Arc4 Men's Electric Razor | Panasonic ES-LA93-K | | Braun Series 3 380S-4 | Philips Norelco 1250X/42 |
| Score | 4.4 | 4.4 | 0.0 | 4.2 | 4.1 |
| Battery | 45m | 45m | m | 45m | 60m |
| Display | | | | LED | LED |
| Blade Type | Foil | Foil | | Foil | Rotary |
| Wet and Dry | | | | | |
| Trimmer | | | | | |
| Cleaning Unit | | | | | |
| | Read the full review | Read the full review | Read the full review | Read the full review | Read the full review |
There are two main types of men's electric shavers for sensitive skin: rotary and foil. A foil style has one shaving head that is usually fixed in place. Some shavers do have flex heads, so they do move backwards and forwards to some degree. A rotary head has three roundish heads all built into one. Each of these heads rotates in a circular motion. Rotary style often costs more than a foil one but you may be able to find a great deal online. Some men swear by rotary type shavers, while others prefer the foil type.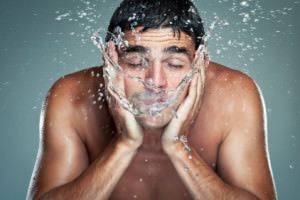 When you're hunting for the best electric shaver for sensitive skin, there are certain characteristics that you'll be seeking. Sharp blades is particularly important. Some brands of shavers promise blades that stay forever sharp, rather than becoming dull over time. A dull blade will tug, pull, and rip your hair, and not do its function. It will take longer to shave, which defeats the purpose of trying to prevent razor burn. Panasonic brand has blades that are at a 30 degree angle, promising effective trimming.
Another thing to look for is a fast motor. You'll find electric shavers that have motors at 8000 rpm up to 14,000 rpm. The price escalates accordingly, but the faster motor promises a more effective shave, and one that you do not actually feel.
Many brands of shavers promise a cool effect from the shaving head, to minimize discomfort. Normally a shaver can run hot due to the friction of the head against the skin, and the motor heating up.
Different men have different types of hair. You may wish to find a shaver that can trim different lengths of hair, with different growth patterns.
Shaving wet, versus dry, will allow you to get the maximum close shave possible, so you may wish to find the best electric shaver for sensitive skin that can do both. You can purchase additional helpers for a smooth shave, such as shaving gels, shaving foams, and shaving creams. Even a good bar of moisturizing soap, such as aloe vera or coconut, will help provide a better shave than just dry.