If you're seeking an affordable shaver but only feel confident buying one of the world's trusted men's shaver brands, you can't go wrong with the Philips Norelco Shaver 3800, S3311/85 that is under $80. This shaver includes a protective cap and travel case, but no other external attachments that would raise the costs.
Triple Rotary Heads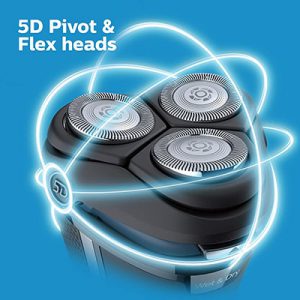 Most men prefer a foil head shaver or a rotary head shaver. The Philips Norelco Shaver 3800, S3311/85 has three rotary heads with tiny blades to help capture all hairs on a face. The rotary heads have a 5D pivot and flex feature so they move in different directions as you glide the shaver over your face. The shaver will follow your face's contours and almost shave itself. Within the rotary heads are ComfortCut blades.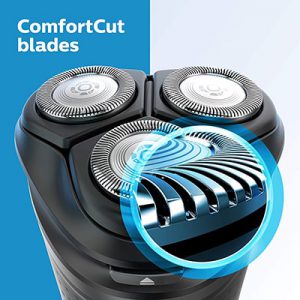 These blades have been carefully designed to glide smoothly over your skin, snipping off the hairs at contact, but to never nick or cut your skin. If you look closely at the shaver, you can see how there are rounded blade caps that cover the internal mechanism. Each has 27 blades that also self-sharpen. This helps your men's shaver to last longer, without having to buy a new replacement head.
Shave Wet or Dry
This shaver is cordless and 100% showerproof. That means you can shave under running tap water, or bring it into the shower or bath with you. You can add your favourite shaving products such as gel, foam, soap, or cream, or shave with water. And if you prefer to have a dry shave that day, you'll also get a nice smooth shave too.
Pop-Up Hair Trimmer
It can be tricky trying to detach a shaver head and then attach the trimmer attachment. There is no need to worry about that with the Philips Norelco Shaver 3800, S3311/85. The trimmer is actually stored within the shaver body. All you have to do is press up and it will pop up. There is nothing else to do but shave. When you're done, simply press it back down again.

Li-Ion Rechargeable Battery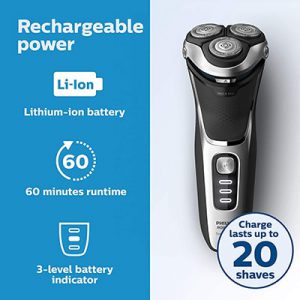 The Philips Norelco Shaver 3800, S3311/85 includes a quality Li-Ion rechargeable battery so you can use it wet or dry, without having to worry about a power cord. One full charge will give you 60 minutes of runtime. And don't worry about when to charge it up. The front of this men's shaver has an LED indicator. There is a silver power button above. Below that are three ovals. When one is lit up, it will tell you how much power is left. Top level means you have plenty of power. The middle level means power is good.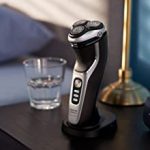 The bottom level means that you have some power left, but should plug it into the wall after you finish your shave.
If you're seeking a rotary-style head that's affordable but good, the Philips Norelco Shaver 2300 S1211/81 will be perfect for your morning routine.