Panasonic is the trusted brand of the Panasonic Corporation, located in Japan. They manufacture electronics, home and personal care products, including their popular line of electric cordless shavers for men and women. Besides shavers, they have a popular line of plasma and LCD TVs, DVD and Blu-ray players, telephones, answering machines, camcorders and digital cameras, microwaves, vacuum cleaners, laptops, and more. They are the largest personal electronics corporation in Japan today.
Panasonic shaving has evolved
About Panasonic Electric Shavers
Panasonic shavers are noted for being high-powered and completely waterproof, for wet or dry usage. Panasonic also has a line of shavers for only dry usage. Panasonic's linear drive system vibrates at a constant 13,000 oscillations per minute. This holds steady so the motor doesn't falter, even when the charge is wearing down. There are shavers with more oscillations per minute as well.
As you move up into a higher price bracket, these shavers will have more advanced cutting heads and features.
Most Panasonic shavers can be broken down into blade styles. There are double blades, 3-blades, 4-blades, and 5-blades.
The double blades are an affordable entry level to Panasonic shavers. They may not be as fast as the others, but it still has some impressive features. They still work well wet or dry.
Read 3-blade system reviews on Amazon
Read 4-blade system reviews on Amazon
Read 5-blade system reviews on Amazon
Award Winning Panasonic Arc5
Panasonic has progressed from the bicycle light to the award winning Arc5  ES-LV95-S men's electric shaver. For three year's straight, Panasonic has won the Men's Health Grooming Award. For men who are seeking the ultimate shaving experience, this electric shaver offers the ultimate shaving experience. It's top of the line, with a top of the line price. Occasionally it goes on sale though.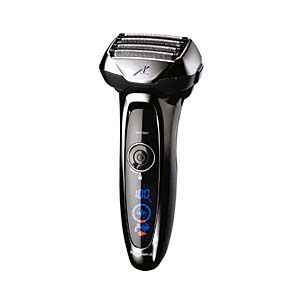 The Arc5 is one of the more special Panasonic cordless shavers. Panasonic is known for their innovation, and there is some advanced technology built inside these shavers. This technology allows the user to have a faster shave, particularly when they're busy in the morning.
A built in sensor allows it to accurately gauge the thickness of growth to adjust the speed accordingly. Multi-arc foils allow the cordless shaver to glide smoothly over the skin, capturing all hairs on face, skin, chin, and jaw. These foils have built-in flexibility that allows it to grab all types of hairs, long or short, thick or thin, and hairs laying flat against the skin. Flat lying hairs are usually the most problematic for more types of shavers, but the Arc5 can effectively lift them up and snip them in one pass.
The foils on this shaver move around in a circular motion. An additional benefit of this premium shaver is that it will never pull or tug on hairs likely cheaper brands. The cutting blades get close to the surface of your skin, but don't irritate, or leave any lingering redness.
The Arc5 comes in a sleek design with black and dark grey finish. There are some slight grooves in the case, so you can grip it securely, even when you're in the shower. The shaver can be used dry, in the sink with water, or wet in the shower, depending on your preferences.
The Arc 5 motor vibrates at 14,000 CPM (Cycles Per Second). This is a linear motor and the multi flex pivoting head will move with the curves of your face.
The Arc5 comes with Panasonic's patented cleaning, conditioning, and charging station. Detergent packs are inserted to help with the cleaning mode.
On the body of the shaver is an illuminated display indicating battery charge level with ten stages of charge. It will also warn you when you need to recharge your shaver. It takes one hour to charge up this shaver, then it will have a running time of forty-five minutes.
The Arc5 also includes the pop-up trimmer will is standard on other Panasonic models of shavers. This is handy for trimming beard, sideburns, and mustache.
The best shaving experience is at hand, but you're going to have to pay extra for that privilege.
History of Panasonic
Panasonic was first introduced by Konosuke Matsushita in 1955. They sold to worldwide markets as Matsushita Electric.  In Japan they had the National brand, but this was registered specifically to Japan, and they needed a brand name so they could market their products worldwide. They decided to select the name Panasonic for its home market of goods. Pan means all, and sonic means pertaining to sound. Panasonic chose to sell its first line in audio equipment to the worldwide market. It also made the first automated bread machine.
Konosuki Matsushita was the found of Panasonic. He was an industrialist and considered the "god of management". He was born in 1894, and died in 1989. In 1918, he launched the Matsushita Housewares Manufacturing Works from a two story house. He had his workshop on the ground floor.
In 1923 Matsushita had challenges with marketing his bicycle lamps that could hold a charge for up to 40 hours. Wholesalers didn't believe him, so gave him a negative. Instead, he sent his lamps directly to bicycle shops, where they ordered them in droves, once they saw that they did in fact do as they promised. Soon he had the wholesalers on board as well, and was manufacturing duplex lamp sockets as one of his first products under the brand name National.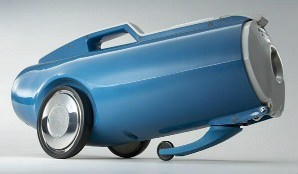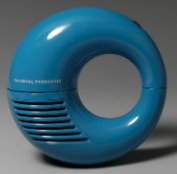 Like many other electronics manufacturers during WWII, his factory thrived during that time. He made light fixtures, electrical components, electric irons, wireless equipment, and vacuum tubes.
After the war the company named themselves Keiretsu, and supplied radio, appliances, and bicycles to the consumer market.
Throughout his career, he wrote several books, which remain popular with management in corporations today. His wife was Mumeno, and he had one daughter, Sachiko. Her husband was president of Panasonic for a few years.
In January 2008, the company announced they were changing their name to Panasonic Corporation. The name Matsushita Electrical Industrial had lasted from 1935 to 2008. This was approved at their annual stockholder meeting in June, and the name formally registered by October.
In Japan, they eventually phased out their National name for home appliances, and starting using the Panasonic name in March 2010.
Panasonic set up the Konosuke Matsushita Museum to showcase numerous milestones of this brand. The museum is located in Kadoma City, Osaka. Here you can learn about the Panasonic brand, and see some of their old products on display. You can learn about the history of the brand, and some of their notable stories.
Panasonic also has the Matsushita Memorial Library. It was built in May 1994 to commemorate the 100th birthday of Konosuke Matsushita, who was the founder of the Panasonic brand.
This library is open to the public, and anyone can visit and read about Matsushita's thoughts into his way of innovative thinking, and his philosophy on management and life. The museum has compiled photographs, visual materials, audio recordings, and books that he wrote.
For the Japan World Exhibition in 1968, Panasonic was part of the creation of a time capsule. This capsule contains over 2000 objects, and possibly there are a few electric shavers in there.
Panasonic has expanded into entertainment and other types of businesses. Panasonic used to own Universal Studios from 1990 to 1995. In 2002, Panasonic Canada has its 35th anniversary and Panasonic donated $5 million to build a music city on the waterfront. Panasonic acquired Sanyo in 2008. They made a deal with Myspace in 2012 to develop Myspace TV, an interface where you can watch TV and chat with your friends at the same time, as if they're in the same room watching the same show with you. That year they also acquired a portion of Firepro, a home security monitoring system. They have also expanded into home renovation services.
Panasonic has shifted its focus from TVs, closing plants in China and Amagasaski, to focus on its other ventures.
They built a factory in Binh Duong, Vietnam in 2014. That year, they also invested in the Tesla Motors' battery factory for tens of billions of yen. Tesla is developing a line of electric vehicles, and hopes to build a large factory in the USA by 2020. Potential sites listed include California, Arizona, Nevada, Texas, and New Mexico. This plant will reduce Tesla's battery costs by 30%. The plant will cost $5 billion and employ over 6500 people.
Their slogan currently is "A better life, a better world". Their Japan headquarters are located Kadoma, Osaka. Panasonic has grown to be one of the largest electronics manufacturers, alongside Sony, Hitachi, Toshiba, and Canon. They stay focused on ever changing and expanding, and don't hesitate to purge products that aren't producing a profit.
Panasonic employs over 330,000 employees worldwide, and is one of the world's well-recognized brands. They're open to partnerships with other brands, and their openness in the marketplace has caused them to be one of the world's top performers in the world. Like many other electronics firms that began in the early 20th century, they've managed to thrive and grow. Panasonic is listed on the Tokyo and Nagoya Stock Exchange Markets. In 2014, Panasonic was the world's fourth largest producer of TVs.
National Electric Shaver History
Panasonic's founder led the way with his innovative bicycle lights, then a long line of electronics and personal care products.
Panasonic electric shavers began their history as the National brand in Japan. National was the brand name in Japan, while Panasonic was the brand name used for their electric shavers in the rest of the world. In 2008, all brands of electric shavers were renamed under the Panasonic name, and the National name was no longer used.
Matsushita began making shavers in 1953, originally in cooperation with the Philips company. Eventually, they started heading out on their own in the shaver market.
In 1962, Matsushita hired the International Industrial Design Company to do its design, even though the company has an in-house designer. The owner believed that new ideas from young people was a benefit. Matsushita became IDC's largest client.
One notable collaborative project between Philips and Matshushita was the Philishave Rotary ES-77 in white, made in 1965. These two firms worked together to produce electric shavers through the early 1970s.
Other notable shavers include the Micky Pal, a compact foil and slotted head black shaver with five sides, made in the 60s. Under the National name, they made over 200 shaver models.