If you're a man who wants to only purchase the best, and look good at the same time, the Philips s9000 Prestige SP9820/87 Shaver for men may be the best purchase for you. This shaver has a unique design that makes you look twice. And if it makes you look twice, you can also be confident that Philips also makes excellent men's shavers that work to give you the cleanest and most comfortable shave possible.
Prestigious Men's Shaver Styling

The Philips s9000 is one of Philips' top-of-the-line shavers with their most advanced shaving system.
This shaver has an elongated shaver body made from shiny chrome metal and a black LED screen display for battery power. This display is numeric and starts at 100 after a full charge, and will go down in 5% increments (95% etc.) as the power is used up. A large press button is around the centre of the shaver.
This shaver has three rotating heads at the top to ensure that you get a good shave on your face, including surrounding areas.
Unique NanoTech Blade System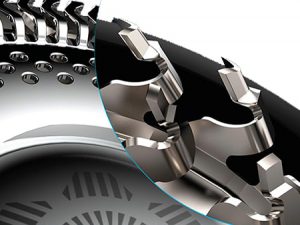 The Philips s9000 Prestige utilizes the NanoTech blade system for the best shave possible. Each of these blades is created with thousands of nano particles to make them extra strong and extra sharp, yet safe. Besides these sharp blades, there is the built-in Beard Adapt sensor. This sensor helps the blades to automatically adjust to the density of your facial hair. Some men don't shave every day, but they don't want to fuss around with a shaver. The Beard Adapt sensor is also perfect for your lifestyle. It will check your facial hair density about 15 times a second, then it will automatically adapt to your face's current needs.
The benefit of this sensor is that you don't have to manually adjust the settings yourself to have the best shave.
But with the Philips Norelco SP9820/87 Shaver 9000 Prestige, you won't have to do that anymore.
Philips s9000 Prestige SP9820/87
Buy Now!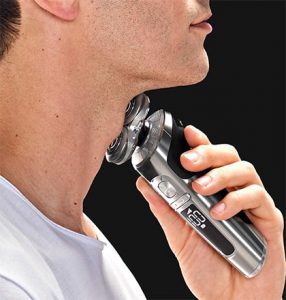 Built within the shaver head along the edge of the rings are skin comfort rings. Shaving with an electric shaver is more comfortable than using a manual razor, but some men have sensitive skin. These skin comfort rings help the shaver to glide more smoothly over the skin so that you won't have a rash when you are done.
The three contouring heads at the top of this shaver move in eight different directions when the power is on. This not only helps to give you a clean smooth shave, but also provides it in less time than the average shaver.
Click On Precision Trimmer
You can easily remove the three rotating heads and snap on the click-on precision trimmer (also included in the kit). This trimmer is perfect for doing touch-ups around your beard, sideburns, and moustache.
Shave Wet or Dry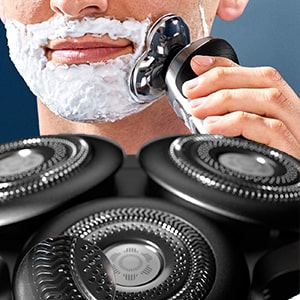 Since the Philips Norelco SP9820/87 Shaver 9000 Prestige is cordless and has a waterproof barrier, this means that it can be used wet or dry. It's showerproof, so if you enjoy shaving in the shower or bath, or with a running tap, you can use it there. You can add shaving creams, foams, and gels. Or, if you want to have a dry shave, it will still give you a clean smooth shave. You can alternate as much as you'd like and it will still work perfectly.
Because this shaver can be used wet or dry, it's also easy to clean.
Simply rinse under a warm running faucet, then turn it on to shake out any water. Turn off, pat dry with a clean cloth, and you're ready to go for the next day. If you want to do a deep clean, open up the shaving head to remove the top section, then rinse both parts out. You should let it sit for a couple of hours to let it fully dry before you place it into its sturdy carrying case. You can fit any additional accessories, and the charging cord will fit into the case too. There is no need for an additional cleaning station when it's so simple to clean and maintain the Philips Norelco SP9820/87 Shaver 9000 Prestige.
Rechargeable Battery
There is a Li-Ion (lithium-ion battery) built into this shaver. One full charge will give you 60 minutes of shaving time. Even though this shaver is cordless, it will still work as well as a corded shaver. If this is your first time using a cordless, you'll quickly see the benefits, including being able to shave around water.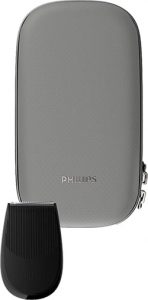 The LED display indicator is essential but highly noticeable, as the shaver will not work if it's plugged in for recharging. You can also use a standard power cord if you misplace your Philips charging cord.
Shaving Kit
Besides the Philips s9000 Prestige you get in the package, you also get a shaving attachment and a grey zippered pouch to store your shaver. This is perfect for travelling so it doesn't get damaged in transit, allowing you to protect your large investment.
Replacement Head & Product Specs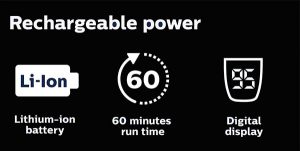 Even the best blades get dull over time. But instead of tossing the entire shaver in the trash (the local recycling depot is better), buy a replacement head. This Philips Norelco SP9820/87 Shaver 9000 Prestige for men takes the SH98/72 shaver replacement head. Even better, buy an extra or two during your purchase. It will save you time!
This shaver comes in a box that measures 10.04 x 6.3 x 4.17 inches and weighs 1.54 pounds.
Philips promises that this is the best electric shaver, complete with design and shaving innovation that really works, even if you have a seven-day-old beard. If you need a new shaver that's designed to give you a clean close and comfortable shave, then your next purchase should be the Philips s9000 SP9820/87 men's shaver.