The Wahl LifeProof men's shaver will match your tool kit with its bright yellow and black appearance. The shaver has large bumps along both sides, enabling you to more easily hold it, even in the shower. This is a shaver that can be used both wet and dry. The shaver is foil-style, rather than rotary style. It has three rows of silver metallic foils. This shaver has all the features you'd want in a men's shaver, and only for $50.
There are two dual floating shaver foil heads inside the shaver, with a bi-directional long hair intercept cutter bar. Together, they provide an unbeatable way to shave your body, from face to toes. These two flex foils are on either side of the directional cutter bar, which is much in the shape of a zipper.
The body of the shaver is perfect for camping, or men who have hard tile bathroom floors, as it has a durable and shock-resistant body to prevent damage. The sides of the shaver have a black rubber grip that not only protects it from drops, but also makes it comfortable and easy to hold in the hands. This high-impact housing will protect your shaver from damage that can often kill other brands of shavers.
The rubber grip is also ergonomic so you can hold the shaver more comfortably in your hand for longer. The rubber grip also decreases the feel of the vibrations from the shaver, making it more comfortable to hold too.
ninety minutes of shaving time
The shaver has a lithium ion battery, making it fully rechargeable. It takes only one hour to charge up your shaver, which will give you ninety minutes of shaving time. That's pretty impressive, as even most other shaver brands don't offer this efficiency. There is an LED charging indicator on the front of the shaver, which will let you know when it's accepting a charge.
The lithium ion type of battery also means that you can charge up your shaver and have no loss of power while it's in storage. It would make a great travel shaver, as you could simply charge it up, then store it for a few weeks until your next work trip, without worrying that it will lose power. There is also a one minute quick charge, in case you forget to charge it up the morning before. This will provide you with five minutes of shaving time for the morning.
You can use it wet and dry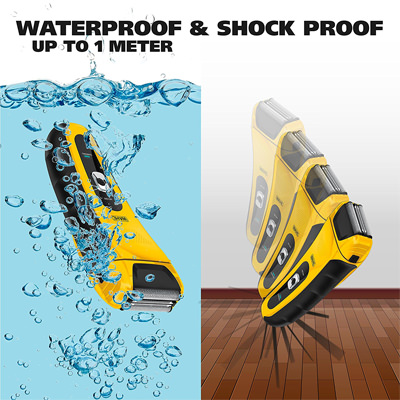 Since the shaver is waterproof, that also makes it simple to clean under running tap water to get out the tiny hairs and soap. The foils are made from stainless steel. The shaver is waterproof for up to three feet/one metre, and for thirty minutes. This is helpful if you like to shave in the bathtub, or like to shave with water, soap, gels, foams, lotions, creams, and more.
The shaver still works great if you choose to use it for dry shaving too. You can take it with your anywhere for convenient on-the-go shaving.
| | | | |
| --- | --- | --- | --- |
| | Wahl LifeProof Shaver | Braun Series 7-790cc | Braun Series 9 9095cc |
| Score | 4.2 | 4.6 | 4.4 |
| Battery | 90m | 50m | 50m |
| Display | 0 | LED | LED |
| Blade Type | Foil | Foil | Foil |
| Wet and Dry | | | |
| Trimmer | | | |
| Cleaning Unit | | | |
| | Read the full review | Read the full review | Read the full review |
The Wahl shaver has a pop-up trimmer on the back that is also made from stainless steel. It has a wide precision blade that enables you to do quick and simple detailing around moustache, beard, and sideburns. You'll easily be able to do your hair edging, lineup, and the detailing of style.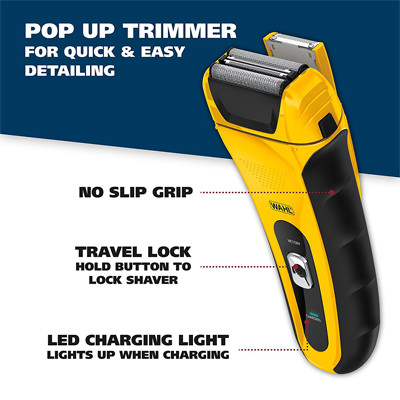 A nice feature of having a pop-up trimmer is not having to worry about the smaller hairs on your face get snagged, such as if you simply used the foil end of the shaver to trim. This pop-up hair trimmer will allow you a no-snag comfortable trim. The shaver and trimmer are also suitable for thicker curly hairs.
There is a travel lock on the front of the shaver, so you can drop it into your briefcase or backpack, and never have to worry that it will turn on during transit and drain its charge.
Inside the box you'll get a complete shaving kit. You'll get the Wahl LifeProof Rechargeable Waterproof Foil Shaver, a charger, a zippered storage or travel pouch, and a styling guide. This shaver also comes with a five-year warranty. The shaver measures 6.5 x 6.6 x 10.6 inches. It weighs 15.5 ounces and is made in China.
If you're tiring of the usual Panasonic or Braun shaver, take a look at the Wahl LifeProof Rechargeable Waterproof Foil Shaver. If you shave everyday, this may be the right shaver for you. If you shave only once or twice a week, look into another type of shaver. You'll be impressed by the features it packs into the model for under $50. Plus, it has a strong and durable body and with a five year warranty, you really can't go wrong with your purchase!
Wahl LifeProof Shaver