Women usually have finer hair than men so they prefer their own lady's shaver. The Philips Ladyshave Electric Shaver HP6306 is a wet/dry cordless shaver in a pink and white body case that will appeal to the ladies. This shaver costs under $35, also making it affordable. This shaver can also be used wet or dry, in shower or bath, as long as it's not directly immersed into water.
The Philips Ladyshave shaver is best suited for women who want to shave their armpits, legs, and bikini area. It's also gentle enough to use to shave the upper lip or other facial hair. You'll find that the cutting blades shave nice and close. If you decide to use it in the shower, you can add shaving gels, lotions, creams, or foams, and it will shave even closer, so you have a good shave that will last for 48 hours without needing to be redone. This can be handy if you're going away for the weekend, but don't want to pack your shaver in your small bag.
never have to worry about nicks or cuts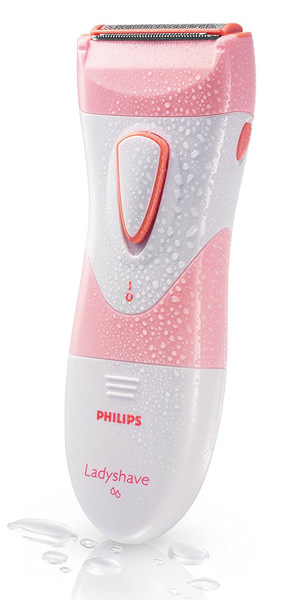 You'll get a nice close shave with the Philips Ladyshave, but never have to worry about nicks or cuts, which can be more of an issue with women who wish to look their best.
The Philips Ladyshave shaver is also a good gift for a teenage daughter. It's suitable for teaching younger girls how to shave too, without worries they'll cut themselves using a safety razor.
You may also get a fairly good shave if you use this shaver dry. This can be handy if you need to do a quick touch-up after work so you can wear a dress to the theatre or concert.
While this Philips Ladyshave shaver is cordless, it's not rechargeable, but it does work with batteries. The batteries should last a long time before they need changing. Inside the box you do get a new set of batteries to help you get started. This may not appeal to some, but the solution may be to buy a rechargeable battery kit if you wish to minimize costs. Many women also like to keep this shaver as part of their travel kit, then use a more premium quality of Philips shaver for home usage.
The shaver gently curves inward, making it easier to grasp in the hands. It has an on/off button just above the centre, as a white button outlined by orange. This design feature also shows with two small orange rubber guards on each side, and highlighting the foil trimmer blades.
It's simple to clean the Philips Ladyshave Electric Shaver HP6306. You can use the included cleaning brush and rinse the Ladyshave under a warm running water tap. It's important to do this after each usage in order to prevent the internal shaving mechanism from jamming up from loose hairs or soaps, or creams. Over time, hairs and shaving products can combine to create a sludge that affects the internal mechanism.
After rinsing shake out the excess water, and pat dry with a towel. You may wish to leave your Philips shaver out so it dries thoroughly. The next day you can put on the protective cap and stow away it in an attractive makeup bag in the bathroom cabinet.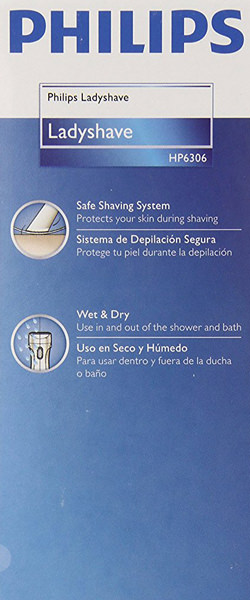 The shaver box measures 12.7cm x 17.8 cm x 15.2 cm, and weighs 907 grams. The shaver itself weighs 227 grams. Inside the box is one Philips Ladyshave Electric Shaver HP6306, a protective cap, a cleaning brush, and two AA batteries.
The Philips Ladyshave has been manufactured since 2014, so it's good to know that Philips has worked out any issues to create a good solid lady's shaver. There is a two year manufacturer's warranty on the Ladyshave too.
Reviews are generally favourable for the Philips Ladyshave Electric Shaver HP6306, with about four stars out of five stars. Keeping in mind the price, this shaver is good quality at this price point. You'll also find that it works for several years, which can be a concern at this price point with the cheaper brands. Likely any design issues can be due to it running on batteries, rather than being rechargeable. It's good to take a second look to see if this battery-operated shaver will work best for you.
If you're seeking a new women's cordless shaver, this may be the perfect shaver for you. Keep in mind that it doesn't take batteries, but if that doesn't bother you, then you'll appreciate how you can use it in the shower, or pack it into your travel kit, without having to worry if a charger has compatible international voltage. The shaver also gets close, which is important for a woman who wants nice smooth legs for work or a special event.
Philips SatinShave Essential HP6306