If you're willing to spend more money on an exceptional shaving experience, the Philips Norelco S9721/87 Shaver 9700 may just be what you've been hoping for. This cordless shaver comes in an attractive black finish and a dual cleaning and charging unit to make cleaning and charging the shaver simple and easy. This cordless shaver is packed full of features, to optimize your shaving experience.
The Philips shaver has three shaving heads that work together to give you the fastest cleanest shave possible. Each head works separately, and can move in eight different directions that enable it to follow the curves of your face. This electric shaver promises to cut 20% more hair in one single pass than a standard electric shaver. Inside each head are V-Track precision blades. These V-Track precision blades trim hair closely, and provide a more comfortable shave, without tugging or pulling. The V-Track blades also self-sharpen, so you won't have to worry about them dulling up and not working as well a year from now.
The technology of the Philips trimming heads gets up to 30% closer to your skin than other electric shavers, providing a smoother, cleaner shave, that keeps your face looking good for longer.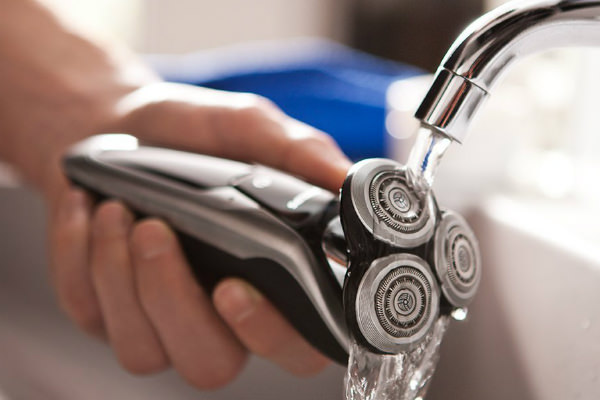 You can use your Philips Norelco wet, and add shaving foams or gels to help you with your shaving. The shaver can be used in the shower too, if you prefer to get everything done all at once. Of course this electric shaver works great when dry as well, so you don't always have to use it with water or shaving creams. It comes with a travel bag, so you can put it in your briefcase, and use it for touch-ups during the day, particularly if you have an important meeting to attend.
| | | | |
| --- | --- | --- | --- |
| | Philips Norelco S9721/87 Shaver 9700 | Braun Series 7-790cc | Braun Series 9 9095cc |
| Score | 4.5 | 4.6 | 4.4 |
| Battery | 50m | 50m | 50m |
| Display | LED | LED | LED |
| Blade Type | Rotary | Foil | Foil |
| Wet and Dry | | | |
| Trimmer | | | |
| Cleaning Unit | | | |
| | Read the full review | Read the full review | Read the full review |
The travel case has a ventilation chamber, so your shaver will still dry on the go. There isn't always time to wait for it to dry before you need to leave in the morning.
The battery charge promises to keep your shaver working for 50 minutes of shaving time, with a quick five minute charge that works for one shave.
The Philips Norelco S9721/87 Shaver 9700 also comes with a separate cleaning and charging unit, in matching black finish. Insert the alcohol-free conditioner in the base of the unit, and insert your electric shaver upside down, and push the lever down. All you have to do to keep your shaver new is to press the button.
Your electric shaver will be cleaned with the active lubrication system. There's no need to wash your shaver under the tap to try to get out the minuscule bits of hair, as the cleaning unit will do that for you. After the unit washes your shaver, its active lubrication system will keep your shaver's parts running smoothly. After this part of the process is done, your shaver will switch to the active drying mode. An advanced multi progress indicator will tell you at which step your shaver is at in the process. When it's done cleaning and charging, the unit will alert you that it's ready for shaving.
The Philips Norelco S9721/87 Shaver 9700 comes with a variety of different speed settings, so you can choose the best one to shave your beard. There are three different speed settings to choose from. Slow will provide a skin-friendly shave, particularly for sensitive skin, while medium will give you a more thorough shave. The fast setting will give you a high-powered shave for when you need to get ready quickly in the morning.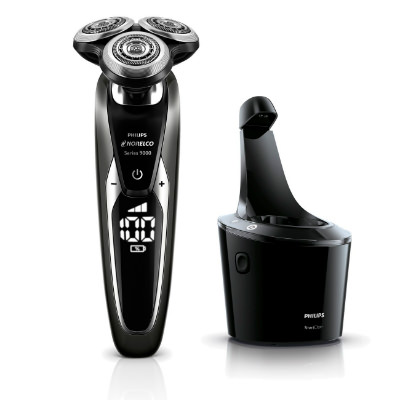 One of the great features right on the Philips shaver is a premium user interface, so you can control your shaver, and see at a glance what setting it's on. This state of the art digital user interface makes operating your electric shaver an easier experience. When you pick up your shaver it'll automatically light up with its built-in motion sensor. The indicator will tell you at what level your battery charge remains. A low battery indicator will inform you that you should charge your electric shaver soon. If it's being cleaned in the cleaning unit, it'll let you know how far along in the cleaning cycle it is. If your heads have worn out, the replacement head indicator will give you a warning that they're no longer working optimally, and it's time to buy a new one. A travel lock will let you lock up your shaver while in transit, while the travel lock indicator will inform you that it's in lock mode.
If you have a beard or mustache, the additional snap on Smart Click precision trimmer will allow you to get around the corners for an easier, more accurate trim.
The Philips Norelco S9721/87 Shaver 9700 doesn't come at a cheap price. If you can buy it, then you'll enjoy having a great shaving experience that will keep your face looking good for all day. The conditioning packs are also going to be an ongoing cost, so keep that in mind when determining your cordless electric shaver budget. Of course you'd spend as much money anyway if you were simply using soap to rinse out your shaver.
When your box ships you'll find the following inside: the Shaver 9700, the SmartClean Pro cleaning and charging unit, one cleaning cartridge to get you started, an add-on Smart Click precision trimmer, the power cord, and a handy travel case so you can take your shaver anywhere with you.
The Philips Norelco S9721/87 Shaver 9700 is one of the best cordless electric shavers that you can buy today. Not only is it a great shaver that promises a closer shave than most other shavers, its cleaning, conditioning, and charging unit makes looking after your cordless shaver a much easier experience, and will extend the life of your shaver when used regularly. Many men who try the Philips line of cordless shavers find that it's not worth going back to lower priced brands again.