The Wahl Smart Shave is an attractive foil-style shaver in grey and black colours, with a rechargeable lithium ion battery. This is a men's shaver that can be used both dry and wet, and can be used to shave and trim hair. It utilizes Wahl's latest Smartshave technology. This shaver has also been built with a tough and durable outer body that is both impact-resistant and strong, so you don't have to worry if you drop it on your hard porcelain bathroom tiled floor.
Built into the Wahl shaver is a dual floating shaver head. Both the Speedflex foils float inside, and have symmetrical and asymmetrical foil patterns that both lift and cut hairs off. It doesn't even matter in which direction the hairs lay on the skin, as this shaver has been designed to cut off all types in as few passes as possible. It's effective, even on hair growth that has grown for up to three or four days long.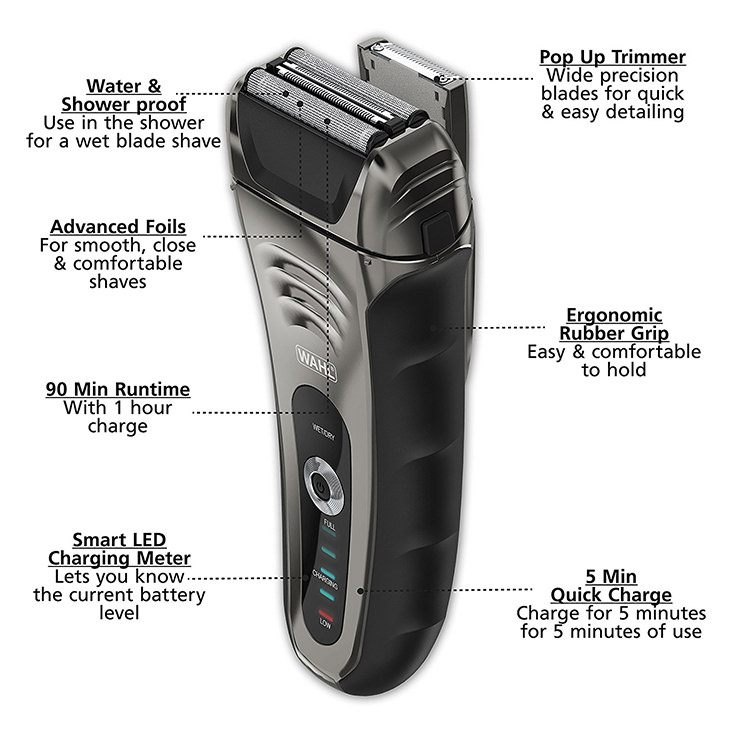 Inside the foil is a two direction long hair intercepting cutting bar. This cutter can provide for effective cutting of hair, from your head and right down to your toes. This great shaver also provides for a comfortable shave that is even guaranteed by Wahl. This means that if you're not entirely satisfied by your Wahl shaver, that you can return it for a full refund.
There is also a five year warranty on your Wahl Smart Shave, so you know you're going a be getting great shaver.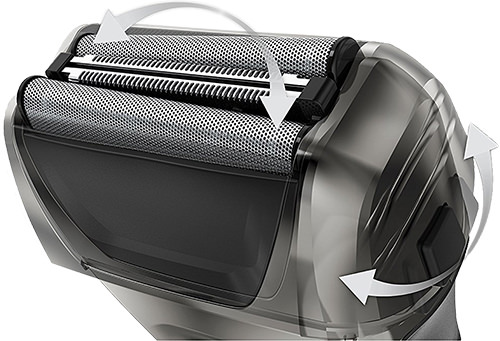 This electric shaver has been designed with a lithium ion plus rechargeable battery. One full charge of the internal shaver battery will give you ninety minutes of shaving time, before you need to charge it up again. The Wahl shaver has been designed to be environmentally smart, using less power to charge up.
The shaver will retain a long charge that will stay strong and not drain even when not in use. It's great knowing that you can take it out of your bathroom drawer on Monday morning and know that it'll be ready to go.
High-tech wall innovation is what keeps the shaver from running out of power while it's in storage, unlike many other rechargeable shavers or products on the market today. So, you can be confident that you can pick it up and it'll be ready for your morning shave.
| | | | |
| --- | --- | --- | --- |
| | Wahl Smart Shave | Braun Series 7-790cc | Braun Series 9 9095cc |
| Score | 4.1 | 4.6 | 4.4 |
| Battery | 90m | 50m | 50m |
| Display | LED | LED | LED |
| Blade Type | Foil | Foil | Foil |
| Wet and Dry | | | |
| Trimmer | | | |
| Cleaning Unit | | | |
| | Read the full review | Read the full review | Read the full review |
There is a battery fuel meter on this shaver, so you always know how much charge you have remaining. There is also a low battery warning in the form of an LED meter, to let you know when you should immediately plug it in for charging.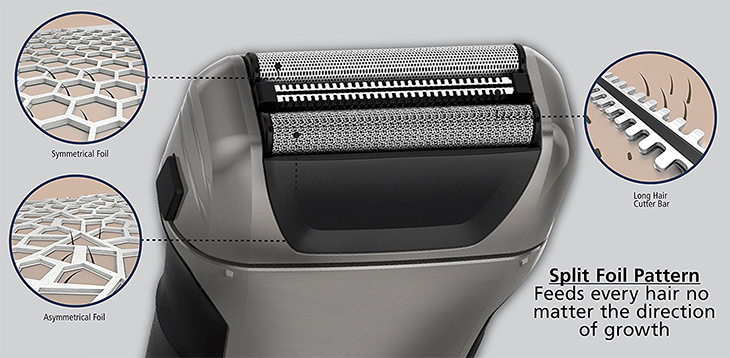 If your shaver ran out of charge the day before, but you forgot to plug it in for a charging, there is still a quick charge feature. It takes only one minute to get enough charge so you can have a full shave. This eases the worries that you'll never have to leave the house for an important meeting without shaving.
Since the Wahl Smart Shave is also water-proof, that means it's also fully washable. It's made from stainless steel foils and plastic so it is easier to clean. This shaver has been tested to be waterproof at depths of over three feet, and for up to thirty minutes at a time. You can use it in the shower, or even the bathtub, without worrying what could happen if you accidentally immersed it in bath water.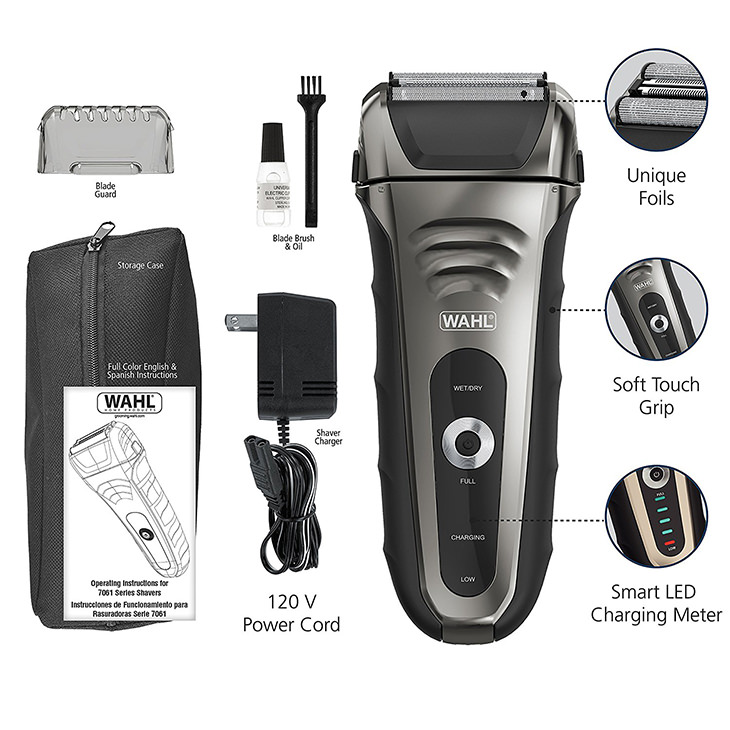 There is also a precision trimmer on the Wahl shaver that will enable for easier cutting around the small regions of your face. This trimmer simply pops up when you need to use it, then pushes back down into the body of the shaver when you're done. The trimmer is also made from high-quality stainless steel. The trimmer can be used for beard, moustache, and sideburns, and to do detailing, edging, and lining.
You get a complete kit with your purchase of the Wahl Smart Shave, including the shaver, a charger, storage travel zipper pouch, and a styling guide. You can replace the foil and cutter with part number SKU# 07045-700.
The Wahl Smart Shave is for men who need a reliable, but convenient and comfortable shave every morning of the week.
Wahl Smart Shave