If you're searching for an affordable foil-style men's shaver, the Panasonic ES-RT47 Arc3 shaver may be what you want. It costs under $100, but still has the good Panasonic brand name. This shaver comes in a black and silver plastic body, and also has an attachable hair trimmer to do beard, moustache, or sideburns. Even at this low price point, there are still additional accessories with this shaver and it will still provide the smooth close shave that Panasonic is known for. This shaver can also be used wet or dry. The shaver itself has a sure-grip, so that you don't easily drop it.

This two-in-one shaver and trimmer will be all you need for keeping your face looking smooth and clean. Inside each Arc3 shaver is a three blade cutting system. Each of the blades contained inside the shaver have been precision-honed to provide a safe but smooth and clean shave. These blades are also ultra-thin and ultra sharp, and installed at a thirty degree angle. The blades have been nano-polished to ensure a safe shave. These blades will capture, hold, and cut even the thickest of hairs. All of these features combined means that a man will have a fast but smooth shave.
Each of the blades is made from a stainless-steel, and hypo-allergenic metal, so men don't have to worry about getting an allergic reaction on their face after shaving, such as can happen if the blades had contained nickel.
The Panasonic ES-RT47-S Arc3 Electric Razor Men's 3-Blade Cordless Shaver is great for men who have sensitive skin. The sharp blades ensure an effective shave, and the hypoallergenic steels ensures there is no red rash at the end of the shave.
Compare Shavers
| | | | |
| --- | --- | --- | --- |
| | Panasonic ES-RT47-S Arc3 | Braun Series 5 5090cc | Panasonic ES-LV81-K Arc5 |
| Score | 4.0 | 4.5 | 4.4 |
| Battery | 50m | 45m | 45m |
| Display | LED | | LCD |
| Blade Type | Foil | Foil | Foil |
| Wet and Dry | | | |
| Trimmer | | | |
| Cleaning Unit | | | |
| | Read the full review | Read the full review | Read the full review |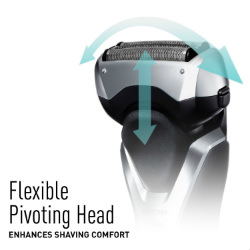 The foil-style shaver head will easily follow the individual curves of your face. The head of the shaver can gently pivot in all directions, so you don't have to force it around your chin or cheekbones.
The shaver will glide easily over face, chin, and transition smoothly to neck. This will help you to save time in the morning.
The motor built within the shaver is a high-powered 10,000 rpm motor. This motor will never falter during your shave, and it will provide a more streamlined shave.
You can shave dry anytime with this shaver, or in the mornings you can shave under running water or in the shower or bath. You can add foams, gels, lotions, or soaps to help you get a more comfortable and close shave. It can easily be rinsed under the tap after shaving, to remove fine hairs and shaving products from inside.
The snap on attachment is a comb that can be used for trimming facial hair that you don't want to completely shave off, such as sideburns, mustache, head hair, or beard. It has a forty-five degree blade angle. This comb attachment has five different settings. You can select them based on the length of hair that you wish to remain on your face. The comb can be adjusted to trim lengths of 1.0 millmeter to 7.0 millimeters.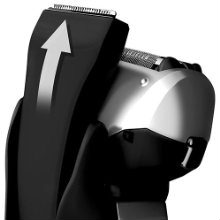 There is also a slide up trimmer on the shaver too. This will help you to get closer to the hair on your face. It slides up with a simple move of the finger. This trimmer can be used to trim sideburns, beards, and mustaches.
There is a dual LED battery charge indicator on the front of the shaver. You can quickly check your power level or the remaining charging status left.
The Panasonic ES-RT47-S Arc3 Electric Razor Men's 3-Blade Cordless Shave is fully rechargeable, and contains a lithium ion battery. It takes one hour to fully charge up, which will give a man about fifty minutes of shaving or trimming time.
This shaver also has universal voltage, so it can be taken with you while travelling. The shaver measures 1.9 x 2.5 x 6.4 inches. The package weighs 1.2 pounds with all accessories together. In the box you'll receive one Panasonic ES-RT47-S Arc3 Electric Razor Men's 3-Blade Cordless Shaver, a handy travel pouch, and a plastic shaver cover to protect the shaving head.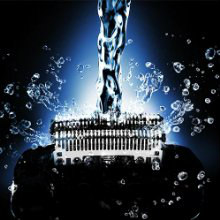 There are optional parts to buy for when the shaver isn't working well anymore. You can purchase a replacement foil, replacement blades, and a combo set.
The Panasonic ES-RT47-S Arc3 Electric Razor Men's 3-Blade Cordless Shaver is a great option for men who like to have a pop-up trimmer and an attachable comb for trimming hair, but who don't want to spend over $100. Men will appreciate the great performance of a Panasonic shaver, all for a great price.
Panasonic ES-RT47-S Arc3 Electric Razor Men's 3-Blade Cordless Shaver