Philips makes an extensive line of men's shavers for every budget. For men who don't want a lot of frills, the Philips Norelco 2100 S1560/81 is an inexpensive rotary-style shaver in a black plastic body with distinctive blue swirly line. Even though this shaver is considered entry level in the market, it still has some unexpected features packed into its body. The goal of this shaver is to provide you with a convenient and easy shave.
This shaver doesn't have a flex neck like many of the other Philips rotary shavers in the line, but the body of shaver gently curves outwards, making it easier to hold in the hand. The on/off button is located prominently on the front middle of the shaver's body.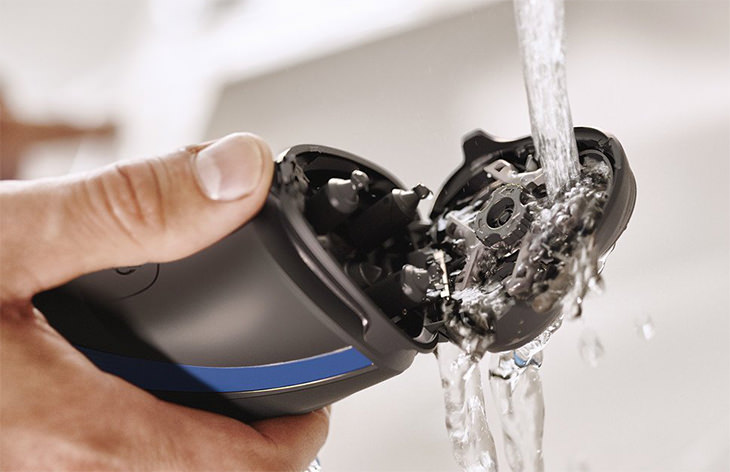 Even though the Norelco 2100 is a budget shaver, it still has a pop-up hair trimmer so men have everything they need in one shaver. This pop-up hair trimmer will enable you to trim neatly around moustache, sideburns, and beard.
can be used both wet and dry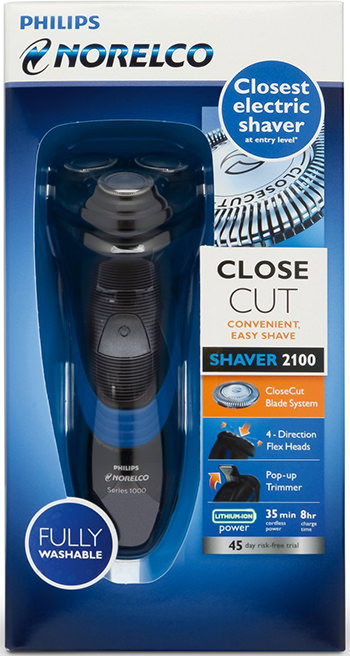 You'd expect a cheap travel shaver to not work for wet shaving, but the Norelco 2100 can be used both wet and dry. You can also pop up the rotary head with its one-touch open feature and rinse out any stray hairs inside, then shake out the excess water and pat dry.
You'll discover that the shaver offers a powerful and fast shaving experience. The shaver also provides the nice close shave that the Norelco line promises, and does a much better job than other leading entry level shavers in other brands.
Blades
The shaver contains a close-cut blade system. The blades have been precision-engineered to get you a good close shave every morning. The blades are durable and will last for a long time before you need to replace the rotary head. The blades are also self-sharpening, so that you'll still have a nice close shave even after several months of usage.
Inside the shaver are three rotary heads that each have a 4-directional flex head movement. This ensures that the blades shave every curve and section of your face and neck. The blades automatically adjust to your face, requiring less movement of your hand. Use the shaver to shave face, neck, and jawline.
Battery
This shaver is also rechargeable and requires no cord or double A (AA) batteries to run. It's powered on an internal lithium-ion battery that will maintain maximum power year after year, and is also long-lasting. You must unplug it from the cord in order to use it. It takes about eight hours to fully charge it up, then you have thirty-five minutes of shaving time. This will give you about two weeks of shaving time, or about fourteen shaves.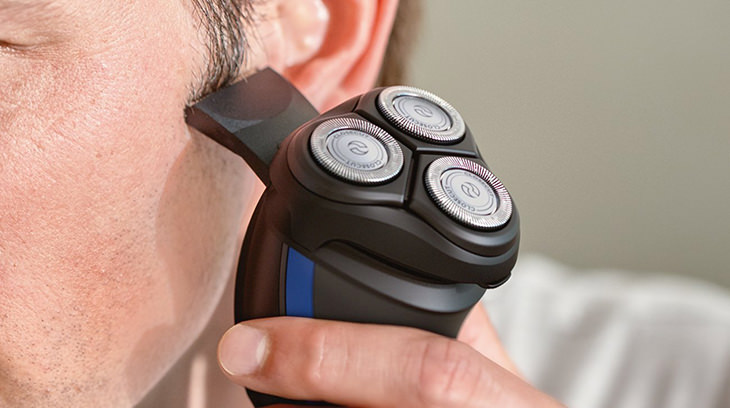 Other features
There is a green LED display indicator light about three quarters of the way down the shaver that indicates whether the shaver is on or off. Beneath that is the Philips logo and the Norelco logo.
The shaver weighs about 13.6 ounces and measures 3.5 x 5 x 9.6 inches.
Inside the Philips Norelco 2100 box will be the shaver, a charging cord, and a protective cap. While Philips recommends you replace the blades every year, this is not necessary until the blades completely dull and don't work properly.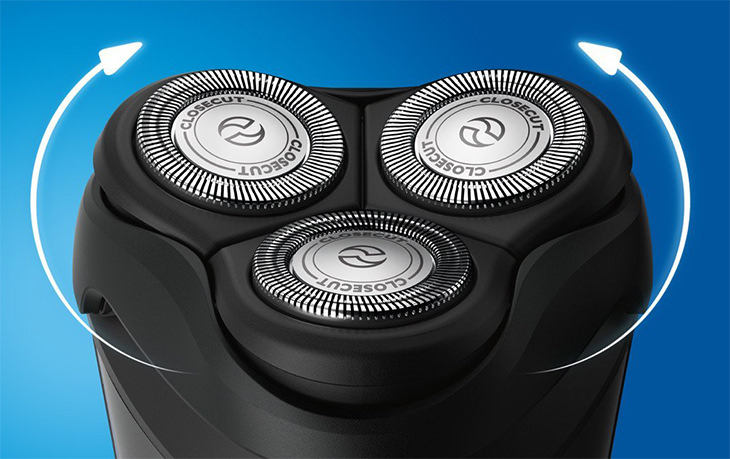 This shaver scores quite high in the reviews, as it does what it says it will do, and the Philips Norelco 2100 has a reasonable product life. Since this shaver is so affordable, women may even want to buy it for their personal care needs too.
Conclusion
Overall, the Philips Norelco 2100, S1560/81 Men's Electric Shaver is a great entry-level shaver. It's perfect for someone who basically wants to get the shaving done in the morning without having to worry about a fancy cleaning and charging station. This is also a good Philips entry model for men who aren't that familiar with the brand, and the Phillips 2100 shaver also makes a great back-up shaver for travel. No matter what your purpose, you'll find that it's a good-quality shaver that performs well for the price.
Philips Norelco 2100 S1560