Braun makes an excellent line of men's and women's electric shavers, but they also have permanent hair reduction systems too, that are designed to stop hair growth. During the treatment phase, you'll still need to shave or epilate your hairs, until growth stops. The Braun Gillette Venus Silk-Expert IPL 5001 has many features that speed up the hair reduction process for both men and women. This is a corded premium model for around $300.
zaps the hair roots so that the hair doesn't grow back.
Braun and Gillette—two of the world's best experts in hair reduction—have partnered together to create the Braun Gillette Venus Silk-Expert. This is a hair reduction system for only the body, or for stray hairs on your upper lip, and not meant to replace a men's shaver. This product has been inspired by the professional hair reduction systems that you can get at the most advanced salons. This is not just a hair reduction system, but it zaps the hair roots so that the hair doesn't grow back.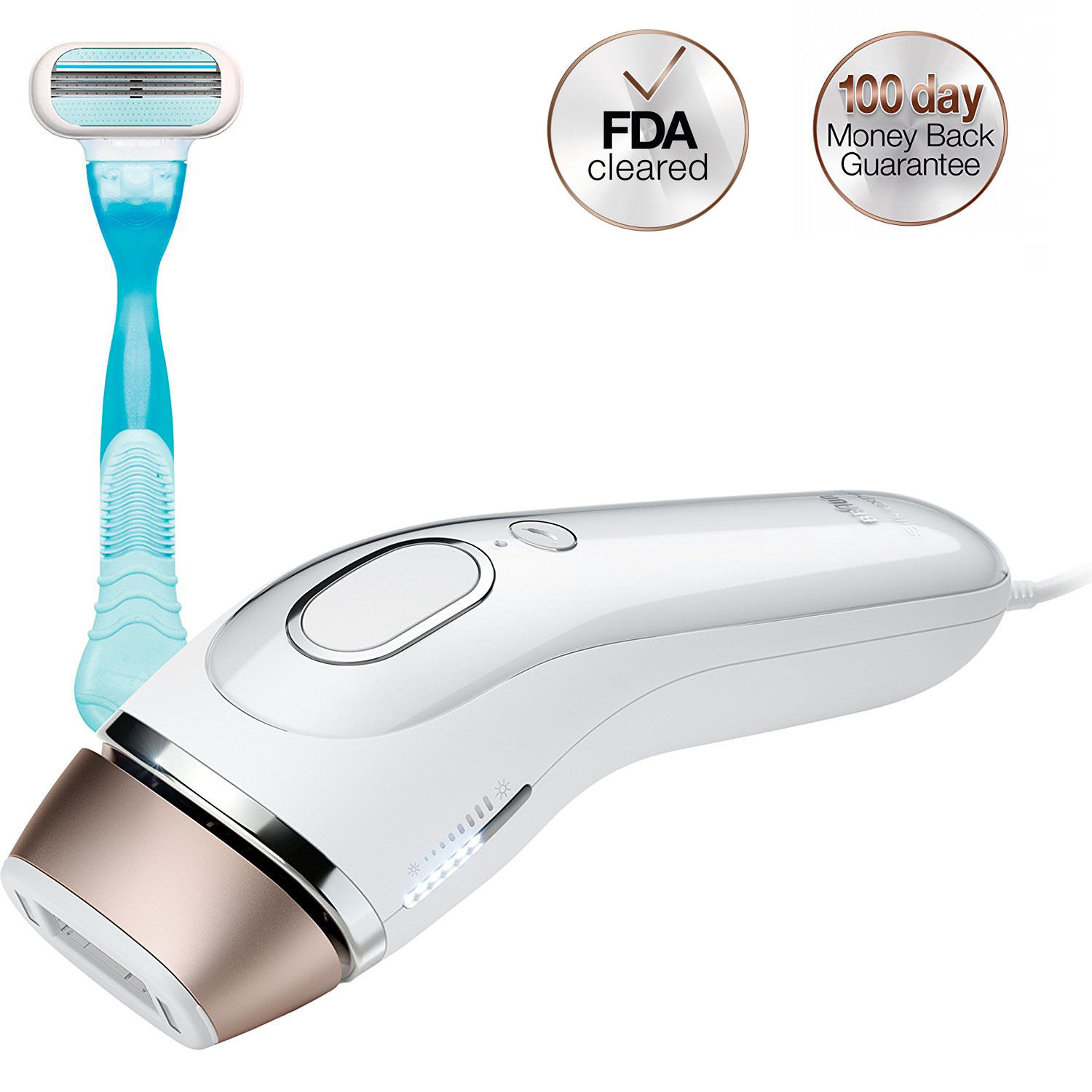 This is the only permanent hair reduction system that works with IPL technology that adapts to your skin. It's also one of the faster ways of treating the hairs. The head of the device glides nicely over your skin. There is also an integrated skin contact sensor so that smaller regions, such as the upper lips, can be treated more precisely.
The body of the unit is has smooth white finish and is gently curved, with an oval on/off button on the front middle. It's a bit larger and longer than a standard women's shaver. While the base looks like your standard shaver, the top of the device has a unique shape, framed by a silver metallic band. This Silk-Expert doesn't look like your standard frightening epilator covered in white twisted wires. It has a small head that lights up.
The Silk-Expert is built with an intense pulsed light—IPL. It provides 300,000 pulse flashes to treat hair quickly. You can actually see the head of the device light up while it's working.
You'll only need to buy your Braun Gillette Venus Silk-Expert IPL 5001 once, and never have to buy electric shavers, epilators, gels or bulbs for your hair removal device ever again. You may still wish to keep a safety razor on hand to tackle stray hairs.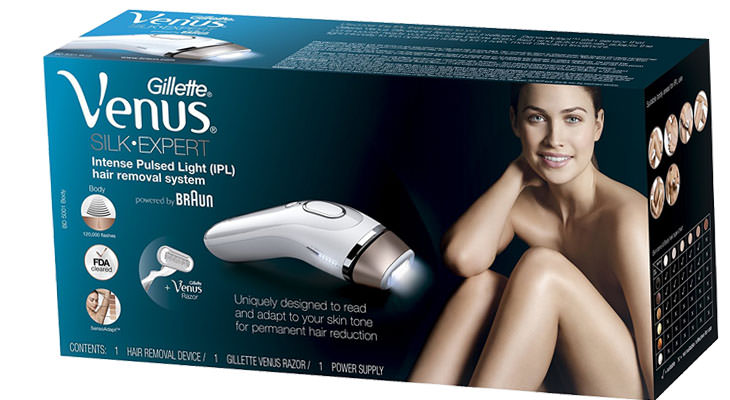 This Silk-Expert has been clinically tested for maximum effectiveness at hair reduction during July 2013 to November 2014. During a test study, it found that about 94% of women experienced noticeable results in just three months of time, without having to redo a treatment. About 89% of women experienced significantly clear skin even after the last treatment from a year ago.
Silk-Expert works effectively at removing hair from underarms, legs, and back. The size of the reduction head is perfect for removing hairs from larger parts of your body, such as legs or arms. The SensoAdapt technology can discern your skin tone so it can provide the most effective hair reduction possible. This means that the Silk-Expert will adjust to the correct light intensity according to your skin tone, in order to provide the safest and most effective treatment.
This Silk-Expert has been FDA-cleared, so you know that you're getting a safe and quality product. Since the light is directly aimed at your hair follicles, you won't need to wear safety goggles to operate it. It's been tested for use without glasses.
The Silk-Expert allows you to treat your arm or a leg in around eight minutes of time. In order to permanently eradicate hair from your body, it may take as little as four treatments. How it works is that it the light is directed beneath the surface of the skin, while it targets the melanin within the hair follicle. It stops the cycle of hair regrowth. With continued usage, it can prevent unwanted hairs that grow through the skin's surface.
only hair reduction device that has a SensoAdapt sensor
Since everyone has a different skin tone, as well as differing skin tones across their bodies, the Braun Gillette Silk-Expert can utilize a specific energy level to target each shade of melanin. This is the only hair reduction device that has a SensoAdapt sensor that continuous reads your skin tone. It does this eighty times per second. It can automatically adapt the light intensity of the device to become efficient and safe. This assists people so they don't have to match the skin tone through other methods that are required with other hair reduction devices, including matching skin tone charts.
While some people will wonder at the corded model, this is not a shaver, and it needs to be corded to deliver a steady stream of non-stop power. It can be of benefit to require no batteries or pre-charging, as you can simply plug it in and it will be ready to use. You never need to change any bulbs or gels either.
There are three different modes in this hair reduction device. You can choose from normal, gentle, or extra gentle settings. The ability of reducing the energy levels will allow you to do a maintenance phase, or to assist beginners in learning how to use it. It's also best to treat the sensitive regions of the body with a lower setting.
The Braun Gillette Venus Silk-Expert IPL 5001 will provide full body treatments for up to fifteen years. If you use it on smaller regions of the body, such as just the lower legs, underarms, or upper lip, it could last up to thirty-five years.
Why should you purchase the Braun Gillette Venus Silk-Expert IPL 5001? If you're like most people, you're likely tired of shaving several times a week to look your best. The device can give you permanent hair reduction in only a month. It's simpler and cheaper to do your treatments in the comfort of your home, rather than in a salon, plus, you retain your privacy.
pain-free treatment method
This device can also tailor itself to your skin tone, so it's more effective. This model has the fastest technology on the market. It's a pain-free treatment method, far better than tweezing or using an epilator.
Inside the box you'll receive one Braun Gillette Venus Silk-Expert IPL 5001 and a traditional safety razor.
In order to start your treatment, it's best done on clean and freshly shaved skin. Do not put on lotions until after treatment is done. You may feel a bit of warmth but no discomfort during treatment. The unit will tell you when each section is done being treated. The Braun Gillette Venus Silk-Expert IPL 5001 is going to be the future for safe and effective body hair reduction.
Braun Gillette Venus Silk-Expert IPL 5001