If you're tired of having multiple shaving devices on your bathroom countertop then it's time to shop for an all-in-one type of men's shaver. The Philips Norelco Bodygroom 7000 with Case and Replacement Head provides everything to shave your body, from head to toes. This dual sided design can effectively shave every inch of your body, even the most sensitive regions.
Full Kit of Shaving Options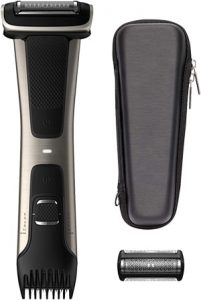 Inside your Philips Norelco Bodygroom 7000 packaging you'll receive a men's shaver with a foil-style shaving head on one end, and a hair trimmer on the opposite end. There is also a replacement foil head that you can use in one or two years' time. Replacing the foil head every couple of years will keep the shaver in optimum running order. There is also a handy zippered travel case to protect your shaver when you're on vacation.
The trimmer or groomer feature will shave hair down to a specific length. You'll have several different options with this shaver that won't clutter up your bathroom countertop. It also make travelling simpler as you'll have fewer devices to store in your bag.
Quick Cleaning
Not only can this shaver be used in the shower, but it's also easy to clean. Simply rinse it under the shower head, or rinse it out under a running faucet. It's 100% waterproof.
Foil Shaving Head
The foil shaving head has a four directional flexing head. It moves left to right, and backwards and forwards. This not only speeds up the shaving process in the morning, but it also provides a closer and better shave.
Hair Trimmer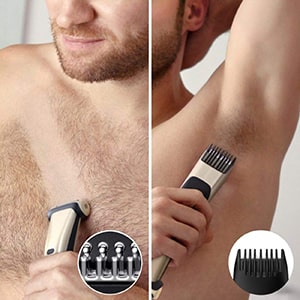 This hair trimmer has multiple functions. It can be used to shave sideburns, beard, or moustache, or it can be used to shave your head hair, chest hair, back, legs, underarms, or other body hair. The hair trimmer can also be adjusted, so there are five different lock-in settings. This means you can trim your beard or body hair to a specific length, rather than shaving it completely off. This provides a tidier personal look, or is great when it's hot in summer when you don't want to fully shave all your hair off. Best of all, the trimmer is on one end of the shaver so you don't have to worry about snapping the trimmer up, down, or on.
Quality Rechargeable Battery

If you're shopping for a cordless men's shaver, look for a Lithium-ion battery. Not only is this type of battery safer to use, but it's also reliable and will last much longer than your no-name brands. The Li-Ion battery will provide maximum power for higher-performance shaving and cutting.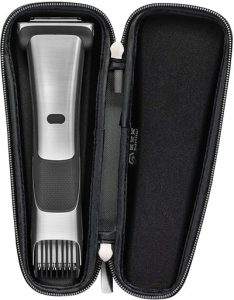 One full charge will provide up to 80 minutes of shaving time, which is actually much longer than most standard men's shavers.
If you're seeking a great men's shaver that also shaves body hair, the Philips Norelco Bodygroom 7000 Showerproof Body Trimmer & Shaver with Case and Replacement Head will make the perfect investment for you.