There are hundreds of choices when you're shopping around for a men's shaver. But please don't assume that all the big name brands are expensive. Braun not only is a high-quality brand, but they also have a line of men's shavers for everyone. Braun engineers their shaver brand in Germany, the same place they've had since last century. If you're on a budget, the Braun Series 5 5018s Electric Shaver with Precision Trimmer runs under $60, but still is packed with wonderful features.

Essential Features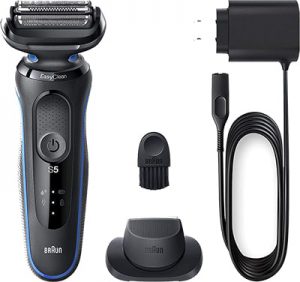 The Braun Series 5 can be used wet or dry. It's cordless and rechargeable. You'll also get a small snap-on hair trimmer that's handy for shaving around sideburns, beard, and moustache.
This men's shaver comes in a dark black color, with a distinctive blue ring around the side. The shaver is foil-style for men who prefer this type. There is a large round power on/off button on the middle front, and a smooth LED display panel below that button, with the BRAUN logo at the very bottom.
The foil-style shaver has three flexible blades that can adapt to the contours of your face. This makes shaving much easier. The shaver does all the work while you simply guide it around your face.
100% Waterproof Easy Clean
The Braun Series 5 5018s Electric Razor can be used wet or dry, in shower or bath. It can be rinsed under the tap so it's ready the next day. And there's no need to remove the shaving head, as the entire shaver is 100% waterproof.
…there's no need to remove the shaving head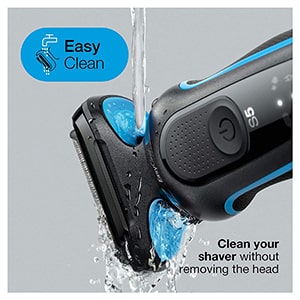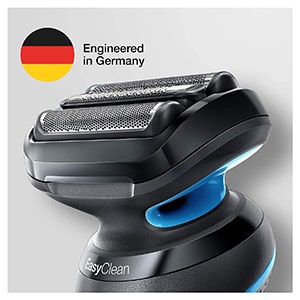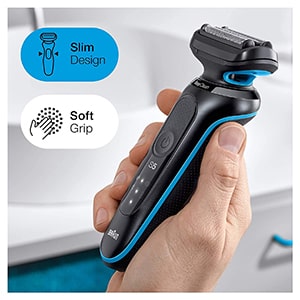 This shaver has a soft grip on the sides, so you can more easily hold it in your hands, even when it's wet. This is handy as you don't want to drop it and ruin your investment. The shaver has a nice slim design too. Braun did their research to find out what is the perfect shape to make shaving feel more comfortable.
Quality Rechargeable Battery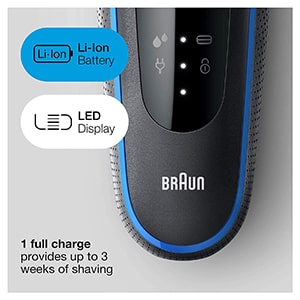 The Braun Series 5 5018s has a fully rechargeable Li-Ion battery. The level of battery charge will show up on the LED display panel. One full charge will give up to three week's of shaving time. If you're going on vacation, you won't even have to worry about recharging it until you're back home again. There is also a quick five minute charge, because sometimes you get busy and forget to plug it in.
Additional Specs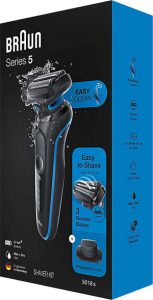 The Braun Electric Razor for Men, Series 5 5018s includes one men's shaver in the box, a snap-on hair trimmer, a small cleaning brush, and the power charging cord. The shaver blades are made from stainless steel, and the shaver weighs a light 0.63 pounds.
If you're searching for an affordable men's shaver, the Braun Series 5 5018s men's shaver will be perfect for your budget, yet still give you a wonderful smooth shave.