It can be difficult to predict where our personal finances will be at a month from now, but if you're in dire need of a new men's shaver, the Philips Norelco Shaver 2300 S1211/81 is extremely affordable at under $30. Not only are you buying the trusted Philips brand, but this rotary-style shaver has the essential features you need.
Classic Styling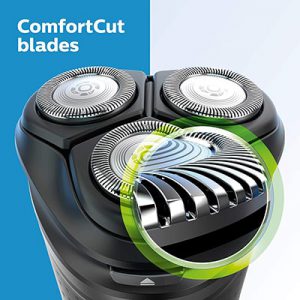 The Philips Norelco Shaver 2300 S1211/81 has a black and dark charcoal plastic body. There is a square power on button at the lower front. The shaver has three rotating heads in the top. The rotating rings are made from highly polished metal to provide comfort, while the hairs of your face are snipped off by the internal blades.
…providing an easier and faster way to shave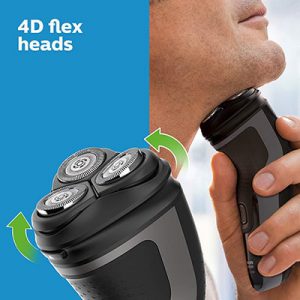 While the rotary head itself doesn't move, the three rotary heads inside move and tilt, providing an easier and faster way to shave. These rotary heads move in four different directions. There are 27 blades beneath each ring. These blades are also self-sharpening, so that they'll be sharp each time you shave.
There is a replacement shaver head which you'll need to replace. This usually varies from 3 to 5 years , depending on how often you shave.
Pop-Up Hair Trimmer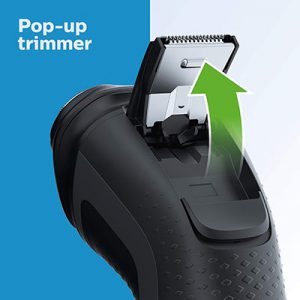 You may think there'd be no pop-up hair trimmer on this budget model, but you're wrong. The Philips Norelco Shaver 2300 S1211/81 also has a pop-up trimmer you can use to trim your beard, moustache, or sideburns. Then press it back down again to fit smoothly against the back of the shaver.
Rechargeable Battery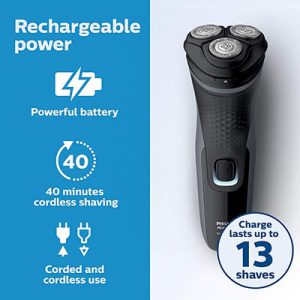 Even though this shaver is affordable, it's also fully rechargeable. The shaver must be used dry though, but if you're eager to try the Philips brand, you can switch it up to a more expensive model in a few years' time. One full power charge will give you about 40 minutes of shaving time, about enough for 13 shaves. It takes about 8 hours to fully charge up. Since this shaver can only be used dry, you also have the benefit of using the shaver corded, as it still shaves even when plugged into the wall outlet.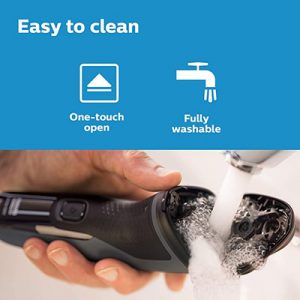 Some men may even prefer this function. While the shaver can be opened up and rinsed under the tap, you'll need to allow it to fully dry before using it again.
It's not waterproof at all, so you won't be able to use it under the running tap, or in the shower or bath.
Great for Sensitive Skin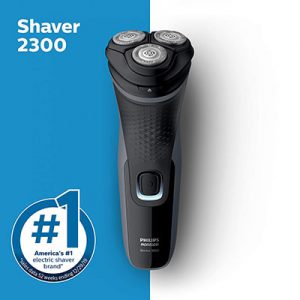 This shaver has been built for sensitive skin. You won't have to worry about razor burn or nicks and cuts. It will prevent ingrown hairs. Even if you shave twice a day, your face will look clean, smooth, and healthy.
If you thought you were stuck with a no-name brand of men's shaver to fit your budget, search no more. The Philips Norelco Shaver 2300 S1211/81 provides a solution to your shaving needs that's no-frills but affordable for all budgets.