Philips has a great line of personal care products, but with their Norelco brand many may be worried that they can't afford the latest Norelco shaver. But the Philips Norelco Electric Shaver 3100, S3310/81 Series 3000 is an all-black electric shaver that is under $40, placing it within the reach of most budget-conscious men. This shaver is also water-resistant, so you can shave with water, soap, or lotions.
This shaver has been designed to provide a good shave, but to have good comfort too. Since it's cordless, it's also going to be convenient. For its great price you could even buy it to keep in your travel kit You'll find that this shaver reduces the time that you need to shave.
Three silver ComfortCut rotating foils at the top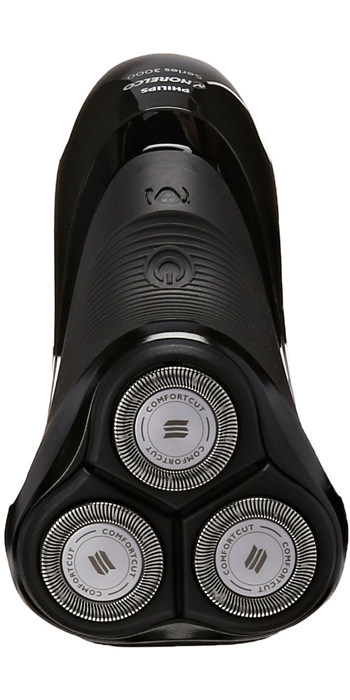 The Shaver 3100 is all black, with three silver ComfortCut rotating foils at the top. There is no flex neck here, which can up the cost of most of the shavers in the Norelco line. The shaver does slightly taper upwards, making it easier to hold while it's turned on.
The blades built into the shaver are called the comfort cut blade system. These blades are gently rounded so that they move more smoothly over your skin, without catching, and without cutting. You get a more protective shave this way.
No matter whether you shave wet or dry, you'll still get a nice close and comfortable shave that is free from nicks and cuts. However, if you have extra-sensitive skin, this may not be the shaver for you as it's more of a one-type-fit-all shaving solution. You may wish to apply after-shave or lotion after a shave if you have sensitve skin, or, find a better model in the Philips Norelco line.
Of the three blades in the rotary cutters, they each contain four-directional flex heads. The heads flex in four different directions so they more effectively shave every curve over your face and neck, chin, and jawline.
The on/off button is around the middle of the shaver unit. The Philips, and Norelco logos are at the bottom front, just above the Series 3000.
Just under the button is a green LED light display so you can tell if the shaver is turned on or not, or if it may need to be plugged in to charge up.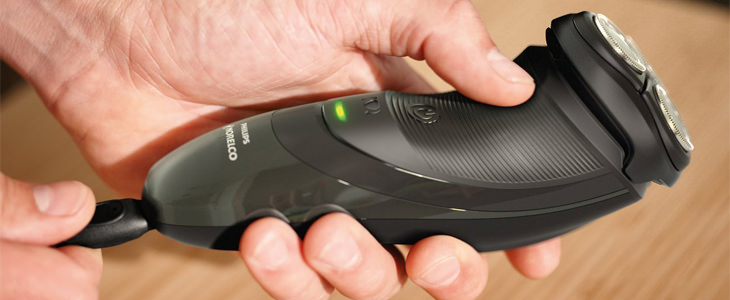 The top of the shaver opens up so that you can rinse it under the tap to get the soap or hairs out. It takes only a one-touch open to do it. It's important to clean your shaver after every use, particularly if you use shaving gels or creams, as otherwise it can jam up. And since this shaver doesn't have the additional cleaning and charging stations like in other Norelco shavers in this line, you're going to have to clean it yourself. After rinsing under the tap you'll want to shake out the excess water, and leave it to dry for the next day.
At the back of the shaver is a pop-up hair trimmer, so you can trim easily around your sideburns, moustaches, or beard. This trimmer is good for regular hairs, but you may not find it high-powered enough if your hair is super coarse or curly.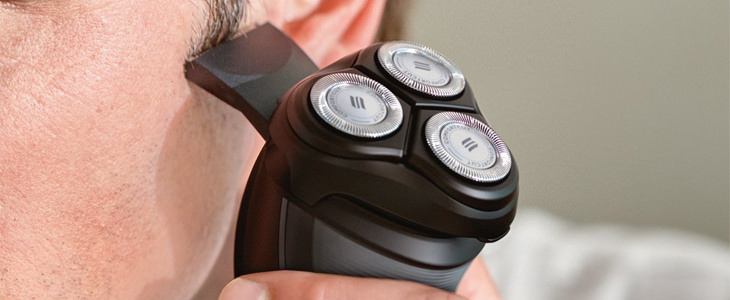 The shaver runs on a lithium ion battery so that it will still run on maximum power, year after year. This shaver will work when plugged in, so it's up to you whether you want to use it with the cord, or if you want to charge it up first before use, unplug it, and then shave. One full charge will give you forty-five minutes of shaving time. It takes eight hours to fully get it charged up to full. If you shave only once a day, it may be enough to charge it up twice per month.
| | | | |
| --- | --- | --- | --- |
| | Philips Norelco 3100 S3310/81 | Braun Series 7-790cc | Braun Series 9 9095cc |
| Score | 4.5 | 4.6 | 4.4 |
| Battery | 45m | 50m | 50m |
| Display | LED | LED | LED |
| Blade Type | Rotary | Foil | Foil |
| Wet and Dry | | | |
| Trimmer | | | |
| Cleaning Unit | | | |
| | Read the full review | Read the full review | Read the full review |
Inside the box you get one Philips Norelco Electric Shaver 3100, S3310/81 Series 3000, a power cord, and a protective cap for storage or travel. There is also an extra replacement trigger in the event that it becomes damaged.
The shaver measures 3.5" x 5" x 9.6 inches and weighs 13.6 ounces. It has international voltage from 100v to 240v.
Even though this shaver is affordable, it will manage to please most of the men who use it, with 4.4 out of 5 stars. This is good to note, as often lower priced shavers aren't made that well, or they don't shave that well. You can be confident that when you purchase the Philips Norelco Electric Shaver 3100, S3310/81 Series 3000 that it's both a quality shaver, and it does a great job of shaving. Some men may prefer its distinctive black body. Either way, you're going to be happy with your purchase.
If you're on a budget but prefer an electric shaver over a safety razor, the Philips Norelco Electric Shaver 3100, S3310/81 Series 3000 is going to be of interest to you. It's hard to believe that Philips can pack so many features into one affordable shaver: cordless, rechargeable, pop-up hair trimmer and the ability to be used wet or dry, but they've done it!
This shaver does a good job of shaving. Where it may lack a bit is if your hair varies from the norm, or if you are expecting greater convenience in the form of a cleaning and charging station.
Philips Norelco Electric Shaver 3100, S3310/81 Series 3000