Find the best beard trimmer for your face with our carefully selected beard trimmer list. Read our deep beard trimmer reviews to find out which one is for you.
Men have options nowadays and that means choosing to go clean-faced or to wear a mustache and beard. In the past it may have been difficult to maintain a neat beard, but with today's best beard trimmers, men's facial hair grooming is much simpler.
There are many beard trimmers on the market, but Braun, Panasonic, and Philips are the three best beard trimmer manufacturers today. You can expect high quality in men's personal care products that will last for a long time. These trimmers are backed up by warranties. Sure, you can buy a cheap trimmer, but it may not last as long, and will not have any warranty. Plus, it's a waste to toss a cheap trimmer into the trash after only a few months of usage.
What's so great about having your own personal beard trimmer is that you can also save money from having to visit a barber shop for regular trims. Here are six of the best men's beard trimmers on the market today.

Panasonic ER-GB80-S Body, Beard Trimmer and Hair Clipper
This Panasonic body, beard, and hair clipper is the best beard trimmer, it looks elegant in a silvery casing with a small LED screen. There is a circular on/off on the bottom front. This trimmer can be used for three different purposes: for trimming hair on the scalp, trimming hair on the face, and hair on the body. It comes with three different comb attachments.
Panasonic has always believed in providing the highest standards of personal shaving. This includes comfort, a quality product, and a reliable small appliance that will work long past its warranty expiry date.
The combs on this trimmer can be adjusted to a variety of different lengths. This beard trimmer has actually won awards, and is a great deal since it costs under $100. The blades built into this trimmer are made from durable and super sharp 45 degree angled blades that are made from stainless steel.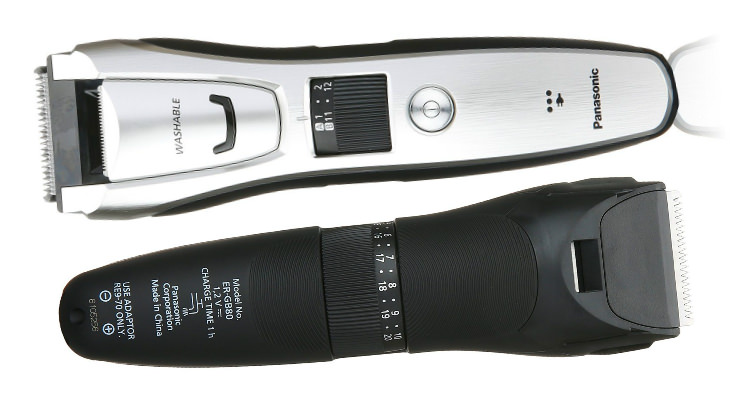 There are three different comb attachments that you can choose from. When a comb has been inserted, there is a quick adjust dial that will adjust the exact length. Combined together, you have over thirty-nine different precision settings. These combine to provide you with the best way to sculpt, trim, cut, and detail your hair.
The ergonomic design of this shaver enables you to easily hold it in your hands. It also allows you to have better control while doing your trims. It's perfect for men who may have sensitive skin. The internal blades are made from hypoallergenic stainless steel to prevent allergies from occurring. The trimmer's blades are also designed to minimize the tugging and pulling of hair.
The Panasonic hair trimmer is also easy to keep clean. It can be easily washed under a running tap. This trimmer can be both used with the cord or without. If you choose to charge it up,you'll have nearly fifty minutes of shaving time.
In the box you'll get the hair trimmer, an AC charger that has universal voltage, and a cleaning brush.

Braun Series 7 Beard Trimmer
The Braun rechargeable hair and beard trimmer comes with unique features such as easy click and lock combs, and twelve different length settings. It also has a slide and style shaving system.
This Braun beard trimmer comes in a silver and black plastic casing. It's small and compact so it can be easily held in a man's hand.
This hair and beard trimmer can be used for a variety of purposes, from trimming hair to trimming the beard. It can trim a full beard, or a goatee. It will also leave a fine layer of stubble behind if that's the look men are going for.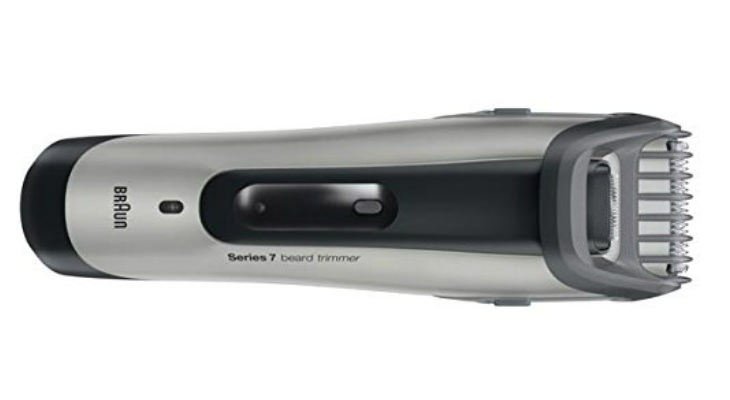 This trimmer has a slide and lock system. It allows you to choose up to twelve different length settings. The combs can be moved through a click and lock system. They stay in place so you can be assured of a quality trim.
The trimmer is fully washable as you can rinse it under the tap, as well as the combs. It takes only one hour of charging to have up to forty minutes of hair trimming time. You can charge it up with the use of the included Smart Plug. This also has an automatic voltage adjustment from 100V to 240V for anywhere in the world. There is also a convenient charging stand and a travel case included in the box.
The Braun series 7 beard trimmer deserve to be in the best beard trimmer list. This beard trimmer priced under $100, making it affordable as a second hair grooming appliance for men.
Panasonic ER-GB40-S Cordless Mustache & Beard Trimmer
The Panasonic ER-GB40-S beard trimmer can be used both wet and dry. It had a curved casing in black and gray that enables easier holding in the shower. This is an award-winning one of the best beard trimmer for under $50. It's cordless, rechargeable, and fully immersible.
This trimmer has extremely sharp blades that are installed at a 45 degree angle. This provides the best edge for quick and efficient hair trimming. There is a quick adjust circular dial to help you choose 19 different settings. Due to the adaptability of this beard trimmer it only comes with one comb.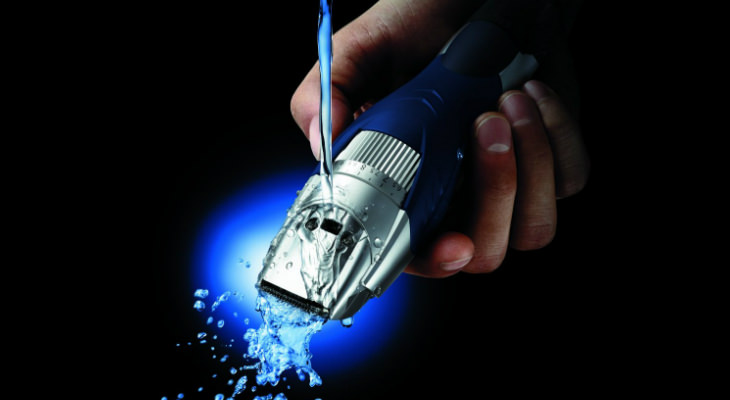 This beard trimmer is lightweight and easy to hold. It has a rubberized grip to prevent you from dropping it, even if it's soapy and wet. You can easily rinse it under the tap after you're done. It opens up to make cleaning simpler.
In the box you'll also get an AC charging cord and stand and a cleaning brush. The charger stand will actually light up to show when it's charging, and when it's done.
Philips Norelco Beard Trimmer 7300
Philips is a trusted brand of men's shavers, and they also have some great beard trimmers too. Their Norelco line includes beard trimmers.
The Philips Norelco beard trimmer 7300 has some unique features that make its $50 price tag more than worth it. This trimmer is made in a black elongated design with an LED readout. It has a unique vacuum system that sucks in hairs, so that the surfaces of the bathroom sink and counter are not messed up. This is also a handy feature to have if you need to shave in the men's room at work, as no stray hairs will be over your shirt.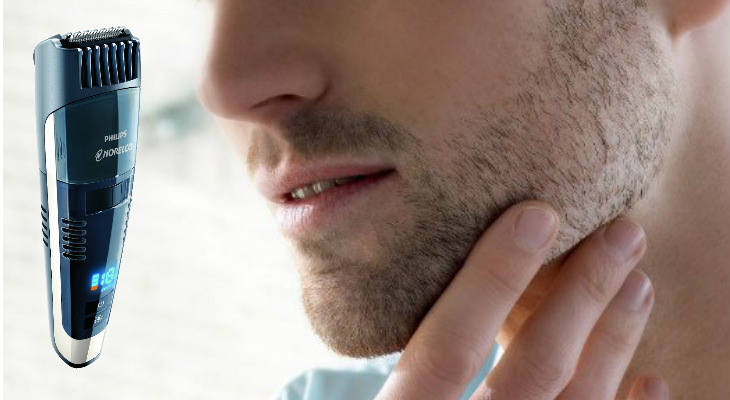 There are eighteen different length settings to choose from, including a stubble setting. A turbo power boost button will give you extra cutting power for a thick touch beard, and also increases the fan speed. This trimmer will evenly cut your beard on both sides.
Philips Norelco Beard Trimmer 9100
The next stop on our best beard trimmer list the Philips Norelco 9100. The Philips Norelco beard trimmer 9100 has some unique features that may not be seen in other beard trimmers. This trimmer has a unique laser guide that can help you to trim stubble and mustache. It also has a uniquely elongated design in a black, gray, and red casing.
The laser guide allows for precision control of the trimmer so you can uniformly shave both sides of the face by using laser lined guides. The trimmer is also dual-sided so you can have better detailing. The blades built into the 9100 are self-sharpening. This shaver does not require any oiling.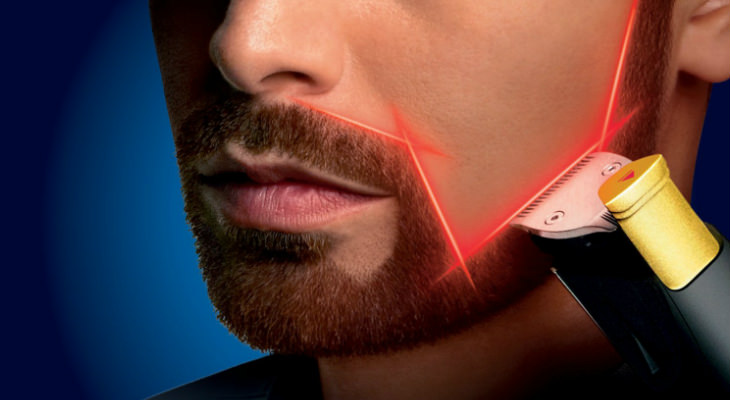 There are seventeen different length settings in this trimmer. Each setting is about 0.2 millimeters apart, so you can truly customize your trim. There is an adjustable wheel lock so once you have chosen a setting you can lock it in. There are no worries that it will abruptly change length.
The battery contained within this cordless shaver is powered by a lithium ion battery. One full charge will give you sixty minutes of shaving time. It takes an hour to fully charge up.
This shaver is waterproof and 100% washable.
The beard trimmer 9100 costs around $80, but you'd expect it to cost more with its additional features. Besides the trimmer, you'll get two combs in the box and a storage pouch.
Braun Cruzer 6 Beard and Head Trimmer
Braun has a great name for its hair trimmers that are actually made in Germany. They're also an affordable solution to when you're on a tight budget. The Braun Cruzer 6 beard and head trimmer is made in a medium gray and blue plastic casing. Braun claims that this is the most powerful beard trimmer.
There's no need for multiple power settings on this trimmer as it automatically chooses, based on tough or light beard conditions.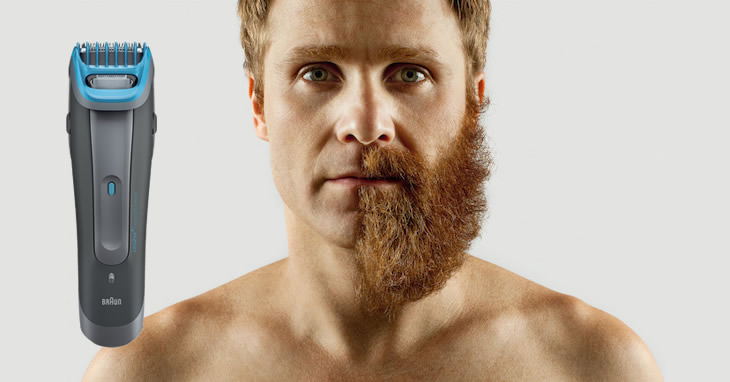 Inside the trimmer are many ultra sharp stainless steel blades. This trimmer comes with a hair comb for trimming hair, and a beard comb for trimming the beard. The beard comb has six different settings for a custom trim, from stubble to a full beard. The hair comb also has six other adjustable settings.
One hour of charging will give you forty minutes of hair trims. There is also an LED charging indicator on the front, and the trimmer can be used with dual voltage.