This top-of-the-line Philips Norelco 1250X/42 SensoTouch 3D Electric Razor stands out from the others with its uniquely shaped shaver unit and jet clean system. This products ships in frustration-free packaging, so you won't be digging out the pliers and jewel pack cutters to get into it, saving your fingers in the process. This also means reduced packaging for the recycling bin.
Grip Shape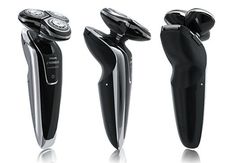 One of the nicest features of the Philips Norelco shaver is the unique curved grip shape, making it easier to hold than other electric shavers. A special "Gyroflex 3D contour-following system", allows the shaver to flex around, giving you the best shave possible. It can tilt and flex inwards, outwards, and pivot around, to get at even the most inaccessible hairs on the face. The three UltraTracks head are sure to cover every millimeter of your skin, while making shaving both easy and comfortable at the same time. Shaving in the morning won't become a chore with this great shaver.
| | | | |
| --- | --- | --- | --- |
| | Philips Norelco 1250X/42 | Braun Series 7-790cc | Braun Series 9 9095cc |
| Score | 4.1 | 4.6 | 4.4 |
| Battery | 60m | 50m | 50m |
| Display | LED | LED | LED |
| Blade Type | Rotary | Foil | Foil |
| Wet and Dry | | | |
| Trimmer | | | |
| Cleaning Unit | | | |
| | Read the full review | Read the full review | Read the full review |
Water Resistant
Sometimes dry shaving doesn't get as close a shave as when you need to look perfect for that special occasion. That's why you can also use the Philips Norelco with water, shaving gel or foam, to obtain a much closer shave than possible through dry usage.
Sometimes even the best electric shaver can be a pain to clean. Those tiny little hairs get into all the nooks and crannies. The Philips Norelco has solved this problem for you, with their JetClean System. Simply insert your shaver into the JetClean system and it'll wash, lubricate, and dry your charger, all without you having to take it apart piece by piece, and attempt to dig a tiny brush into all the tiny corners. And the JetClean system not only cleans your shaver, but it'll also charge it up after it's finished cleaning your unit. There's no need to remember to remove it from the cleaner to the charger. There's only one simple unit to do it all.
Jet Clean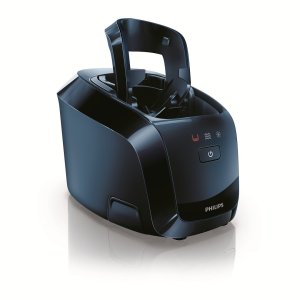 Included with the electric shaver is also the Jet Clean and charging station, Jet Clean solution, protective plastic cap, power cord, cleaning brush, and a soft pouch for travel.
If you're on the go, the Norelco shaver quickly charges up in one hour, to store one hour of shaving time, or approximately twenty days of shaving time. There's no need to pack the Jet Clean charging unit in your suitcase, as the one hour charge should last for most trips.
Overall, the Philips Senso Touch offers a smooth and fast shaving experience, with or without using it wet, and the electric shaver looks like a piece of art too. There's no need to hide this one away in your bathroom.
Philips Norelco 1250X