This product is no longer available, but there is a newer model that we highly recommend
Go to the new model
This Panasonic ES-LV61 is a higher end model in the Panasonic line of foil style cordless electric shavers. It comes in an attractive dark blue plastic casing, and differs from many other shavers in its class, as it has a flexible head that pivots separately from the handle part of the body. The Multi-Flex head pivots in all directions, making shaving an easier experience.
Panasonic is a brand that makes innovative men's cordless electric shavers that can be used wet or dry. The shavers work with a minimum of fuss, and shave close to the surface of the skin, shortening shaving time, but still providing a comfortable and pain-free shaving experience.
Inside this Panasonic ES-LV61 are five ultra-thin trimming blades within the foil cutting system. Each blade is covered with thirty degree nano blades, providing for a smoother shaving experience. These Multi-Fit arc blades are each independently floating, proving a great shave.
Supporting the blades are the lift-tech foil, the finishing foil, and the slit foil. The Lift-Tech foil is built with reverse-tapered edges that effectively lift and cut hairs that are lying stubbornly against the skin. There will be no need to repeatedly shave back and forth as Lift-Tech will grab them in one pass. The Finishing Foil is for men who have thick hairs, or thick mixed in with thin. This foil will shave these stubborn hairs right off. The Slit Foil is designed with tiny holes that can capture longer hairs. If the other blades miss these long hairs, the slit foil will easily snip them right off.
| | | | |
| --- | --- | --- | --- |
| | Panasonic ES-LV61-A Arc5 | Braun Series 7-790cc | Braun Series 9 9095cc |
| Score | 4.4 | 4.6 | 4.4 |
| Battery | 45m | 50m | 50m |
| Display | LCD | LED | LED |
| Blade Type | Foil | Foil | Foil |
| Wet and Dry | | | |
| Trimmer | | | |
| Cleaning Unit | | | |
| | Read the full review | Read the full review | Read the full review |
The pivoting head is particularly useful for shaving the jawline, and down past the chin. It moves with your skin, rather than requiring a lot of awkward hand and wrist movements. Shaving time will be reduced, as less passes are required to effectively shave hair down to the root. Blades are made from stainless steel to be more durable, last longer, and bef more hygienic. The pivoting head moves back and forth at an angle of twenty-five degrees, and twenty degrees left and right. The Panasonic ES-LV61 is perfect for shaving the neck, under the chin, and the jaw line regions of the face.
Panasonic is known for their line of personal care grooming products, and home electronics. This shaver has been built with a 14,000 CPM linear motor. This faster Panasonic ES-LV61 shaver eliminates the problems present in slower shavers that can tug and pull on hairs, causing discomfort. This shaver will keep maintaining peak power, even when the charge is nearing the end of its life.
The Panasonic ES-LV61 may be used wet or dry. You can use it under the tap or in the shower. It has a 100% waterproof casing that protects the inner mechanics of the electric shaver. While you may get an exceptional shave by using this shaver wet, if you don't have the time, you can still get a great shave by using the shaver dry. It's also perfect to tuck into your briefcase, in case you need to do a touch-up before a really important meeting. Even using dry will mean a reduction in irritation, and your skin will still look soft and smooth, not red and stubbly.
You may also use shaving gels, lotions, creams, and foams with this electric shaver. It's recommended that the shaver be rinsed thoroughly after doing so.
The Panasonic ES-LV61 has an LCD readout on the handle portion of the shaver. It will display ten different stages, so you'll know in an instant whether the shaver needs to be charged up or not. A lock button on the shaver will keep it from accidentally turning on during transport in luggage or briefcase.
There is one power button on front of the shaver, and a rotating lock, which will secure your shaver during travel. On the back of the shaver you can lock the pivot head to keep it from moving.
There is no separate cleaning unit with this shaver. There is the ED-LV81 for men who prefer to have a cleaning and charging unit. There is still a solution to make the Panasonic ES-LV61 clean up fast though. There is a special sonic vibration cleaning mode that works while rinsing it under the tap. This mode allows all the small whiskers to be washed away. After turning off the tap, allow your shaver to vibrate a bit longer to get the water out. Tap it dry with a towel, and let air dry.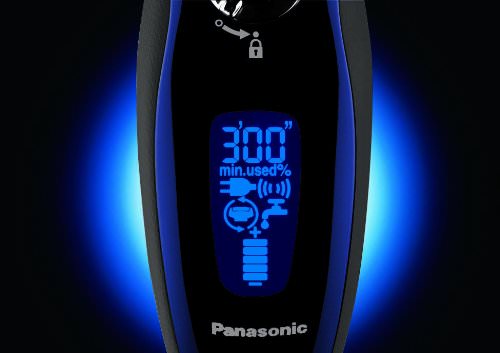 The Panasonic ES-LV61 has a built-in pop-up trimmer, perfect for trimming around mustaches, beards, and sideburns, that may be too tricky to do with just the foil head part of the shaver. These may be accessed by a button on the back of the shaver.
This is one of their top-of-the-line model, and for men who wish for the ultimate shaving experience. In the box you'll get one cordless shaver, a travel pouch, and an AC adaptor/charger. The shaver weighs 6.4 ounces, fitting comfortably into the hand. Voltage can switch between 110 to 240 for traveling.
There are replacement inner blades and outer foil blades available, which should be replaced about every 18 months, to continue getting the best possible shave with your Panasonic shaver. These can also be purchased as a set.
The Panasonic ES-LV61 is a great choice for men willing to pay a bit more cash for the ultimate shaving experience. There isn't a separate cleaning and charging unit, which is perfect for men who don't wish to fuss with it, and prefer to simply rinse their shaver under the tap. With the proper maintenance, the Panasonic ES-LV61 should last for many years, making it a worthwhile investment for looking good.