If you're on a budget but still prefer a rotary over a foil-style shaver, the Hatteker Men's Electric Shaver has earned "Number 1 New Release" status. This shaver comes in a shiny grey body that is curved to make it easier to grip in the hand. It works wet or dry, and is cordless and rechargeable.
The ON/OFF button is located about halfway down the front of the shaver. Beneath that is a blue LCD screen that will give you the battery percentage status, beginning at 100% and going down to 0%.
Beneath that is a lock symbol to tell you if your shaver is locked or not. This feature is good for when you're travelling. The last thing you want is for your shaver to turn on in your luggage and drain all your power. This travel lock is not automatic though, so you'll have to activate it.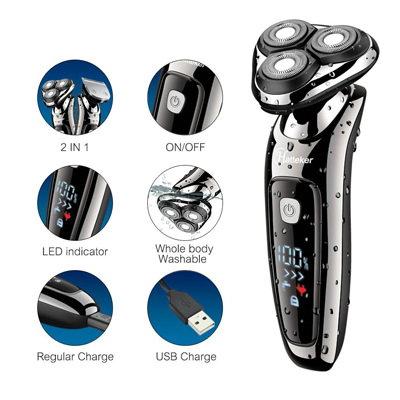 To activate the travel lock, when you are powering off keep on holding your ON/OFF switch down for 5 seconds. You'll need to do the same to get it powered up again. Note that you can still plug it in to charge up, which will deactivate the travel lock. You'll need to turn it back on again after charging is done.
There is also a low battery indicator for when you haven't been paying much attention to the screen. This shows as a flashing red symbol.
A cleaning indicator symbol will also remind you when it's time to give it a good cleaning under the tap. This will briefly light up when you first turn your shaver on, but won't stay on. The symbol will light up after you have used your shaver for every 30 minutes of shaving time.
The rotary head of the shaver has a 3D rotary system with three sets of cutters, encased within a black plastic framework, and encased within a silver triangular head. Each of the three cutters has two rows of cutting elements that rotate clockwise.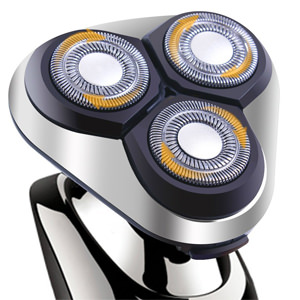 Precision blades made from an upgraded double-blade technology.
These blades will automatically adapt to the contours of your face. They will provide a close and smooth shave to your face, chin, neck, and jaw regions. The rounded edges of the internal blades within the rotary head keep your skin safe from nicks and cuts so that you have a more protective shave.
| | | | |
| --- | --- | --- | --- |
| | Hatteker Mens Electric Shaver | Braun Series 7-790cc | Braun Series 9 9095cc |
| Score | 4.1 | 4.6 | 4.4 |
| Battery | 45m | 50m | 50m |
| Display | LED | LED | LED |
| Blade Type | Rotary | Foil | Foil |
| Wet and Dry | | | |
| Trimmer | | | |
| Cleaning Unit | | | |
| | Read the full review | Read the full review | Read the full review |
The Hatteker men's shaver has a two-in-one shaving system, making it even more of a bargain. It has a detachable rotary head so you can attach the sideburn trimmer. This can be used to trim around sideburns, moustache, beard, or brows. Now you won't have to purchase two personal care devices as you can get the whole kit from Hatteker.
If you've gone without shaving for several days you can actually use the hair trimmer first to trim your beard down. Then go ahead and use the rotary shaver to smooth down the rest of the stubble from your face. This technique will give you much better results than struggling to use the shaver on week-old facial hair, and it will also extend the life of the rotary head too.
The entire body of the shaver is washable, from the rotary head, to attachable trimmer and the body, so you can always keep it clean. It's also important to rinse out the stray hairs from within the rotary shaver. With the proper maintenance, your shaver will last for a long time.
If you want an even closer but more comfortable shave, using shaving gels and creams for this purpose will make shaving a more pleasant experience. The lotions will also decrease that feeling of razor burn after you have shaved, particularly if you have sensitive skin. You can also apply after-shave cologne which will take away that itchy feeling.
The shaver has a USB cord to make recharging simpler.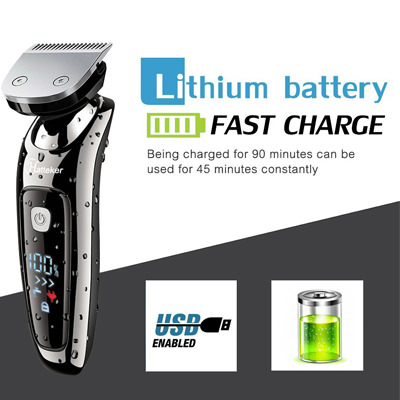 You can plug it into your computer or the wall to charge up. The USB cord is handy for when you're travelling in other countries where the voltage may differ, so you can simply get it charged up with the USB cord.
When your shaver is charging, the LED display will flash continuously with a red light. This also helps to let you know that you have attached your cord properly. Once charging is complete, your display will fully light up.
This shaver contains a lithium battery. It can be charged up with a fast charge of 90 minutes. Gone are the days when a shaver would take all day to charge up. Once it's fully charged up, it will last for 45 minutes of shaving time.
Inside the Hatteker box you'll get one shaver, a rotary head, the hair trimmer, a plastic cover to protect the rotary head, a black comb for the trimmer, a small black cleaning brush, a wall outlet plug, the USB charging cord, a user manual, and a black carrying pouch.
You can also buy replacement heads for your shaver to extend its life. These cost about half the price of a new shaver and are well worth the cost. If you're worried about availability, you can purchase a few extra now so you have them on hand when you need them.
Some cheap shavers only give you a three month warranty, but Hatteker is so confident that they make a great men's shaver, that they give you a one year warranty on your new purchase. If there's anything wrong with it, you can return it. You really can't go wrong if you want to give this new shaver manufacturer a try.
If you've always desired to have a high-end men's cordless and rechargeable shaver but haven't been able to justify the high cost, the Hatteker Men's Electric Shaver will fulfill your shaving desires. Give this shaver a try, and soon you'll look your best for those meetings and special events. Perhaps one day you'll be able to afford that more premium model of shaver!
Hatteker Mens Electric Shaver Razor Beard Trimmer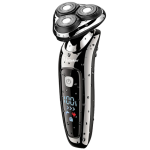 Pros
Use wet or dry
Cleaning indicator symbol
Two-in-one shaving system
LCD screen
3D rotary system