If you're seeking a premium hair trimmer that does more than simply cut or shave hair, the Bevel Trimmer is both cordless and rechargeable. It will provide a comfortable and accurate trimming of hair on your head, face, or body. This trimmer has been made by Walker & Company. It's been designed to trim super short hairstyles for men, as well to trim around sideburns, moustaches, or beard. It can only be used dry and a better choice for men who trim to the latest hair and facial styles.
The Bevel Trimmer makes both a great gift for yourself or for a special man in your life. Your friends, family, or work colleagues will be surprised when they open up the package to discover a new product on the market that they haven't seen before! Best of all, it's not only expensive, but it looks like you spent a lot of money too! This is a gift sure to impress!
Walker & Company has combined innovation in design, power, and cleanliness. They have created the Bevel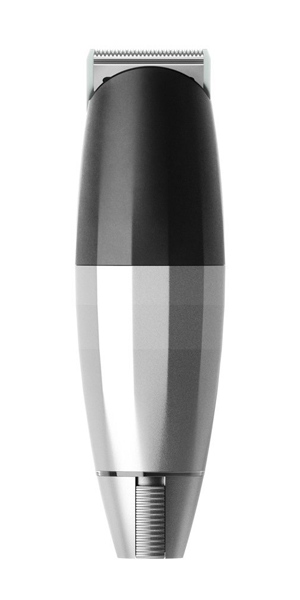 trimmer, which is a world-class product sold to professional barbers, but now offered for sale to men for home grooming needs. It's a complete trimming system that will give you consistently smoother and cleaner short hairstyles, with nice sharp beard and moustache style lineups.
Walker & Company is a small business startup initiated created by Tristan Walker, founder and CEO. He describes his Bevel trimmer with three words: Power, Precision, and Performance. He had many reasons for designing his own trimmer. For one, he found that hair trimmers hadn't changed much over the past several decades.
He decided to create a trimmer that would solve the problems of the old-styled hair trimmers. Tristan believes that his product is special because he has created the most advanced trimmer on the market today that combines two innovations in power and design. Tristan has actually worked at Twitter, Foursquare, and Andreesen-Horowitz. This has given him the Silicon Valley experience he needed to succeed.
This hair trimmer also looks good on the bathroom cabinet with its sleek curved medium grey and black appearance. The sides are bevelled to help you hold it much easier, which is also a play on its name.
The top of the trimmer has the trimmer head. This is actually much longer than your average trimmer. Its purpose is to help you guide it along your scalp or face so that you can have a more accurate trim.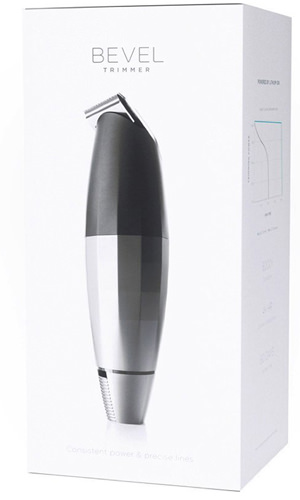 The Bevel Trimmer has some great features. Some men like to adjust the trimmer so it provides a closer or a looser shave. You can make quick adjustments to the trimmer. You don't need to use a screwdriver or other tools. All you have to do is pop the blade off and adjust your zero gap with the Bevel dial, then pop the blade back on. You can adjust your trimmer blades to a zero gap alignment quickly.
You can use this trimmer cordless or with the cord attached for those times you can't wait for it to charge up. No matter which method you choose, the Bevel trimmer will maintain the same power and precision at all times. It'll keep on running at even power even when it's down to its last five minutes. It utilizes a lithium ion battery for its long charge life.
Once you've charged up your trimmer it will give you around five hours of shaving time. If you don't use it frequently, you can be confident that it'll still hold its charge for up to sixty days.
The trimmer has been designed to have perfect balance in your hands. It's been weighted so that you can easily hold it and move it around your face or scalp.
This trimmer can only be used dry, but don't worry, as it's easy to clean. The blades will naturally repel dirt, skin oils, and the build up of hairs. This also has the additional purpose of preventing bumps and irritation on your scalp or face. The blade unit is also detachable, to help you to more easily clean the trimmer.
One problem trimmers and shavers have is that they run hot to the touch after they've been running for a few minutes. We've only ever seen a cooling feature in one other product, the CoolTec from Braun. With the Bevel trimmer it's also cool to the touch, and it stays that way, rather than needing to press a snowflake button to turn on the cooling feature, such as you need to do for the Braun shaver.
The Bevel runs much cooler than other trimmers so that you can not only hold it comfortably, but it's also comfortable using on your face or body.
Besides being cool, the sides also have a soft-touch grip to them. The custom-faceted body also allows for superior control and 360 degree non-slip handling.
It can be tricky trying to decide how to store your trimmer safely when not in use. One of the best ways is to hang it up on a hook in the bathroom. You can buy easy mount stickable hooks from any store and attach them to the tile, wall, or mirror of your bathroom. There is a hidden hook on the base of the Bevel trimmer. This can be extended out from the base so that you can easily hang it up to keep it within reach every morning.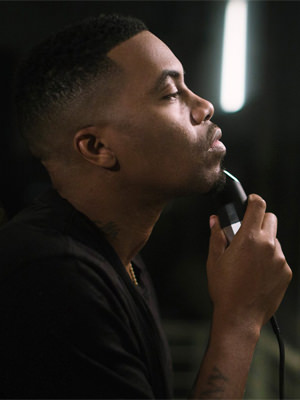 If you follow hiphop music, NAS has endorsed this trimmer. He says his barber chooses only the best products for lining up his beard style, such as the Bevel, so he's happy to use it himself. He likes to sing, "My signature fade, with the bevel blade, that's a major key."
What's not to like about this hair trimmer? Well, it may not be for those who are sensitive to loud noises. This hair trimmer is quite loud, so you should be aware of that before purchasing. If you need a quieter trimmer, there are other ones to suit you. You can also expect to pay a premium price for this hair trimmer.
The Bevel Trimmer measures 6.5" inches or 16 cm in height. The box dimensions are 3.5" x 3.9" x 8.2 inches and it weighs 1.7 pounds. Inside the box you'll get one Bevel trimmer, blade oil to keep the trimmer in good order, a small cleaning brush, an instruction manual, and a storage bag.
Just like with any other type of shaver or trimmer, the blades can become dull over time. It's desirable to replace only the blades, rather than the entire trimmer, particularly at this higher price point. You can purchase replacement Bevel blades from their website.
There is a 30-day money back guarantee when you buy this trimmer, but most people say they have enjoyed it so much that this is not a concern at all.
Besides the Bevel Trimmer, there is an entire line of shaving products designed to be used around this hair trimmer. These include a traditional razor and blades for those spots on the face where it's too difficult to get an electric trimmer, a beard shaping tool, a cleansing brush, shaving cream, restoring balm, and a storage organizer.
If you're looking for a great men's hair trimmer, the Bevel Trimmer solves many of the problems of older-style trimmers designed last century. While no one trimmer is going to be 100% perfect, the Bevel Trimmer certainly gets clean and close.
Bevel Trimmer