Sometimes one type of shaver just doesn't do all the grooming tasks you need it to do. The Elehot Electric Razor is a unique three-in-one shaver that has three attachable heads specific for a purpose. This shaver is slender, in an attractive dark blue and black shiny body. It's also priced under $30, so it will make a great but affordable gift for men.
The shaver has five attachments for all your grooming needs. There are three main heads: a rotary shaver, a hair clipper, and a nose and ear detail trimmer. There are two hair clipper sizes of 3 mm and 6 mm.
This shaver is 100% waterproof, so you can safely use it in the sink, shower, or bath. Not only can this shaver be used wet or dry, but it's also cordless and rechargeable.
You can also use your favourite shaving product with this shaver, such as gels, foams, creams or lotions, or simply use liquid soap or bar soap. If you do use shaving products, it's important to wash out your shaver under the tap afterwards. Whereas, if you're shaving dry, you can skip a cleaning if you're too busy in the morning.
Inside the rotary head are three smaller circular cutting elements. Each of these cutters has an individual flex head, so that more hairs will be trimmed in one stroke. The dynamic flex technology enables the cutters to move back and forth, and up and down. Basically, the cutters move in four different directions to cover all of your face, so you have a faster shave in the morning. If you examine an individual cutter, it has the appearance of two circles with dual cutting heads.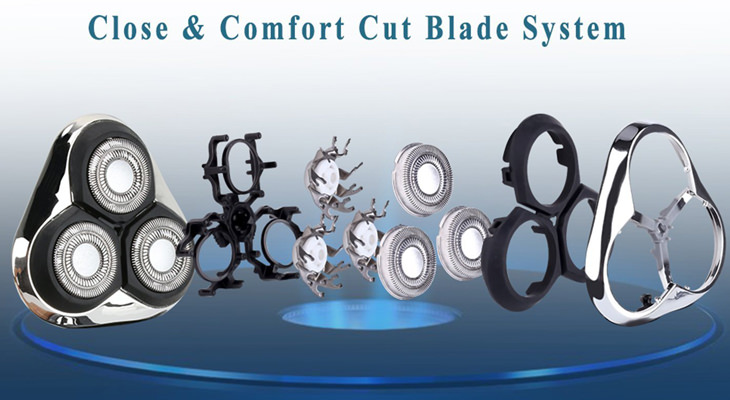 This shaver will provide for a fast yet smooth and comfortable shave. As you shave, the rotary head will maintain close contact with your face. You'll be able to effectively shave your face, cheeks, jawline, chin, and neck.
| | | | |
| --- | --- | --- | --- |
| | Elehot Electric Shaver | Braun Series 7-790cc | Braun Series 9 9095cc |
| Score | 4.1 | 4.6 | 4.4 |
| Battery | 0m | 50m | 50m |
| Display | LED | LED | LED |
| Blade Type | Rotary | Foil | Foil |
| Wet and Dry | | | |
| Trimmer | | | |
| Cleaning Unit | | | |
| | Read the full review | Read the full review | Read the full review |
The cutting elements have been installed with six different levels of cutters and protective cutting systems. These provide for a close and comfortable cutting blade system.
Another nice feature of the Elehot is that the blades are self-sharpening. This means that you won't have to buy another shaver for a long time. As you shave, the cutting blades are automatically sharpened within the head of the shaver.
These blades have been reinforced with iron and tempered for the most strength. This has also made the metal non-corrosive, so even if you forget to dry your shaver off after washing it, it will never rust on you.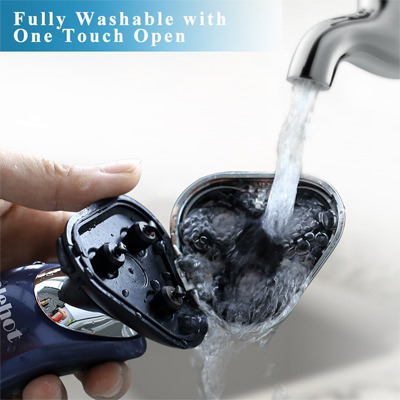 After you've used the rotary shaving head, it pops open. You can easily rinse it with warm water under the tap to clean out the stray hairs and get it ready for the next day.
The rotary head easily pops off so you can add either the nose and ear trimmer, or the hair clippers.
The personal trimmer can also be used to shave hair from the nose or the ears. It's provides for a safe trim, so you don't have to worry about getting any nicks or cuts in these sensitive regions.
The hair clippers can be used to trim your hair or your sideburns. You have two different length combs to choose from and every length in-between. You can also trim your moustache or sideburns. The hair clippers work better for men's shorter hairstyles.
The rechargeable battery in this shaver is a lithium-ion battery, which is the industry-standard today. You won't need to replace AA or AAA batteries like some of the other cheaper shavers on the market today. The Elehot takes only 1.5 hours to fully charge it up, which will give you forty-five minutes of shaving time. This should give you up to twenty days of use before needing to charge it up again.
The Elehot is also a great shaver if you travel a lot. You can simply charge it up, then go on your trip to Europe, without having to worry about packing voltage converters or European plugs. But if you do want to bring your charger cord, there is the option of selecting 100 to 240 volts based on each country's voltage, so it will work overseas, as long as you have the appropriate plugs.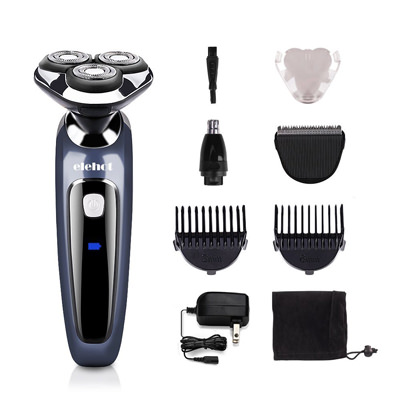 Many cordless shavers only operate on a rechargeable battery. As soon as you plug it into the wall, they do not operate. But the Elehot has realized that many men need their shavers to work in the morning, and can't wait hours for them to charge up. This is why the Elehot can work when it's also plugged into the wall.
There is also a travel lock button on the Elehot so you don't have to worry about your shaver accidentally turning on in your briefcase or luggage. To make it work, you simply press the button for three seconds to turn it off and lock it. Then press it for three seconds to get it back to work again.
If you need a quiet shaver for yourself or for someone who is sensitive to noise, this is the best shaver to buy. It has a quiet sound but still shaves effectively.
In the package you'll receive one Elehot Electric Razor, a cleaning brush, the nose and ear trimming head, the hair clippers, a rotary head with protective plastic cap, two trimming combs, an adaptor cord, and a black carrying pouch. The package the shaving kit comes in measures at 9.6" x 3.5" x 5 inches, and weighs about 1.1 pounds.

If you've been searching for an inexpensive men's shaver that can shave both wet and dry, you'll appreciate the 3-in-1 abilities of the Elehot shaver.
The Elehot electric razor provides for maximum precision with minimum effort with its advanced contour cutting system. Elehot has made a useful shaver utilizing the latest technology. You'll appreciate how the Elehot makes you feel that you're worth it!
Elehot Electric Razor Wet & Dry ET-S5