Many parents would be willing to trim their children's hair if it were simpler, and that safety could be guaranteed. But using a regular men's hair trimmer may not be the best solution.
Kids often need their hair trimmed and kept short, but barbershop or salon visits can add up to hundreds of dollars over several years. Buying the Philips Kids' Hair Clipper Series 1000 HC1091 will not only help you save money, but time too. It provides for a safe glide and gentle touch for professional hair care done at home. The shaver can be used on boys, or for girls who like short hairstyles.

If you have multiple children, you are going to be saving tons of money from having to take them to a professional barber or hair stylist on a regular basis. It may seem like kids' hair grows a lot faster than ours, so now you don't have to worry about sending your kids to school with scruffy or uneven hair, as you can keep it neat and tidy with your Philips Kids' Hair Clipper Series 1000 HC1091.
three trimming combs in varying lengths
This clipper kit contains everything you need to trim your child's hair. Besides the trimmer itself, there are three trimming combs in varying lengths, and a convenient carrying case. It runs on one battery, so you can easily pack it into your luggage for trips to anywhere.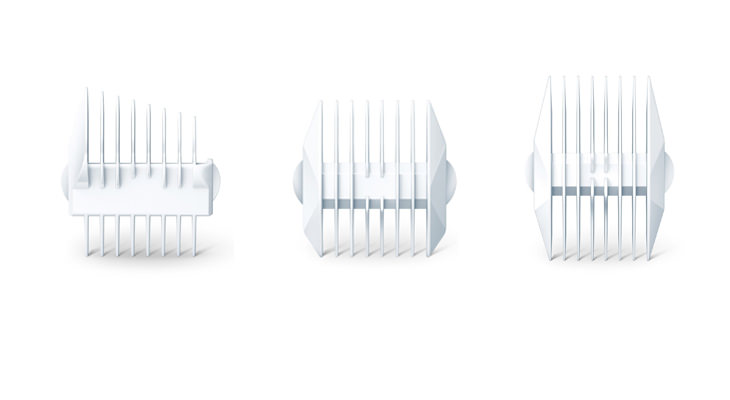 The Philips trimmer runs on one AA battery, which is included in the box. This not only keeps your shaver safe when using wet or dry, but you won't have to worry about your child pulling on an electrical cord while you're trying to trim their hair.
If you're worried about using up too many batteries, you can purchase a rechargeable battery kit and simply recharge your batteries once a month to use for all your devices that take them.
peaceful and quiet hair trimming experience for your kids

As long as your kids enjoy haircuts from 1 mm to 18 mm, you can use the Philips trimmer on their hair well into the teens. Philips is also a well-known brand name that you can trust for designing and manufacturing a reliable and long-lasting product.
There may be other trimmers out there for less, but often they stop working after two or three month's time, which is bad for your wallet and the environment. It's important to purchase a quality Philips hair trimmer that's going to last for years, and that's backed up by a one year warranty, at minimum.
If the looks of the devices you use in your home are important to you, you'll appreciate the sleek and attractive looks of the Philips Kids' Hair Clipper Series 1000 HC1091.
The trimmer is made from grey and white plastic, with a large blue button right in the front centre. The trimmer's body has a sloping and smooth shape, making it easier to hold in your hands. The four combs are in white, with a white matching carrying case.
The tips of the cutters in the trimmer as well as in the combs all have rounded tips to protect your child's skin. This solves that number one issue you had with trimming your child's hair at home.
The blade within the hair clipper has been designed for professional use at home. It has a shorter ceramic cutter with rounded tips. This enables you to trim your child's hair, even when it's been unevenly cut in the past. Soon you'll be able to straighten out your child's hair, so you can give them a professional cut that everyone will compliment them on.
The blade within this trimmer has also been designed for the narrow spots around kids' heads. One of these tricky spots is around the ears, but you'll find that the Philips trimmer does a good job of getting around these regions, all without nicks or cuts. The trimmer has slim blades which can easily reach these spots comfortably.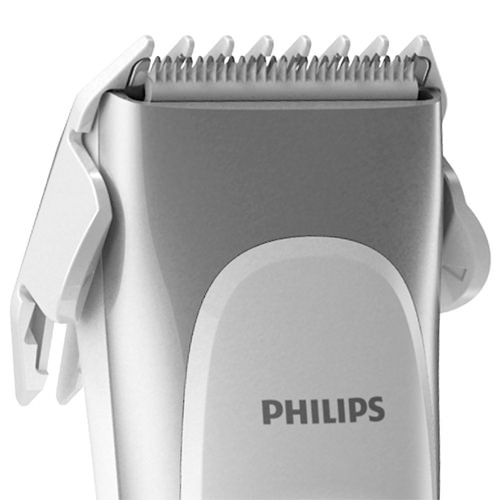 The three combs included in the set can easily be attached to the end of the trimmer. They will trim hair down to lengths from one millimetre to eighteen millimetres.
Not only can you safely wash the combs after use, but the trimmer is also waterproof and can be rinsed under the tap after you have finished trimming your child's hair. Now there is no need to try and dig out hairs with a dry cleaning brush.
You can also use the trimmer to trim your child's hair when it's still a little bit damp after a bath or shower, without worrying about their safety. The shaver has been rated IPX7, meaning that it's 100% waterproof.
The storage case is made from a durable white plastic that will keep both trimmer and combs secure until you need to use them again. The case will store everything from the trimmer to the combs.
Inside the box you'll receive one Philips Kids' Hair Clipper Series 1000 HC1091, one ear contouring comb, three fixed-length combs, a battery, and the white storage case. The trimmer itself measures 2.6" x 6.5" x 7.6".The entire box weighs 1.1 pounds.
The Philips Kids' Hair Clipper Series 1000 HC1091 will give your child a professional haircut, all from the privacy and comfort of your home. You'll be able to save a bundle of money from having to drive them to the barber's or the hair salon on a regular basis, and have more time to spend with them!
Philips Kids' Hair Clipper Series 1000 HC1091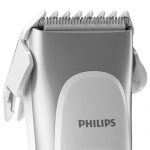 Pros
Use wet or dry
ultra quiet motor
safe cutting system
cordless
100% waterproof