Most men are willing to take the extra steps necessary to have the smoothest cleanest shave possible with their cordless electric men's shavers. This means shaving wet, with gels, foams, or creams. Once the shaving is done, the skin should be treated with a great men's after shave. Not only does this soothe any itchy or painful discomfort, it can also work as an astringent, preventing any infection.
This is why men don't need to scrub or use toner like women do, because the shaving process completes the skin care routine. There are several after shaves on the market for men. It may be difficult narrowing down the options with so much to choose from: gels, lotions, creams, and liquids.
Here are four of the best after shaves for men who use an electric razor.
Gillette Series Sensitive Skin After Shave Gel 2.5 Ounces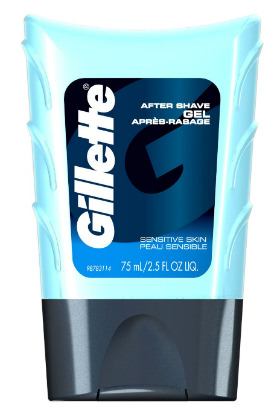 Gillette makes a line of men's and women's razors that include the Gillette sensitive skin after shave gel. It comes in a blue container with black lid that stands up on the bathroom counter. It's formulated for sensitive skin, with a lightly scented gel. As soon as the gel is applied to the skin, it cools and relieves any itchy painful skin from excessive shaving.
This is a non-greasy formulation that quickly dries. It's a lot like a compromise between a lotion and an after shave liquid. It can be used right after shaving, or whenever skin may be irritated during the day. You'll find that it works just as well as that $30 bottle of designer after-shave lotion.
Each container of Gillete series conditioning after shave gel has 75 ml/3.5 ounces in the tube. You'll find that this is the perfect travel size for getting you through airport security, without having to find another container. This after shave doesn't contain alcohol, so you'll find that you don't get that sharp jarring feel. Many men like to also put this product on their face as a pre-shave gel. It will also avoid those post-shave pimples that you can get.
Dove Men+Care Post Shave Balm, Hydrate+ 3.4 oz

Dove was well-known for its great line of bar soaps in the 80s. They've expanded their skin care line over the years to include deodorants and creams and lotions. Men will be excited to try their post shave balm, which has the benefit of hydrating the skin.
The Dove balm has the effect of calming the skin, but being a lightweight product that rubs in easily. It contains vitamin B5 which is known to relieve skin irritation, particularly from shaving the skin. After use, it will leave the skin feeling smooth, soft and comfortable. The balm absorbs into the skin quickly, so you won't feel the need to pat the skin dry with a towel afterwards. The Dove post shave balm has been tested by dermatologists, to ensure that it performs as the packaging says. One container has 4.6 ounces of product. For optimum usage, apply it to your face and neck immediately after shaving.
Check Dove Men+Care Post Shave Balm
Clubman Pinaud After Shave Lotion, 6 Ounces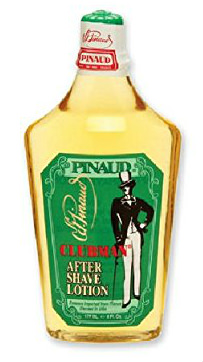 Clubman Pinaud after shave lotion looks a lot like a fine gentlemen's drink of choice, but it's actually after-shave liquid. It comes in a clear bottle with attractive green label and yellow after shave liquid. For under $10 a bottle, this lotion rates high. When you pat it onto your skin it will feel cool and exhilarating. If skin feels a bit irritated after shaving, you'll be able to soothe it with the Clubman Pinaud. If there are any razor nicks, it will quickly heal them up.
If you're seeking a more fragrant product while shaving, the Pinaud has a suave, masculine scent which will linger on your skin afterwards. The essence is sourced from France, with the product being manufactured in the USA. This scent is similar to what was used by barber shops in the Victorian times. It may suit the older gentleman or younger man who enjoy vintage-smelling scents, and who does not like Axe or other products meant for teenagers. Each bottle contains 7.2 ounces of after shave lotion.
Neutrogena Men's Razor Defense Post Shave Lotion, 2.5 Ounce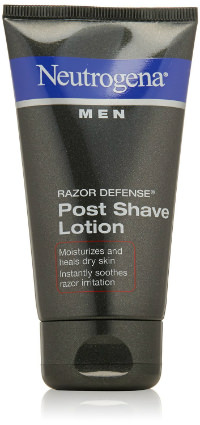 Neutrogena has a great line of skin care products, and that includes the Neutrogena men's razor defence post shave lotion. After shaving immediately put some lotion on your face to keep irritation from beginning. While you may be tempted to use it on your body, there are other lotions from Neutrogena for that. This will soften your facial skin, and keep it from drying out, which is often what happens after using liquid after-shave lotions.
This lotion is gently scented, so it won't annoy those around you, and is safe for men who work in scent-free office or medical care environments. It may work better on men who have extremely dry skin, as it's on the greasier side, rather than men who already have greasy skin.
This lotion comes in a 2.5 ounce bottle, which is also great for taking on flights. It's under $14, and will last you through an entire month's worth of shaving. It also has some minor UVA/B sun protection, though you'll want to wear something different if you spend a lot of time outdoors in the summer.
Check Price of Neutrogena Men's Razor
To find the best after shave you're going to want to decide whether you want a balm, lotion, or liquid to soothe your skin. The scent may need to be to your preferences as well, while some men may prefer no scent at all. Many may wish a cream that rubs in quickly, rather than fussing with trying to get it rubbed in. The packaging may also be a concern, as you have damp slippery fingers in trying to get it opened and closed first thing in the morning.
Once you've found the best after shave, you'll be ready to face the day.