Many men enjoy the convenience of the Braun shaver and cleaning unit, but it adds to the total cost of the system. The Braun Series 5 550cc provides the best solution to that problem with a cordless men's shaver and cleaning unit for around $100. The Braun Series 5 550cc isn't too fancy—it comes in a simple black casing with blue highlights—but it will do a great job of keeping a man's face clean and smooth. The shaver is rechargeable, and can be used wet or dry.
Braun is well-known for their foil head style shavers, and they claim that they shave better than the rotary style. Within the 550cc is Contour Adaptive technology, that allows the head to adapt to the different curves and shapes of a man's face. It will adjust to jawline, and under the chin where stray hairs may be hiding. The Braun Series 5 550cc shaver will slide over your skin, adjusting to each curve and contour, even under the jawline and chin where shaving is trickier.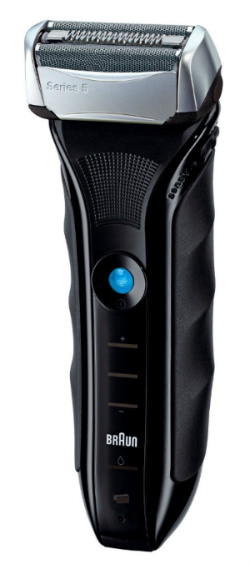 Braun believes in making men's shavers that not only meet their design standards, no matter the price point, but to meet ergonomic standards as well. This means that you'll be able to grip the shaver easily in your hand, even when the unit is turned on and vibrating. This shaver has curves along the side which enable you to grip onto it better, and achieve comfort in your hand.
The shaving head is built with Optifoil technology. This unique design will shave off more hair in one pass than other shavers, and it will also trim closer to the skin than these others too. It'll still do it comfortably, leaving your skin free of redness and irritation after a morning shave.
The ActiveLift will work to grab those pesky flat-lying hairs that lay against the skin, without you having to go over it again and again. This will minimize irritation that's caused by repeatedly shaving over the same spot again and again, because the hair won't shave off. ActiveLift is particularly important to use along the neck, where hair can be more difficult to trim, as the neck is highly sensitive to pressure. The patented ActiveLift is built into the middle trimmer of the foil head. Braun says that ActiveLift is the only patented middle trimmer in the world that can lift up and trim flat lying hairs.
The Braun shaving head is Contour Adaptive, meaning that no matter what your facial shape is, it will work for you, by moving with the shape of your face.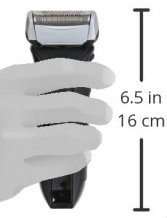 Most of Braun's foil head shavers use a triple action cutting system. Three special cutting elements are built into the head of the shaver to shave off hair, no matter if it's long or short. One set of blades will trim off short hair, another longer hair, and the third will grab those hairs that are lying flat against the skin. Together, all three will shave progressively closer to the skin, leaving it feeling clean and smooth. You may use your Braun Series 5 550cc shaver either wet or dry, as it's built with a 100% waterproof casing. If you don't wish to use the Clean and Renew system, you can simply rinse the shaver under a warm water running tap, then shake out and pat dry.
| | | | |
| --- | --- | --- | --- |
| | Braun Series 5 550cc | Braun Series 7-790cc | Braun Series 9 9095cc |
| Score | 4.2 | 4.6 | 4.4 |
| Battery | 45m | 50m | 50m |
| Display | | LED | LED |
| Blade Type | Foil | Foil | Foil |
| Wet and Dry | | | |
| Trimmer | | | |
| Cleaning Unit | | | |
| | Read the full review | Read the full review | Read the full review |
On the front of the Braun Series 5 550cc shaver is a two stage LED display. This will tell you how much battery charge you have left until you need to charge it up again, and how far along its in the charging stage.
The box also contains a Clean and Renew system. In the box of the Braun Series 5 550cc you'll receive one men's cordless shaver, and the Clean and Renew system. This system makes it easy to clean and maintain your shaver. You can place the shaver head down into the unit and press a button. The system will take over from here, and clean, charge, and lubricate your men's shaver.
There are replaceable cartridges which slide into the base of the cleaning unit. These have the benefit of cleaning the blades of your shaver, eliminating bacteria, and lubricating them for top performance. They have a fresh lemon scent.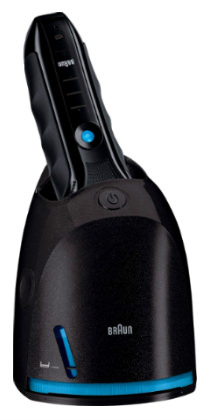 If for some reason you forgot to charge up your shaver the night before, you'll be able to use the charger plug to plug it into the wall to get a quick five minute charge. This will be enough to give you your morning shave, but remember to place it into the cleaning and charging unit so that's it's fully charged up by the next day.
If you don't wish to use the cleaning unit one day, you can simply rinse your Braun Series 5 550cc shaver under the tap. Shake out the excess water, and pat dry. It will be ready to go for the next day.
Almost all men's cordless and rechargeable shavers come with a pop-up hair trimmer. The Braun Series 5 550cc shaver has a precision long hair trimmer that has been designed specifically to remove and trim the hairs of sideburns, mustache, and beard. When not in use, it slides back down again.
Inside the Braun Series 5 550cc shaver is a powerful Li-Ion battery. You'll find that it continues fully charging up and lasting for its full length of battery life, as this type of battery does not suffer from that "memory effect" of repeated charges.
The Braun Series 5 550cc shaver system is perfect for men who enjoy the Braun brand, and want the convenience of the cleaning and charging unit, but don't want to pay a high price for it. Braun considers everyone's budget and makes their Braun shaving technology available to all. Even though it might not look as fancy as their Series 3 line, you'll still be pleasantly surprised at how great it shaves.
Braun Series 5 550cc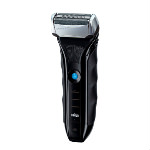 Pros
Smooth and precise shave
Clean and Renew unit
Washable
Quick 5 min charge