Philips is one of the most popular of men's personal care shavers and trimmers. The Philips Norelco 9100 trimmer is perfect for men who need more precision styling than a men's shaver can provide. This trimmer is nicely designed in a sleek black case with red stripe. Turned sideways, it's long and narrow, and from the front it's short and flat. It gently tapers down to enable it to be more easily held in the hand. It's also cordless and washable.
The Philips Norelco 9100 beard trimmer can be used to trim hair on the head, beard or mustache hair, and hair on the body. It can create a stubble look on the face. It's not meant to be used for regular men's shaving, but will make a great secondary men's personal care product for the bathroom.
This beard trimmer has a unique feature that you won't see on other men's beard trimmer products. It has a laser-guided light that allows men to do precision controlled shaving. This laser guide projects a thin line onto the skin of your face, so you can see precision lines and trim in that direction. This also enables you to recreate the exact same style on both sides of your face, which can be a craft in itself without a laser guide.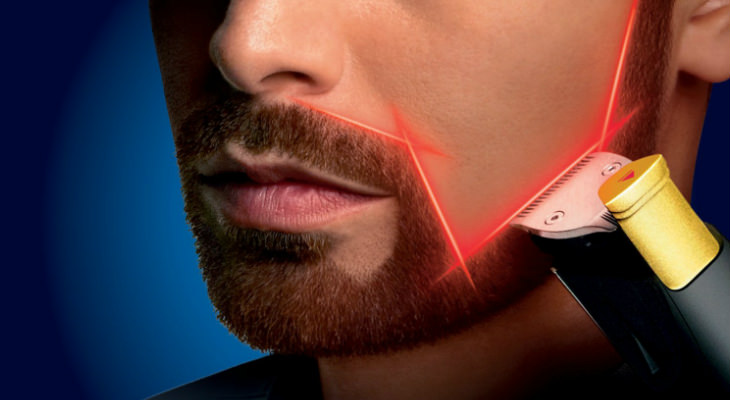 This laser guide pops up when you need it, and then pops back down when you don't. To use it, you guide the shaver in line with the laser lines on your face. This enables you to move the trimmer to the correct position before placing it down onto your face, as once it's down, it begins shaving. It will allow you to eliminate mistakes, which are so disappointing to the man who was hoping to have even facial hair on both sides.
Men may be concerned about the laser light and their eyes, but Panasonic has even considered safety concerns. They have designed the laser light with a Class 1 light. This means that the light it emits is completely safe for the eyes. So, if you accidentally shine it into your eyes, don't worry, it's as safe as a regular bathroom light.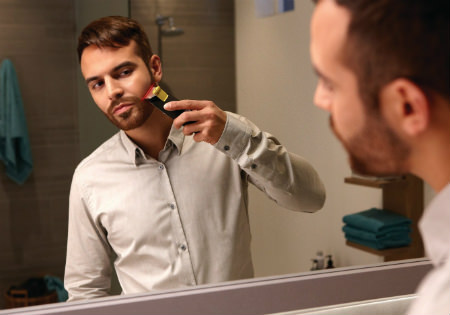 The blades built within the trimmer are self-sharpening, making them last longer, and lengthening the time needed before you need to buy a new shaver head. The blades also don't need to be oiled, so this saves you money over time. There is a wider end on the trimmer which can be used to create straight lines along neck and sideburns. The narrow end can be used to get into hard-to-reach spots around nose and mouth.
The blades built within the trimmer are made with chromium steel. These blades are self-sharpening, so that the head will not need to be replaced so frequently, such as is recommended in many of men's personal care shavers and trimmers. These blades are made from finely ground chromium steel. They also have rounded tips, to minimize discomfort. The chromium steel blades do not contain any nickel, so they can be considered suitable for men who may have allergies. All these features together means that men will experience less redness and skin irritation after shaving.
Between the precision blades and the hair combs, men will find that the Philips Norelco 9100 beard trimmer will provide the best and closest trim possible. There won't be any tugging or pulling of hairs which can cause great discomfort. The trimmer will effectively snip hairs off in the first pass, eliminating repetitiveness, which can also lead to redness and skin irritation.
The trimmer can be used for both trimming, and for detailing around the angles of the face, or around mustache or goatee. It's also perfect for men who like to have stubble, for today's modern facial hair styles.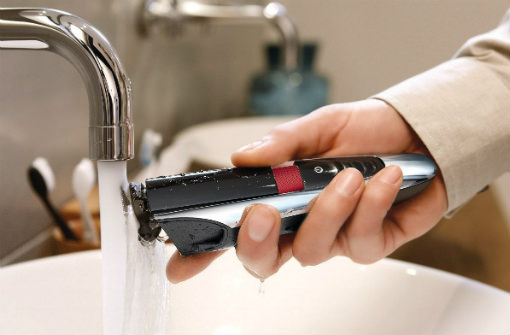 There are seventeen different length settings with this trimmer, which should please most men. These lengths can be adjusted from 0.2 millimeters and up. Many other popular brands of men's trimmers don't go as low as 0.2 mm, often 0.5 mm is the most common shortness. You can choose from 0.2 mm to up to seven millimeters. There are also two different combs included, to extend the length options. In order to choose the optimum trimming length, adjustable wheel locks can be rotated so a man can choose their optimum hair length.
The trimmer settings on the Philips Norelco 9100 also lock into place securely, so you won't have the aggravation of them popping out of place, and then trying to figure out which setting you were at. Another great feature is that when you've made your choice, this will show on the LED display panel, which is handy for reference. The next day you can choose the setting again, or simply keep it at that setting all month long. This display panel will also note how much rechargeable power you have left, and note the progress as the trimmer is being charged up.
This trimmer can be used in the sink, but it's not recommended to fully immerse it or take it into the shower. This is due to the laser light feature. It can be easily washed after use, to get any lingering hairs out though.
It takes one hour to charge up the Philips Norelco trimmer 9100, which gives about one hour of shaving time. This is impressive in a trimmer, which should be enough for a month or more of trimming time for men who only shave a couple times a week. The trimmer contains a lithium ion type of battery.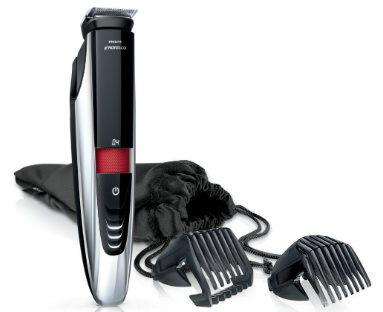 Some men's trimmers will only work in cordless mode, which can be frustrating if you forget to plug it in for recharging the night before. This is not the case with the Philips Norelco 9100. It can be used either cordless, or when plugged into the wall. You'll never feel dismayed, or lose time in the morning, because it will always have the power you need to look your best when you need it for shaving.
The price of the Philips Norelco trimmer 9100 is extremely affordable, at just under $100. Men will feel confident in buying this trimmer, in addition to their regular men's shaver.
The Philips Norelco 9100 is compact and lightweight, weighing only 14.9 ounces. It measures 1.8 x 1.5 x 7.2 inches. The model number is BT9285/41. Inside the package you get one Philips Norelco trimmer 9100 BT9285/41, rechargeable Lithium-Ion battery, a charging and power adaptor, one beard comb, a detailing comb, and one storage pouch.
Men who need to create even angles and long lines in their beard styles will appreciate the laser guiding feature and the great price on the Philips Norelco 9100.
Philips Norelco Beard Trimmer 9100