Are you a man who likes to experiment with different looks? If so, the Braun Series 6 6075cc SensoFlex Electric Shaver comes with a full kit that will suit all your shaving needs. This shaver has a nice slim design, making it easier for men to easily hold it in their hands. This men's shaver also has a nice soft grip so you won't accidentally drop it on the floor and lose your investment.

Full Shaving Kit with Accessories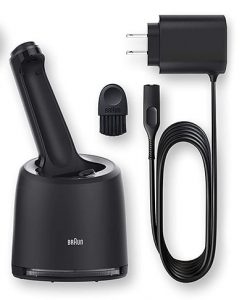 Besides the Braun Series 6 6075cc you get, you'll also receive a handy protective zippered pouch for travel. There is also a clean and charge station, a cleaning brush, a power cord and a plug. This shaver has a traditional foil shaving head but it can be detached and one of the included trimmer attachments snapped on.
There are seven different trimming heads. Each one is suitable for trimming down to a specific beard length. You can experiment and try a new look for each month.
Senso Flex Technology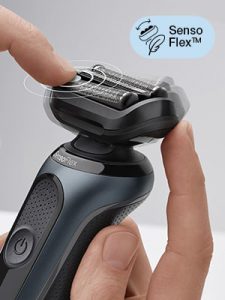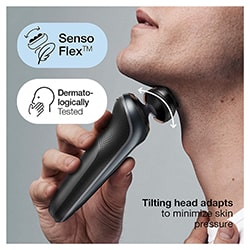 The Braun shaver head isn't stiff, it actually moves left or right as you shave, easing the pressure on your hand to make shaving simpler.
This swivel-head shaver had been tested by dermatologists and has been proven to minimize shaving pressure on the skin.
Built within the head are SensoFoil blades that have been designed to provide a close smooth shave, yet one that's safe and free of nicks or cuts. This is helpful for men who have sensitive skin.
LED Display Panel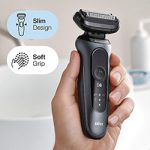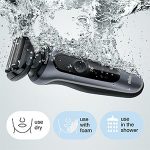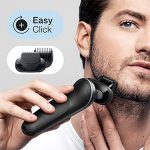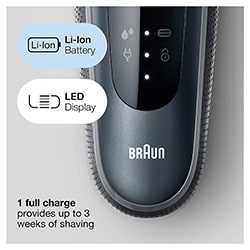 Just above the Braun logo on the front bottom of the men's shaver is the LED display panel. This panel will notify you of how much shaving power you have left, and whether it's time to plug it in for recharging. There is also an indication of when the shaver needs to be rinsed and cleaned. Finally, there is a travel lock feature, so you can place the case in the pouch for cleaning and not have to worry about the shaver accidentally turning on during transit and draining the power.
4-in-1 SmartCare Centre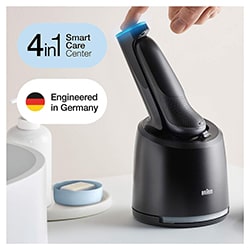 The Braun clean and charge station is called a SmartCare Centre by Bruan. It's simple to use. Simply place the shaver head down into the bowl. The base clips into the top extension part so it can be recharged. You press the button at the top to activate the cleaning process. The blue light will be lit.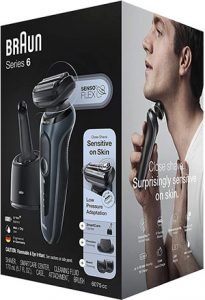 One full charge will provide up to three weeks of shaving, or 50 minutes.
If you're not into experimenting with technology, Braun has been a trusted brand of men's shavers for over a century now, and this men's shaver kit has been engineered in Germany. You'll love the quality of the Braun Series 6 6075cc SensoFlex Electric Shaver. You can feel confident in knowing that every morning you'll have a gentle but close shave!
Braun Electric Razor Series 6 6075cc