When you're comparing men's electric shavers you'll want to check out some of the best men's shaver brands, including the Philips Norelco line. Philips is popular for its line of premium rotary shavers. Many men prefer a rotary style shaver to a foil-style. The Philips Norelco Electric Shaver 8900 has everything that a man would need to have a clean smooth shave. There is also an optional cleaning stand so you can decide if you want that or not.

The Philips Norelco Electric Shaver 8900, Wet & Dry Edition is cordless, rechargeable, and can be used wet or dry with its special wet and dry electric edition and Aquatec technology. You can add shaving gels, foams, or lotions to your shaving time in the shower. You'll still have a great dry shave, but for the ultimate shave, try this shaver out in the shower and with moisturized shaving products. If you choose to use it wet, Philips says that you'll be able to get 30% closer to the skin, but that it will still be a close and comfortable shave. The shaver is easily washable and can be rinsed under the tap.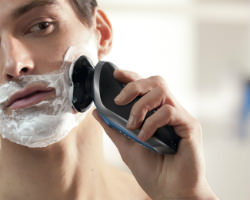 It features three smaller rotary heads within one. The body of the shaver is a medium blue colour, with grey on either side. Each of the heads moves in eight different directions and will help cut 20% more hair than a shaver that doesn't have this flex feature. Within each of the three smaller rotary heads are V-track precision blades. These promise to cut up to 30% closer to the surface of your skin, but without any discomfort.
There is a circular on/off switch about the middle of the shaver. There is also a travel lock on this shaver, so it won't accidentally turn on while in transit.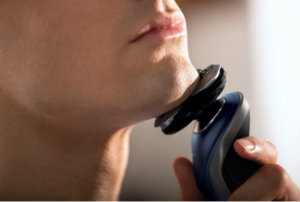 This shaver has a built-in lithium ion battery. There is a three level battery indicator, or LED display on the front of the shaver so you'll always know how much power you have left. It will display a level of three different bars, so you always know how far you are in the power levels. It will take one hour to fully charge it up. This will give you fifty minutes of shaving time, which is plenty if you need to bring it on a trip for a week where the voltage is different. The LED display will also let you know when your shaver may need a new shaving head. It will also tell you when the travel lock is on, otherwise you may get confused when you try to turn on your shaver and it doesn't work.
The shaver has an angled body so it is easier to hold in the hands. It will easily enable you to follow the curves and the contours of your face.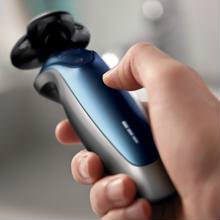 There is a click on and off beard styler so you can still trim around your moustache, sideburns, and eyebrows to look your best. This is a SmartClick beard styler and it has been designed with rounded tips and in a comb-like structure. This is to prevent skin irritation. The click on beard styler also has five different length settings so you can have the beard look that you want. You'll also be able to recreate the same look each time so that you can keep your beard at the desired length.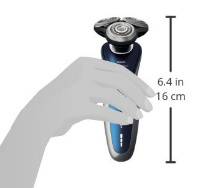 The ratings are high for the Philips Norelco Electric Shaver 8900, with 4.5 out of five stars.
To just purchase the Philips Norelco Electric Shaver 8900 will cost you above $100. If you choose to buy it with the optional cleaning and charging stand, you'll need to pay under $185. The box measures 3.3" x 6.1" x 9.1" and it weighs 1.1 pound.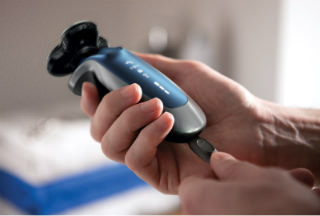 If you are curious as to how this shaver stacks up against the 9700, there are a couple of differences. The 9700 has three different speed settings, while the 8900 doesn't. The 9700 also has a digital user interface rather than LED bars. In the end your choice may be based on price, as these two shavers are very similar in other aspects, and do you really want to spend over $300 for the 9700?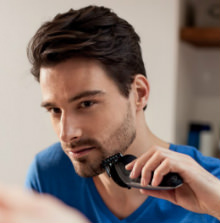 Philips always builds their men's shavers to last, so they are confident in providing you with a full two year warranty on the Philips Norelco Electric Shaver 8900, Wet & Dry Edition.
If you're seeking a great rotary style shaver, but are hesitant in spending a lowball figure on a shaver you've never heard of, have a look at the Philips Norelco Electric Shaver 8900 instead. You'll not only be buying a great shaver, you'll also be buying the years of research and study that they have done to create the best personal care and grooming products for men.
Philips Norelco Electric Shaver 8900, Wet & Dry Edition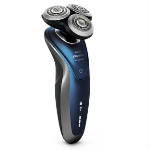 Pros
V-Track Precision Blades
Contour Detect Technology
Click-on Beard Styler
Charges fully in one hour
LED Display