Surprisingly, if you suffer from back hair, there are several products that will help you to shave it off. One of these is the Bakblade's BigMouth Do-It-Yourself Back Hair Shaver. This back shaver looks a lot like a big razor blade. It's made from blue plastic, with a large razor on the end.
The purpose of the blue razor handle is to hold Bakblade brand razors. This shaver is extremely long, with a wide handle that is easy to hold in the hands. Its main purpose is to be used to shave every region of the back. Since the handle is so long, all parts of the back can be easily reached. Unsightly back hair will be a thing of the past.

The Bakblade's Bigmouth Shaver has been made with a patented safety blade design. This reduces the chances that you'll cut or scrape the skin.
The handle of the Bakblade has been designed with ergonomics in mind. The safety blade itself is over 4" wide, providing a wide surface which will shave off more hair in one pass. No shaving cream is required either, as you'll have a smooth and safe shave.

The Bakblade will give you a sexy, smooth look, which will do a much better job than if you used an electric clipper to shave it all off. You can also use the Bakblade's Bigmouth Shaver to shave hair from your arms, shoulders, and other parts of your body. It's gentle enough to use anywhere.

It's simple to use the Bakblade's Bigmouth Shaver. Begin by holding the Bakblade's Bigmouth Shaver with the teeth portion facing towards your skin. Drag it lightly across the portion of skin where you want to get rid of hair, such as your back. You'll notice how the teeth of the shaver grab and cut the hair.
When you need to shave your lower back, you'll want to flip the handle so that it's facing in the opposite direction. Using the same motion you'll glide the Bakblade's Bigmouth Shaver over the next region.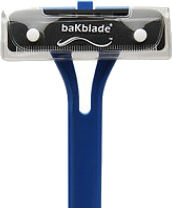 Some men may wish to use a mirror so that they can double check to see that they have removed all the hair from their backs. It may take a bit of practice in the beginning, as you learn the more effective back shaving moves and become familiar with the shaver tool.
You'll never have any discomfort while shaving. It's a lot like a back scratching tool, and you'll appreciate the sensation, which can be quite pleasant. To keep your back looking its best it's recommended that you do your back shaving about once every three or four days.
The Bakblade costs around $30. It measures 14" x 4.5" x 2 inches and weighs about 2.4 ounces.
If you're looking for a good solution to ridding your back of hair, the Bakblade's Bigmouth Shaver has 4.7 out of 5 stars. While it may seem a bit pricy, you do get one razor with it, which makes it more affordable, and is well worth the cost to look great everyday.
Bakblade's Bigmouth