Philips makes a great line of men's shavers, and they also have a few choices in men's trimmers, to make it easier to style beard and facial hair. The Philips Norelco beard trimmer 7300 comes in a sleek dark blue/black casing with white and light grey design, that elongates from base up to a wider trimming head. This is a narrow beard trimmer that can be used cordless or with the cord plugged in.
The Philips Norelco QT4070/41 beard trimmer 7300 can be used for trimming beards, mustaches, goatee, and other beard styles. It can also be used to leave behind stubble for a five o'clock shadow look, which is a popular modern day style for men.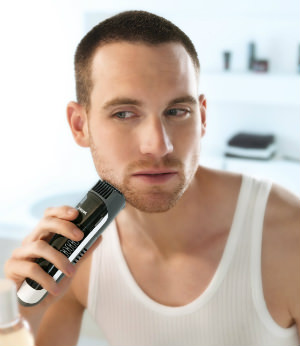 Philips always likes to show up the competition, so their men's trimmers always do more than your standard beard trimmer does. This beard trimmer has a vacuum on it, so it sucks stray hairs into a compartment. This is an extremely useful feature, minimizing cleanup in the bathroom, particularly if you have a grumpy spouse who is annoyed at seeing stray hairs in the sink first thing in the morning. This mess-free hair trimming feature is a great one and Philips claims this is the only trimmer to have this feature.
Men have more than one beard-length choice with this trimmer. There are eighteen different settings that can be locked into place. The main styling comb can also adjusted to different lengths of hair. These can vary from one millimeter to up to eighteen millimeters. There is also a separate styling comb for optimum stubble of 0.5 millimeters. There is a zoom lock wheel that moves and then can be secured at your chosen position. This will save you aggravation from having to hold it in place, or lose your setting, and then be uncertain what setting it should be at for the other side of your face.
The Philips Norelco Beard Trimmer 7300 also has another unique feature. It has a turbo power boost button. This can speed up shaving, and gives the cutting blades a boost of power, and increases the internal fan speed too, to handle the extra energy, keeping the trimmer motor cooler. To use it, all you have to do is press this turbo power button. When you no longer need it, lift your finger away. It's also beneficial for those regions of your face where you may have tougher, thicker hair to shave off.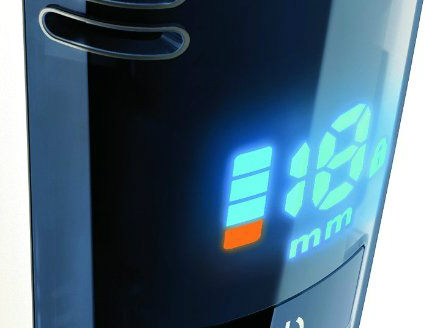 The blades built within this shaver are designed with stay-sharp blades. This means the blades will trim as effectively two years from now as when you first removed it from the box. This eliminates the necessity of replacing the trimmer head once a year too. There is also no need to order shaving oil, saving you money over time. This shaver is designed to be maintenance-free.
Philips is also known for having an LED blue light panel along the bottom front of their shavers and trimmers, at all price ranges. This multi-functional display provides information such as recharging time left, setting chosen: millimeters, and how far along it is in the charging process when attached to the charger. It will also alert you if you're running low on the battery charge, but you can still plug it in and use. The display panel is also bright, making it easier to see, even in dim lighting conditions.

There is also a travel lock feature on the trimmer, which will stop it from turning on during transit and draining the battery. This means you can fully charge it up before a trip, and then pack it into luggage without the need to pack the charger too. You can take it with you on trips, as well as for hiking or camping. It's also handy to keep in your briefcase or backpack for those times when you may need to do a touch-up before an important meeting or date.
To charge up the Philips Norelco beard trimmer 7300, you plug in the charger cord, but the trimmer can also be used while plugged into the wall. The trimmer includes a lithium-ion battery. It takes one hour of charging time to provide fifty minutes of shaving time, or seventy-five minutes of shaving time without using the turbo power mode at all.
In the package is the Philips Norelco beard trimmer 7300, a separate comb attachment, a charging cord, and a small cleaning brush. Exact product and model name is Philips Norelco QT4070/41 Beard Trimmer 7300. The package weighs one pound.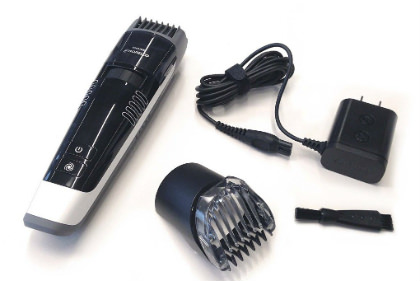 The Philips Norelco beard trimmer 7300 comes with a two year manufacturer's warranty against defects and craftsmanship.
The price of the Philips Norelco beard trimmer 7300 is extremely affordable at $70, making it within reach of most men who like to have a men's shaver and a men's beard trimmer in the bathroom.
Men who switch to a Philips trimmer, such as the 7300, will be pleased by its craftsmanship and solid feel. This trimmer is designed to last, and provides a simple way to create and maintain today's popular beard and facial hair styles. The price point is also perfect, and most men will love the vacuum storage compartment so they don't make a mess in the bathroom. It makes a great gift, and provides an easy way to trim hair than using your standard men's shaver.

Philips Norelco Beard Trimmer 7300