Many men are handling their own hair grooming at home, as they don't want to be exposed to germs at a barbershop. There are many affordable men's grooming kits to buy, but you may be confused as to which one to get. If you're seeking something affordable, but that has good quality, the Hatteker Beard Trimmer and Hair Clipper may just be what you need. Best of all, the Hatteker is cordless, rechargeable, and waterproof, so it can be hard to find these features at this price point. The Hatteker Beard Trimmer enables you to trim your hair yourself or to have your partner do it for you.
All-in-One Hatteker Hair Kit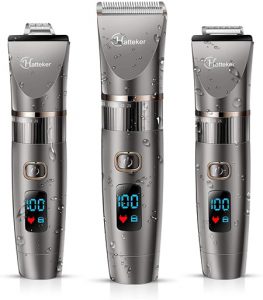 Instead of buying three different hair devices, you'll only need one when you buy this hair grooming kit. The Hatteker is made with an elegant grey body with LED readout on the front bottom. There are various attachments that turn this hair scalp clipper to a beard or mustache trimmer, sideburns trimmer, or hair detailer.
In this kit there are three different grooming heads in varying widths and with varying blades depending on the purpose of the shave. One is a hair clipper to trim your scalp hair, the second is a trimmer to trim around beard or mustache, and the third is a small detail trimmer that makes shaping and detailing around sideburns or facial hair much simpler. You have the option to create stubble, a goatee, or other facial hairstyles.
…turn this hair scalp clipper to a beard or mustache trimmer, sideburns trimmer, or hair detailer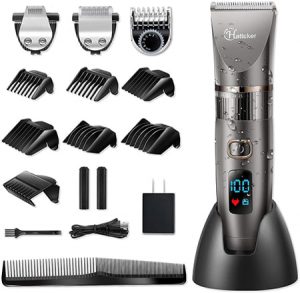 There are also six black attachment guide combs so you can choose which length of hair trim you prefer, from 3 mm to 24 mm options. Also included in the kit are extra lithium rechargeable batteries, a power cord and USB plug for charging, a cleaning brush for the trimmer, and a small comb for hair grooming. You can charge up the Hatteker Beard Trimmer and Hair Clipper in the wall outlet, or from a computer or power bank. A black plastic base can be used to hold the hair trimmer while it's recharging, or to simply keep your bathroom counter tidy when it's not in use.
Quality Rechargeable Batteries

Because the Hatteker Beard Trimmer and Hair Clipper can be used cordless, it can also be used wet or dry, with running tap water, or in the bath or shower. You can add men's shaving products or soap to help with your facial grooming. When done, simply rinse the beard trimmer under running tap water and let dry. You won't be able to use the beard trimmer with the cord plugged in, which helps to remind you to keep yourself safe around running water.
You can add men's shaving products or soap to help with your facial grooming.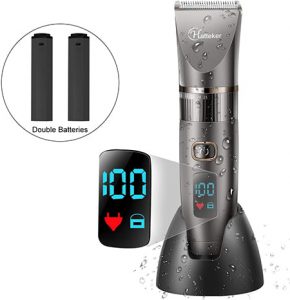 There are two double rechargeable 18650-1200mAh batteries built inside the Hatteker trimmer that are made from lithium-ion. The motor inside the Hatteker trimmer is powerful and has been patented by Hatteker so you can easily get your hair trimming done without worrying about the power tapering off. One full charge of the trimmer takes about 90 minutes, which will give you a running time of up to 2.5 hours. This hair trimmer has also been designed to be quieter, with less noise so you have a more comfortable trimming session. The hair trimmer also runs without heating up, so that you can hold it in your hands without discomfort.
Custom Hair Grooming Settings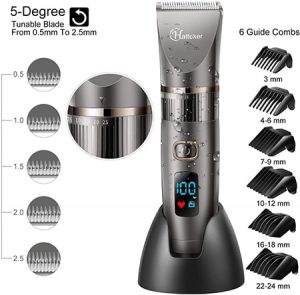 The Hatteker Beard Trimmer has a unique feature that you don't see on too many different hair trimmers. Just below the head of the shaver is a banded feature that wraps around the shaver. This twists left or right, so you can chose five precise length setting adjustments, from 0.5 mm to 2.5 mm. These blades move as you trim your hair and self-adjust the 5-degree turnable blades.
One of the cutting heads of the beard groomer also has a precision dial that varies from 3 mm to 8 mm. Combined together, there are plenty of hair length options that will suit you.

Quality Cutting Blades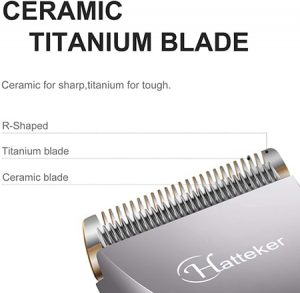 The blades of this hair trimmer are made with quality high-carbon titanium ceramic that are R-shaped. This makes them both sharp and tough. The blades will trim through even the thickest toughest hair strands, so your hair trimming and hair clipping is always simple.
The blades will trim through even the thickest toughest hair strands…
The blades in this Hatteker Men's Beard Trimmer and Hair Clipper have been precision ground to stay sharper for longer, and they are also self-sharpening, so you won't have to replace the trimmer head as often. The quality cutting blades will last much longer. The titanium blades will provide high performance so you can do any style that a barber can do, and without getting any skin irritation.
Hatteker Beard Trimmer Features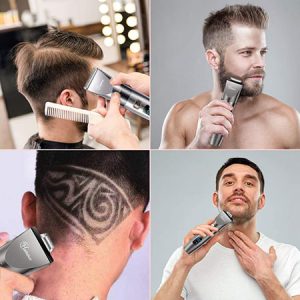 The LED indicator is located at the bottom front of the beard trimmer. It has a black rectangular shape with blue lit numbers to indicate the power percentage left. Beneath that is a red light indicator that will show when it's time to plug in for recharging. There is also a blue lock indictor to indicate when it's in lock position. The power ON/OFF switch is located around the front middle of the trimmer.
This beard trimmer is 100% waterproof, though we don't advise that you leave it underwater for any length of time.
Detailed Hair Trimmer Specifications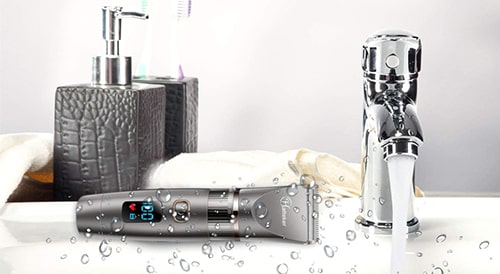 The trimmer weighs 1.61 pounds and comes in a box that measures 10.87 x 10.87 x 3.11 inches. Both lithium rechargeable batteries are included. This shaver has a high number of positive reviews at 4.5 out of 5 stars. If you're ready to do your own hair and facial grooming at an affordable price, you'll love how the Hatteker Beard Trimmer has everything you need to look your best.
Hatteker Beard Trimmer