There are tons of options for men and women to trim excess hair from the head, face, and body, but you can't use shavers or trimmers for the nose or ears. The best solution is the Ear and Nose Hair Trimmer Clipper – Professional Painless Eyebrow and Facial Hair Trimmer for Men and Women. The body of these clippers looks similar to a body shaver, but it has a differing head that can actually reach inside the tiny spaces of your body to trim any unwanted hairs.

Best Features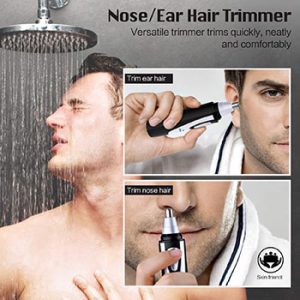 This hair trimmer and clippers has a bottle-like black body with silver highlights. A large power ON/OFF button on the front top makes it simple to activate. There is a protective clear plastic cap so you can keep the clippers safe.
…to effectively trim away unwanted hair
The top of the clippers has a short silver metal tube that's placed inside either nostril or either ear to effectively trim away unwanted hair, so you can look your best. You can also use the hair trimmer to remove hair from around the outside of your ears, eyebrows, beard, and face.
The trimmer will trim hair quickly, neatly, and comfortably, and is suitable for men or women to use.
Battery-Operated Power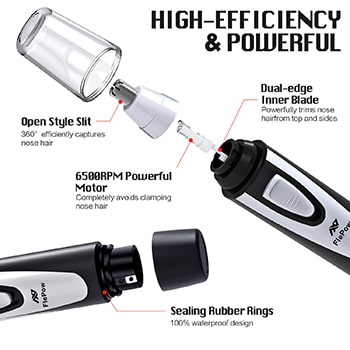 The motor within the trimmer is 6500 RPM. This helps it to avoid tugging at your hair. Since the Ear and Nose Hair Trimmer Clipper is cordless and also waterproof, you can bring it into the shower with you. This will help speed up cleaning afterward, as you won't have tiny strands of hair all over your bathroom floor.
…helps it to avoid tugging at your hair
The Clipper takes one Double-A or AA battery. One battery will give you up to six months of energy-saving usage.
You can also rinse the Clipper under a running tap to get any remaining hairs out. There are rubber sealing rings that keep this trimmer waterproof. The head of the trimmer is removable, making cleaning under the tap much simpler.

Safe Trimming Blades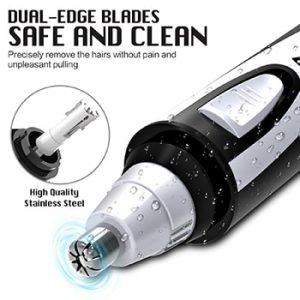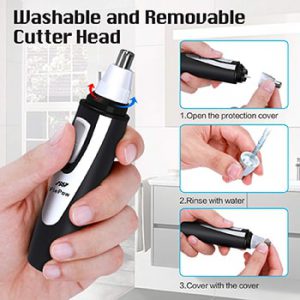 Built within the metal tubing are dual-edged blades. The top of the metal tube has open-style slits installed at 360 degrees. These will help to trim hairs from nose and ears safely and cleanly. You won't feel any pain or unpleasant tugging. The blades are made from high quality stainless steel so they stay sharper for longer and never rust.
Ultra Quiet Design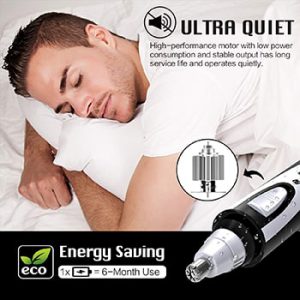 Many people are sensitive to loud noises and will actually avoid using their personal appliances to help look their best. The Ear and Nose Hair Trimmer Clipper has been designed with an ultra quiet motor that works on a lower power, so that you can finish your daily grooming in peace.
If you've been searching for a way to remove any unsightly hairs from your nose or ears, the Ear and Nose Hair Trimmer Clipper will help you to look your best every day.

Ear and Nose Hair Trimmer Clipper