Hair can grow on most parts of the body, but when you're a woman you always want to look your best. But you don't want to use your electric rechargeable women's shaver on your face or other delicate regions of the body. A safety razor might help, but you run the risk of having itchy or irritated skin after a shave. Tweezers work, but it's a slow and painful process. Then there's that peach fuzz that grows all over the face and can only be removed by shaving. Trips to the beauty salon can become expensive instead you can try the Finishing Touch Flawless Painless Hair Remover.
Here's the perfect shaving solution for you. The Finishing Touch Flawless Women's Painless Hair Remover will help provide you with a simple shaving solution in the hard-to-reach and delicate regions of your body.
How This Women's Hair Remover Device is Different
If you've ever been at an important meeting or special event and excused yourself to visit the ladies' room, you may have been annoyed to see excess hair growth on your face or hands. And yet, you don't want to pack your women's shaver in your bag, as that's extra weight and space being used up.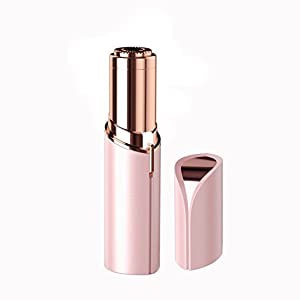 Because this mini shaver is portable, it runs on battery power. You can replace the batteries at any time. Since it's smaller, it's also more discreet to use in the washroom.
At first glance, this women's hair removal device looks a lot like a large lipstick. The cover lifts off just like a lipstick's lid would. You press the ON button and then gently move it around the skin region that needs to be shaved, just like you'd run the tip of your lipstick over your lips. When done, simply turn it off and place the cover back on.
The Flawless Finishing Touch Shaver is small and compact enough to fit into even the smallest evening bag. It will be there for whenever you need to do a quick touch-up away from home.
The Finishing Touch Flawless Facial Hair Remover is also a great solution for women who are tired of visiting the beauty salon for hair removal. They can save time and money buy keeping the Finishing Touch remover in their makeup kit.
Even better, should your purse accidentally slip open, if anyone should peek inside, they'll only see what appears to be a large lipstick. You'll be saved from embarrassment with this discreet shaver. And even better, it comes with a wide range of colours and features to help you to look and feel your best.
You have six different colour options to buy. There is the blush/rose gold, Lavender, Parisian Blue, Coral, Mermaid/Rose Gold, and White/Rose Gold options. Choose one, or choose several to match your hand bags.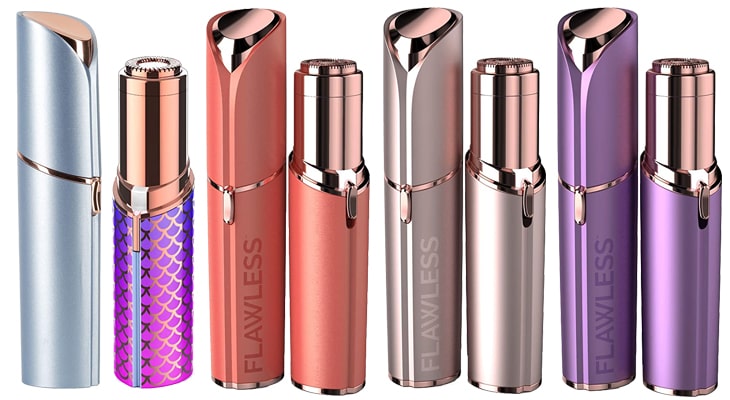 The Finishing Touch Flawless offers an affordable solution to your personal care needs. You can even pack this into your travel kit to bring on a trip. Even better, if you enjoy camping, you won't have to worry about finding a power sourced outlet to plug this into, as it's fully battery operated.
Flawless Finishing Touch Features
The Finishing Touch Flawless Facial Hair Remover also offers some great features. The mini-shaver has been gold plated with 18K gold.
It provides a simple, instant, and painless way to remove hair. It works as a shaver, not an epilator that pulls hair out. It's designed to be gentle and hypoallergenic.
Because of this, you'll be able to use it on a daily basis. Should you accidentally touch the tip, you won't accidentally cut yourself such as you would if you touched the tip of a safety razor. This shaver has been dermatologist-approved. The shaver is sold in an attractive box which will be perfect for gifting to all your female friends for Valentine's Day, birthdays, Christmas, or other holidays.
Quality Shaving Blade & Head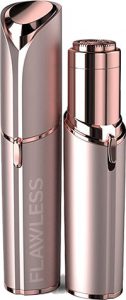 The Finishing Touch Flawless Hair Remover has a rotary-style shaving head. Within this head are stainless steel blades that are hypoallergenic and designed to last for its full shaving life. The stainless steel blades are located beneath the 18 karat gold-plated head.
Your shaving head will spin around in circles to remove hair. It does this microscopically, removing even hairs that you can't see. The blades only remove the hair and never actually touch your skin. This provides a gentle smooth shave that is free from discomfort or redness.
How to Use the Finishing Touch Flawless Facial Hair Remover
Instead of using your women's shaver for legs, or tweezers which can be painful, the Finishing Touch Flawless Women's Painless Hair Remover will help you to easily shave hair from your face. You can use your Finishing Touch Flawless Facial Hair Remover on a daily basis.
It's best to wash your face fully before using it. First remove the protective cap, then slide the switch that's located on the side of the device up into the ON position. This will also automatically turn the light on. The light is also a handy feature that will remind you to turn off the shaver when you're done.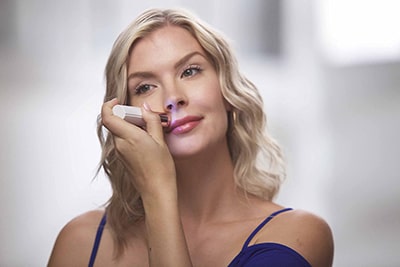 Shave first, then apply your makeup. If you have extra-sensitive skin, use it on a day when you don't need to wear makeup, just to give any irritated skin a chance to heal up.
To shave, gently press the head of the shaver against your skin, head down. Unlike your traditional women's shaver, this one should never be held at an angle.
Keep on shaving your skin by making small circular motions to remove your unwanted hair. As you use it, you will notice the head becomes warmer with use. This is normal, but it's best to limit your shaving to no more than ten minutes at a time.
It doesn't matter what your skin type is either: dry, normal, oily, or combination, the Finishing Touch Flawless Facial Hair Remover works on all skin types.
The smaller shaving surface of this facial hair remover has been designed with ultra-precision technology. There is a double-head ring that gently glides it over your skin. This allows it to easily contour around your face so you never miss a hair.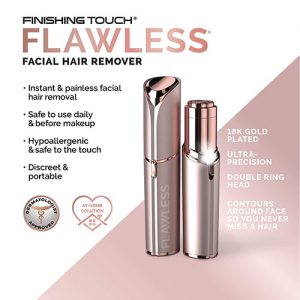 There are also many other great features. When in use, the Finishing Touch Flawless Facial Hair Remover has an LED light that helps to light up the region of skin you are shaving. It can be hard to see tiny little hairs, but the light will help ensure that you don't miss any.
This shaver is most effective at removing hairs that are 1/4 inch or less in height. If you've left your shaving chore for too long, you can use a small set of scissors to trim the hairs down, then use your Finishing Touch Flawless Women's Painless Hair Remover.
You can use the Finishing Touch Flawless Women's Painless Hair Remover on your upper lip, chin, cheeks, and more. If you're noticing that fine peach fuzz on your face as you age, this is the perfect solution to get rid of it.
This shaver is gentle enough to use every day. Unlike other shaving tools, you won't need to wait a week for the growth to grow to a specific length. If you're worried about hair growing back thicker after shaving, don't. That's merely a myth that was put out by a competitor.
The Finishing Touch Flawless is only designed to be for dry usage. Never immerse it or shave with water or shaving products.
Detailed Finishing Touch Flawless Specifications
T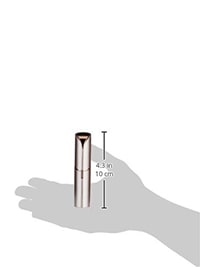 his hair remover is genuine and made by Finishing Touch. You may have seen the ads on TV. Be sure to buy the one that says "Finishing Touch Flawless," otherwise it may be a counterfeit.
The Finishing Touch Flawless Facial Hair Remover is 4.5 inches or 10 cm in length and 1" x 1" in width. It weighs a light 2.47 ounces. It requires one Double A or AA battery to work.
If you find that your Finishing Touch Flawless Women's Painless Hair Remover isn't working as effectively, this means that it's time to replace the battery. Likewise, if the light doesn't turn on, or the shaver, then it's time for a new battery.
Like any other electric, rechargeable, or battery-operated shaver, the Finishing Touch Flawless Women's Painless Hair Remover will benefit from replacing the shaving heads at least once every year or two (depending on how often you use it). This not only keeps your Flawless shaving device working optimally, but also saves the landfills from you having to toss the entire unit away. Instead, you can buy replacement parts, such as a new hair remover replacement head.
There aren't too many shavers that are under $20, but the Finishing Touch Flawless Facial Hair Remover provides a great shaving solution for when you're travelling, on-the-go, or when you simply need to shave around the delicate regions of face or body.
Finishing Touch Flawless Women's Painless Hair Remover