Now that we have to stay home and avoid people, many men are trying to figure out how to maintain a fresh professional appearance. It means trimming your hair yourself, but there's no need to learn how to give yourself a haircut with scissors. You can buy professional barbershop hair clippers for yourself. The Hatteker Men's Hair Clippers Professional has everything you need, whether you're trimming your hair yourself, or your spouse is doing it for you.
Large Kit Assortment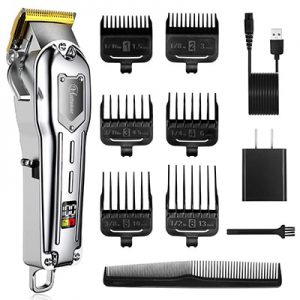 In the box, you'll receive one shiny chrome Hatteker men's hair clippers, plus six different hair guide plastic trimmer combs. These can be used for your personal preferences. If you're uncertain at first what to use, start with a longer hair comb. If you feel your hair is still too long, go to the next length. These combs cover the blades, so the blades only trim your hair to a specific length. The cutting blades can also be adjusted from 0.8mm to 2.0mm with the adjustment tab. If you're uncertain, start with the longer blade adjustment and a longer hair comb.
There is also a men's hair comb, a USB charger plug, and a regular wall outlet charger plug in the box.
High-Tech Features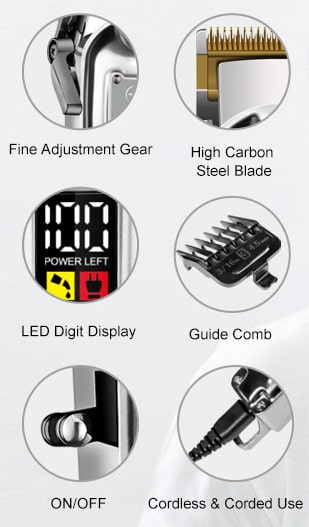 The Hatteker Hair Clippers Professional Beard Trimmer and hair clippers has a fine adjustment gear on the left-hand side that can make your trim more accurate. There is an LED digit display at the lower bottom. This gives the charging level, which starts at 100%. The yellow indicator will let you know when you need to oil your charger. Doing this at regular intervals will keep your clippers at optimum operating power. The red level indicator will warn you when the clippers are going to be fully drained of power, so you should either plug it in for charging or grab your charging cord if you're traveling.
There is also an on/off switch on the front. This hair trimmer has quality high carbon steel blades in the head of the trimmer.
You have the option of using the hair clippers with the power cord, or without. Please note that hair clippers are never waterproof and should never be used in the shower.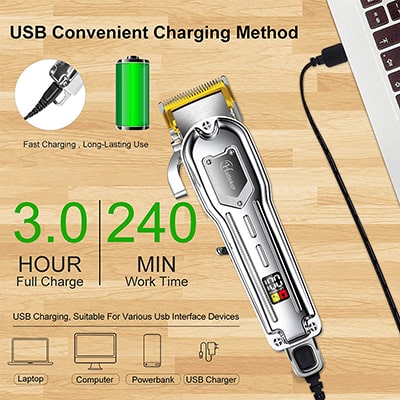 It takes only three hours to fully charge up your clippers. This gives you four hours of hair trimming time until you need to plug it in again. This fast-charging feature provides for plenty of long-lasting usage, and if you have several boys in the family, you can trim all their hair the same day.
You can plug the cord directly into the wall, or plug it into a laptop, computer, power bank, or other device.
If you've been seeking professional hair clippers that can be used at home, but that isn't difficult to use, the Hatteker Men's Hair Clippers Professional Cordless Hair Beard Trimmer Haircut Grooming Kit will be the best item to purchase.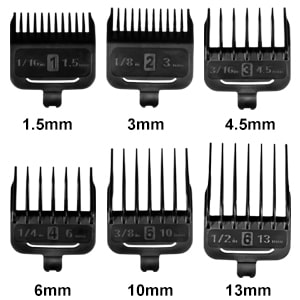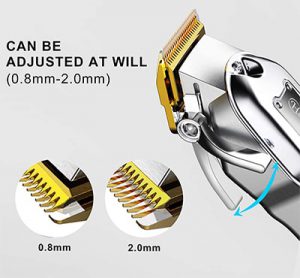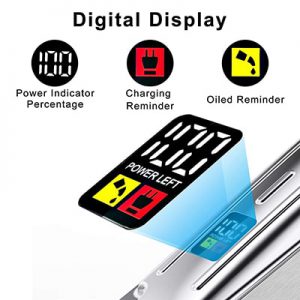 Hatteker Men's Hair Clippers