Since most hair salons and barbershops are still shut down, many people are left wondering how they're going to trim their hair. Some have let their hair grow, but many people still need to look their best for online business and work meetings. Wahl has been a trusted brand of hair clippers for over a century now. They're based in Illinois, USA, and now have a wide range of grooming products for people and pets.
Wahl has a solution for everyone. If you're seeking hair clippers and a hair trimmer for men, women, or children, the Wahl Color Pro Cordless Rechargeable Hair Clipper & Trimmer – Easy Color-Coded Guide Combs maybe your best solution.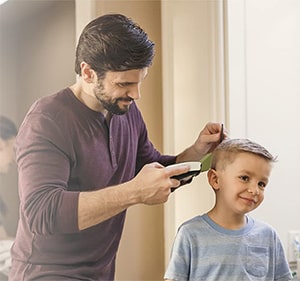 The Wahl Color Pro Cordless Rechargeable Hair Clipper has a white elongated body with dark grey-blue sides and upper front. It's designed to be comfortable when held in the hands. The edges provide a no-slip grip that will help you easily hold it in your hands without worries you'll drop or damage it. The power ON/OFF button is in an easily reachable spot, so you don't even have to see it to slid the power on when it's at the back of your head.
There's also no need to decide whether to buy a rechargeable or a corded hair trimmer, as the Wahl Color Pro Cordless Rechargeable Hair Clipper & Trimmer works both ways. It can also be used around the world, as it has dual voltage.
Complete Wahl Hair Trimming Kit
There are a wide range of accessories included in this kit so you have everything you need to look your best. You can save time by putting the Wahl Color Pro Cordless in your shopping cart without having to hunt around for additional accessories.
…without having to hunt around for additional accessories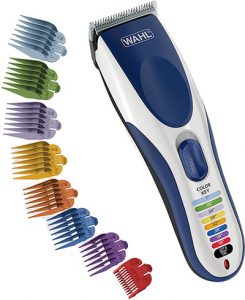 In the box you'll receive one cordless rechargeable Wahl hair trimmer with eight trimming combs. What's so unique about this set is that each hair trimming comb is in a different color . In the past, your old hair trimming kit probably had several trimming combs, but they were all in dark grey or black. The next time you picked up your hair trimmer you probably couldn't remember what one you last used. But with a colored set, you can easily remember what you used last time round: red, purple, light blue, dark blue, orange, yellow, grey, or green. And each member of the family can easily remember what comb was used to trim their hair.
Another unique feature it has that you won't see on most hair trimmers is the Color Key that's on the front of the hair trimmer. The top of the hair trimmer has the hair cutters, then the Wahl logo. Beneath that is the power ON//OFF switch. And beneath that is the Color Key, with the eight different colors that match up with the hair combs.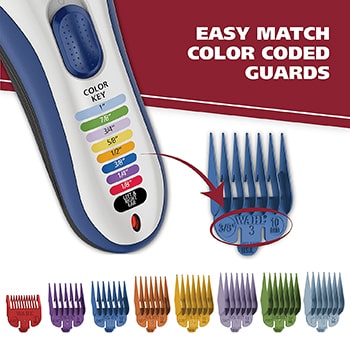 But this key becomes even more helpful, as it also lists your desired hair lengths, from 1" and down to 1/8". The bottom black is for trimming without a hair comb. This one is reserved for trimming close to the scalp around the ears.
The easy-match colour-coded guards also have the desired hair length printed on them, just in case you want to double-check. You can easily switch out the trimming combs to create the hairstyle you like. If you want shorter hair around the ears, but longer at the top, you can easily do that with it.
What's in the Kit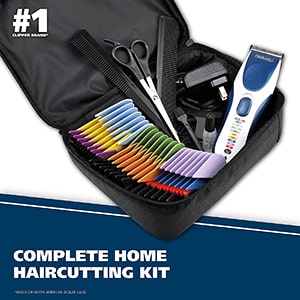 Besides the Wahl hair clipper and trimmer model number 9649, there is also a handy black carrying pouch. This easily zips up and fits into any travel bag. The bag fits all eight hair combs. There are also scissors, a regular hair comb, a small cleaning brush, trimmer blade oil, and the power cord in the kit. This travel case is made from soft manmade materials and measures 7" wide. You can also tuck in a toothbrush and other personal care items.
The included blade oil is for the trimmer blades. The oil helps to prevent blade rust and keeps the blades moving smoothly. The oil will help to reduce friction and lubricate the blades. Be sure to use it on a regular basis. You can add extra blade oil to your order, or you can order it at any time. The oil is only for the hair trimmer itself and should not be used on the face or hair.
Rechargeable or Corded Hair Trimming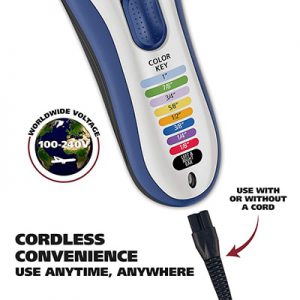 You have the option to either use the Wahl Color Pro Cordless Rechargeable Hair Clipper & Trimmer with the included power cord, or use it without. It's fully rechargeable. Since it can be used corded though, these hair clippers must only be used for dry hair trimming and not immersed into water, especially while plugged in. You will also not be able to use this hair trimmer with any type of shaving products, such as gel or foam.
Unlike some other hair clippers, you can attach the power cord and still use it while it's charging up. Or, if you simply want to use it corded, you can do that too.
It's up to your own personal preferences.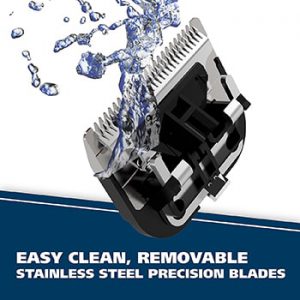 But once you detach the power cord and remove the cutting head, you can rinse the head of the hair trimmer under running water to clean it. Shake it out and let it dry before reattaching it to the main body of the hair trimmer.
If you're going on a short trip, you can save travel luggage space and recharge it before you go, then put it into its travel bag. No need to pack the power cord. You can enjoy cordless convenience anywhere.
The battery built within the Wahl hair trimmer is both long-lasting and powerful. It has a NiMH Rech battery type. It will hold its power until it needs recharging.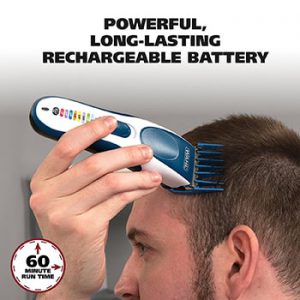 One full charge will give you sixty minutes of run time.
When the Wahl Color Pro Cordless is charging up, the red light will turn on. It will take about 12 to 15 hours for the Wahl trimmer to fully charge up.
If you're away for a longer length of time then you can use your trimmer on any worldwide voltage, from 100 to 240 V. Please note that you might have to purchase a converter plug so it fits the outlet though.
How to Trim Hair with the Wahl Hair Clipper & Trimmer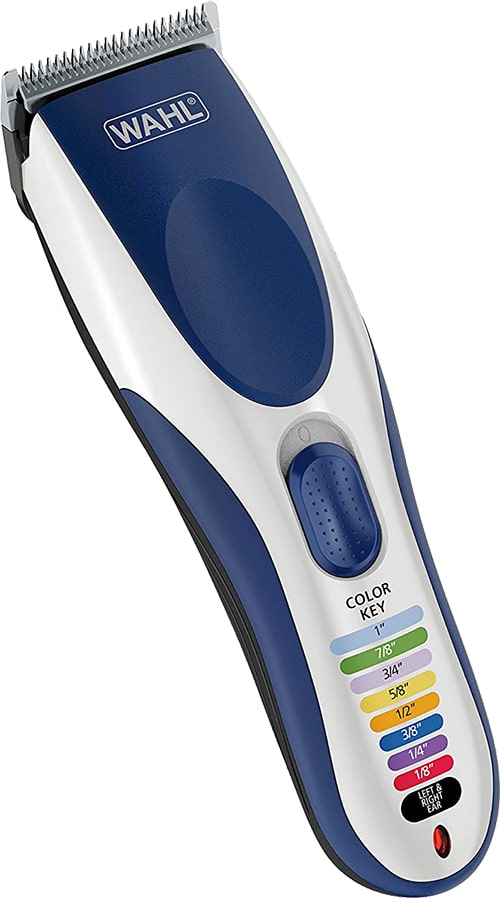 Attach your desired hair comb to the top head part of the Wahl trimmer. Then lay the comb part of the trimmer flat against your head and push the ON button. Use the hair comb as a guide to move over your scalp. Be sure the comb is always flush or parallel to your scalp and you won't go wrong. Never use it with the prongs facing down, as that's the wrong way.
If you're trying out a beard, you can use the Wahl Color Pro Cordless Rechargeable Hair Clipper & Trimmer to trim around your beard, or trim to the desired length. If you decide you're keeping your beard, we do recommend that you purchase a separate beard trimmer though, as it's smaller and will be easier to sculpt and shape it. Also, you may benefit from buying a waterproof men's shaver if you really need something for shaving the face, as you will also be able to add shaving creams, gels, foams, etc., which you cannot do with the Wahl hair trimmer.

High Quality Wahl Blades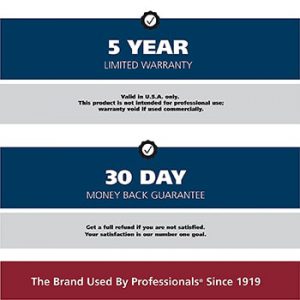 Wahl is known for its quality, and that includes every part of its hair trimmer. The motor, battery, and body have been designed to last. The cutting blades are also made from high quality metal.
At the top of the Wahl hair trimmer are the cutting blades. These are made from stainless steel and have been designed to be sharp and precise. They'll effectively cut and trim hair from the head, but in a safe manner, with no nicks, cuts, or pulls.
Detailed Wahl Hair Trimmer Specs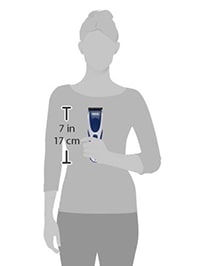 The Wahl Color Pro Cordless Rechargeable Hair Clipper & Trimmer has been designed by the Wahl Clipper Corporation in the USA. Like most electronic items, this item has been manufactured in China. It measures 2.8 x 8.05 x 9.4 inches and weighs 1.36 pounds.
Wahl has made a great line of personal care hair trimming products for over a century. If you're ready to take charge of your appearance, instead of waiting for barbershops to reopen, then the Wahl Color Pro Cordless Rechargeable Hair Clipper with Easy Color-Coded Guide Combs is a great item to buy. Best of all, the Wahl Color Pro Cordless can be used for women and children too, particularly if they love short hairstyles. Soon you and your family will be looking their best for online meetings, school, work, and more!
Wahl Color Pro Cordless Rechargeable Hair Clipper & Trimmer