Not every man needs a men's shaver. Something smaller, such as the Wahl Groomsman Trimmer will work perfectly for men who have decided to keep their facial hair. A hair trimmer allows a man to trim more efficiently around sideburns, beard, and mustache than a regular men's shaver. Wahl has been a trusted brand for over a century.
The Wahl Model 5621 has some great features that will help you to look your best.
Working Trimmer Features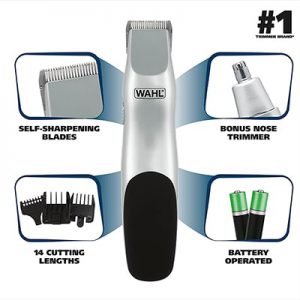 The Wahl Groomsman trimmer is smaller than your average men's shaver. It runs on two replaceable AA batteries, while the nose trimmer needs only 1 AA battery. This cordless function makes it much easier for you to do your beard styling in the bathroom. You can also bring your trimmers with you when on vacation, and not have to worry about proper voltage. The two trimmers are small enough to easily tuck into your backpack or luggage.
…not have to worry about proper voltage
Quality Stainless Steel Blades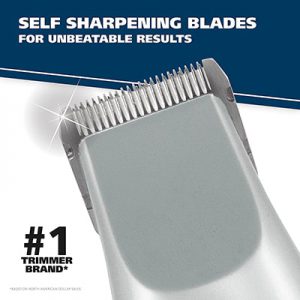 The blades are made from stainless steel, the best you can buy. They are high-carbon precision-ground blades so that they stay sharper for longer.
The blades are also self-sharpening, which will extend their life for much longer. This also helps to provide a more comfortable shave, so you don't have to worry about hair snagging or being pulled on your face.
…will extend their lifetime for much longer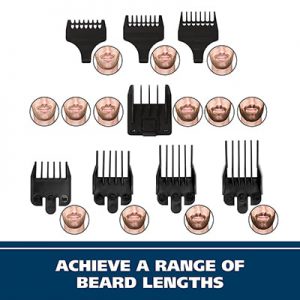 The bladed comb-style head can be adjusted to six different positions. This beard regulator enables you to enjoy different facial hair trimming lengths. You have the option of fully shaved, a stubble look, or a variety of thick and even beard lengths.
With the addition of one of seven cutting combs, you can adjust to fourteen different beard lengths. It will help to trim hair to lengths from 1/16" to 1/2". Three combs are for shorter stubble, while the other four are hair guide combs.
Full Grooming Kit Included
Besides the Wahl Groomsman beard trimmer, you get the nose hair attachment and a double-zippered storage pouch in the kit. There is also a bonus nose hair trimmer that is separate, so there's no need to remove the trimmer head to add a nose trimmer. You can even use the nose hair trimmers to trim the hairs inside your ears. Both of these items have their own compartment in the handy storage pouch. There is also a styling guide to help you get started.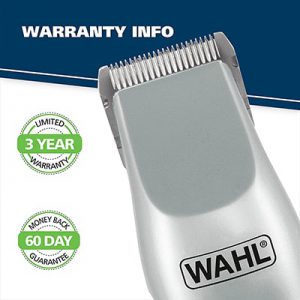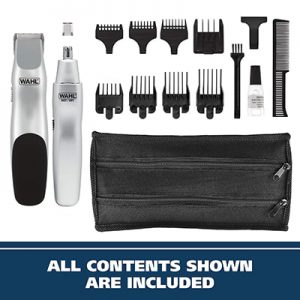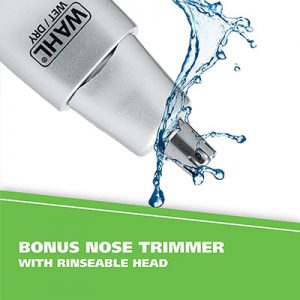 While the hair trimmer can be used only dry, the separate nose hairs trimmer can be easily rinsed for simple maintenance. This also helps to clear out any minute hairs so that the trimmer remains functioning at its best. The manufacturer recommends that you regularly oil the stainless steel blades on the beard trimmer.
While the hair trimmer can be used only dry, the separate nose hairs trimmer can be easily rinsed for simple maintenance.
If you need an affordable men's beard and mustache trimmer, as well as a nose trimmer, the Wahl Groomsman Battery Powered Beard, Mustache, Hair & Nose Hair Trimmer Kit offers the best solution for looking your best.
Wahl Groomsman Trimmer