If you're searching for a complete grooming kit, the Wahl Groomsman Pro Grooming Kit has everything you need, but still remains at an affordable price. The Wahl brand has been around for over a century now, and they've always provided quality men's grooming products at a fair price. This kit provides all the tools you need to define your style. You'll be able to trim, shave, detail, and outline around facial hair, and do touch-ups at any time.

Unique Wahl Brand Design

If you prefer dry shaving, the Wahl Groomsman Pro is going to be the perfect choice for you. It's fully rechargeable, with the included cord. This hair trimmer has an elongated black body with silver highlights around the head and the power ON/OFF switch near the base of the shaver. There's a soft touch rubber grip around the left and right sides of the hair trimmer so you can more easily hold it in your hands.
Complete Grooming Kit
…will give you the option of nine different cutting lengths
Besides the Wahl hair trimmer clippers, you'll also get a charging stand with cord (also can be used as a storage base), two precision hair trimmers and nose/ear clippers that snap onto the head of the clippers, four plastic trimming combs, a cleaning brush, a hair comb for you, and a small bottle of lubricating oil to keep your hair clippers functioning their best. The four trimming combs will give you the option of nine different cutting lengths.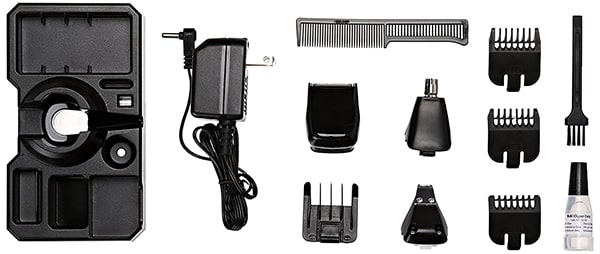 If you're seeking everything you need to look your best, there is everything you need in this kit. The detailed trimmers are good for doing precision work around beard, mustache, or sideburns. There's also a snap-on nose and ear trimmer so you can trim away any unsightly hairs.

Quality Steel Blades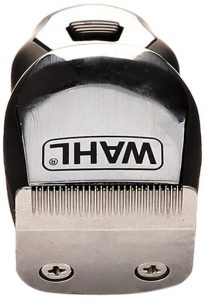 The blades within these hair clippers are made from quality high carbon steel. This helps them to be precise when trimming so you only have to do one movement to trim hairs, and they also stay sharper for longer. Wahl offers replacement blades for these hair trimmer and clippers so that they last far longer.
Detailed Shaver Specs
…you can charge it up in advance for a short trip
The Wahl Groomsman Pro is sold in the USA and is only meant for electrical outlets there. It's not made for international travel but you can charge it up in advance for a short trip. It runs on a NiMh rechargeable battery.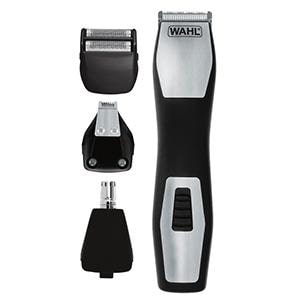 One full charging session will give you up to one hour of shaving or trimming time. This item has been manufactured in China.
This product measures 10.75 x 9.5 x 6 inches and weighs one pound. There's a five-year warranty that comes with this product. Wahl backs up their brand name and offers the best warranty in the shaver and trimmer business, as most are only about three months. If you're seeking total head and body grooming, you can use the Wahl Groomsman Pro Grooming Kit for looking your best from head to feet.
Wahl Groomsman Pro