Nothing makes you look or feel better than a barbershop visit, but the costs can add up, as a man's hair keeps on growing. And many barbershops were forced to close this past year until they figured out how to socially distance the clients and keep everyone safe and healthy. The best solution is to buy a haircut and grooming kit for men. One of the first brand names you'll think about is the Wahl brand.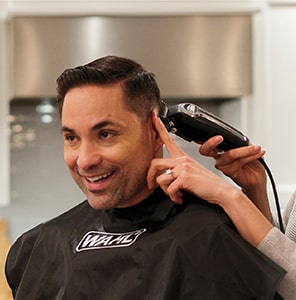 Wahl has been around for over 100 years and is still a trusted name for affordable but reliable men's haircare products. Barbershops around the world use Wahl more than any other men's clipper brand. Men can be confident they're buying a brand that's trusted by professionals. There are many hair clippers in the Wahl line, so it may be a bit difficult narrowing them down to your favorite choice, but we do like the Wahl Elite Pro Clipper & Grooming Kit for Men.
… Wahl is still a trusted name for affordable but reliable men's haircare products

You can easily shave your hair yourself, or have your spouse help out with getting to the spots at the back of your head or neck. The hair clipper is designed mainly for the head, but can also be used to shave body hair too.
If you find that you'll need to shave your body hair on a regular basis, there are other better types of Wahl hair trimmers for that purpose. The Wahl Clipper Elite Pro High-Performance Home Haircut & Grooming Kit for Men can also be used to shave around your beard or moustache, but again, if you plan on doing that on a regular basis, you may wish to purchase a grooming product for that purpose.
Wahl Model 79602 Features
The Wahl Elite Pro Clipper has been designed to be powered with a cord and is meant strictly for dry hair trimming. There is a cord wrap so the cord stays put even when kept in the included carrying case. This hair trimmer is meant for North American customers, as it doesn't have dual voltage, and the plug is meant for USA wall outlets.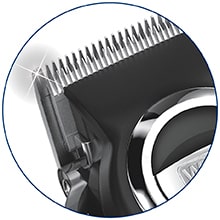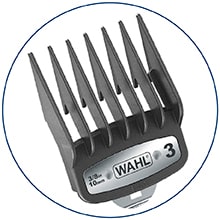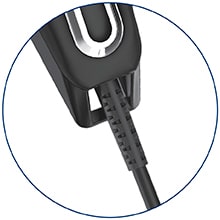 You don't have to worry about struggling to trim your hair either. There is an eight foot long cord, so you can easily shave in your bathroom, hall, bedroom, or more, without having to struggle to find a wall outlet.
There are many premium accessories included in the kit. They're designed for long-lasting quality. These tools also include storage options so they're kept safe and free of damage. The Wahl Elite Pro includes a complete kit to help get the best haircut possible. In the kit, there is one black and silver men's hair trimmer, and ten different hair trimming combs that are based on the final hair length that you desire. These hair combs are the same dark grey colour as your Wahl clippers.
They're designed for long-lasting quality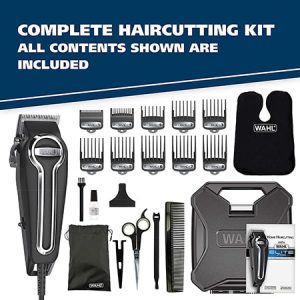 In the kit is also a barber's cape or bib that measures 28" by 40". This helps to keep the hair off your clothes so you can have a faster and quicker cleanup. There is also a pair of scissors or shears, and a black hair comb. The entire kit fits inside a dark grey plastic storage case that has a carrying handle. There is an additional attachment comb guard pouch so you can keep the hair combs safe and secure. This pouch has a drawstring that will pull closed.
A good set of hair clippers should also be maintained. This kit also includes a small bottle of blade oil. This blade oil will keep your blades from rusting or jamming, so they always move efficiently. The best blade oil to use is also made by Wahl. The Wahl hair clipper blade oil comes in a bottle and will help to extend your blade life. The oil also helps to reduce the friction and heat caused by unlubricated blades.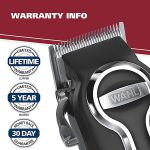 There is also a cleaning brush in the kit so you can remove any stray hairs after use. This will help to keep your hair trimmer functioning at its best. There is also a blade guard that fits over the head of the hair trimmer so that the blades are protected, even when you're travelling.
The Wahl Elite Pro also has a limited lifetime warranty should there be any manufacturing defects.
Secure-Fit Premium Guards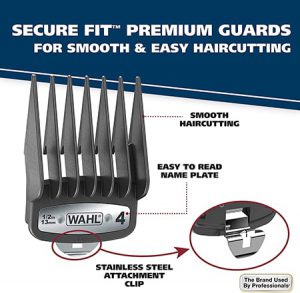 Wahl calls their hair trimming combs "Secure-Fit Premium Guards". They look like small hair combs with pointed ends but attach to the end of the Wahl Clipper. These guards help to provide an easier and smoother haircut. The tip of each comb has a stainless steel attachment clip that easily snaps onto the head of the Wahl clipper. The stainless steel metal is durable and will resist rusting.
On the lower front of each guard will be the WAHL logo, a number, and the measurement range of that particular hair comb. For example: 4 and 1/2"/13mm. The shortest hair guard is 1/4", otherwise, if you need shorter, you can use the Wahl Clipper with just the bare blades.
Sharp Hair Clipper Blades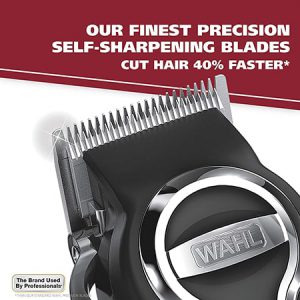 Built within the head of the Wahl Clipper is a line of several sharp cutting and trimming blades. The hair comb guards snap easily over the top. These precision blades are also self-sharpening. If they weren't, they'd dull out over time and need to be replaced more often, but the self-sharpening feature will extend its lifetime.
These cutting blades have also been designed to cut hair 40% faster than the standard Wahl hair trimmer. If you need some extra time in your day, but don't have a lot of time to prepare in the morning, the Wahl Clipper is a much better option than the cheaper brand of Wahl clippers.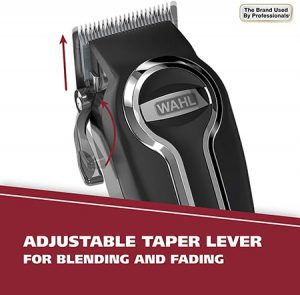 Besides the ability to get a super close trim with just the blades, or adding on a hair guard, the blades can also be adjusted too. There is a small black lever to the left side of the Wahl Clipper Elite. This moves the row of hair cutting blades up and down. This taper lever setting can be adjusted for your blending of hair lengths on your head, or for fading.
For example, you may wish to have shorter hair around your ears, and longer hair on top of your head, so you can have a smoother transition.

Powerful Wahl Motor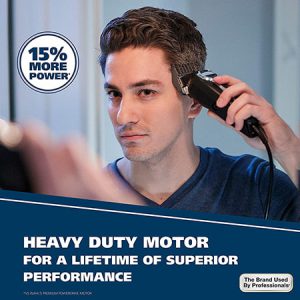 Wahl didn't just create better and faster blades for their Wahl Elite Pro, they also built this hair trimmer with a heavy-duty motor. This powerful motor provides 15% more power to haircutting than their standard Wahl one. This better motor promises to provide a lifetime of superior performance.
This powerful motor provides 15% more power to haircutting than their standard Wahl one
The motor has been designed to be quieter, but its low noise doesn't mean it will perform any less, as it will still provide superior performance to make your scalp look its best.
This motor has also been designed to be more durable, so that your Wahl Clipper Elite Pro High-Performance Home Haircut & Grooming Kit for Men will last much longer than the Wahl starter model.
Made in the USA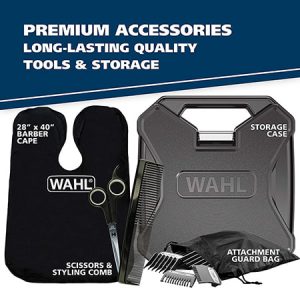 The Wahl Clipper Elite Pro has been made in the USA, so you know that you're getting only the best brand of men's hair trimmers. Wahl has been around for over a century and was originally started in Illinois. There are other accessories for purchase that are manufactured in China.
Additional Wahl Items to Purchase
If you run out of the Wahl blade oil, you can buy more online. Wahl has a wide selection of men's shaving and hair trimming products. You can find premium shampoo, hair pomade, and even a boar brush. You may choose to buy additional Wahl grooming products, such as a men's shaver, or a lighted lithium detailer to groom around those hard-to-reach spots on the face, or in ears or nose.
Additional Wahl Elite Pro Clipper Specs
The Wahl Clipper Elite Pro weighs 2.5 pounds. The unit measures 3 x 9 x 9.95 inches. This hair clipper was originally manufactured in 2015 and is still being manufactured, as it's a best seller. It runs on North American power of 100-120V AC.
If you've been searching for the best men's hair clippers but don't want to spend a lot of money, Wahl has been a trusted brand for over a century. Whether you want to save money between trips to the barbershop, or simply do it all yourself, this is an affordable solution. You'll find exactly what you need with the Wahl Elite Pro.
Wahl Elite Pro