Sometimes it's easier to buy a full grooming kit, rather than sourcing out the products individually. And sometimes it's hard to know what to buy. Buying a full men's hair trimming kit will make your life easier, and you'll also look great. The MANSCAPED 2.0 is a perfect option, and it also makes a great gift for your loved ones too! But unlike a man's shaver or scalp hair trimmer, the MANSCAPED 2.0 Kit also has a focus on below-the-belt hair grooming.
Some men have annoyingly long hair in the groin and buttocks region that they need to trim on a regular basis, while some men prefer to look their best all over. And some prefer to have the best hygiene possible by trimming their groin regions. The Lawn Mower 2.0 hair trimmer has one purpose.
Manscaped company's goal is to provide top-notch grooming products that are worth trying out. From grooming products to hygiene items, they have everything a man needs to look and feel his best.
Manscaped Hair Trimmer

The most notable item in this men's grooming kit is the electric hair and groin hair trimmer. Unlike other hair trimmers that are designed to be used from the top to the bottom of your body, this is mainly for a man's groinal region. It has a dark black plastic case with an ON/OFF button about 2/3rds of the way down the front.
Full Shaving & Body Care Kit
Included in the MANSCAPED 2.0 kit is the men's body hair trimmer, and three bottles of body care products or formulations. These three products are free of harmful parabens, and are also cruelty-free, meaning they haven't been tested on animals. All products are also dye-free to help prevent allergies or bad reactions, and are sulfate-free too.
These three products are free of harmful parabens, and are also cruelty-free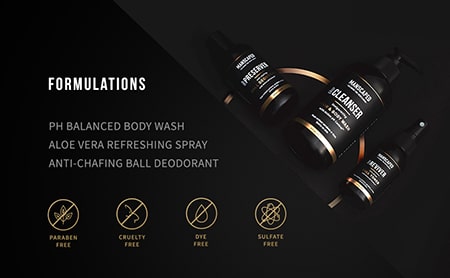 The Crop Cleanser is a large bottle of hair and body wash cleanser which is used the same way as all body washes. You can use it all over your body, or simply in your groin region. It's been PH balanced so it won't harm your skin or leave any discomfort behind. After using it, you should fully rinse it off though.
The spray bottle of Crop Reviver is to use after shaving sensitive regions of the body to help ease itching or discomfort. It's much like hair conditioner, or a toner, but meant to be used in the groin region to soothe the skin after shaving. The spray-on application helps to make the application much simpler. This spray contains aloe vera, which has been proven to give relief to chafed skin.
There is also a bottle of Crop Preserver, which is deodorant to be used after washing and shaving. It will help to keep you refreshed, and to be ready for anything.
These are all effective grooming products for when you do high-activity activities, but will also work for an everyday living too.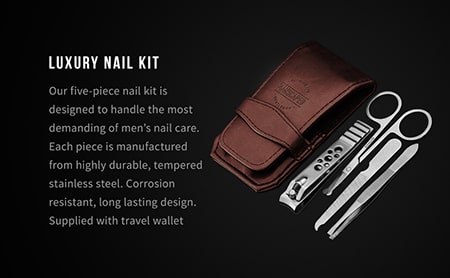 There is also a small luxury nail grooming kit in this set. This includes tweezers, nail clippers, a nail file, and small scissors. These four smaller items also fit inside a small dark brown travel wallet to keep them safe. The travel wallet has been designed to look like real leather and has a flap that slips inside a loop to hold the items secure. There is the Manscaped Logo embossed on the front of the travel wallet. All the metal items in the kit are manufactured from highly durable tempered stainless steel. This makes the metal corrosion-resistant so they last longer.
The kit also includes a men's care manual so you know how to use all the products. The manual has been designed as a small newspaper called "Manscaped Daily News", that you can read while you relax on the toilet. The first headline is "We Save Balls". It will help you to understand how to use all the tools in your kit.
It will help you to understand how to use all the tools in your kit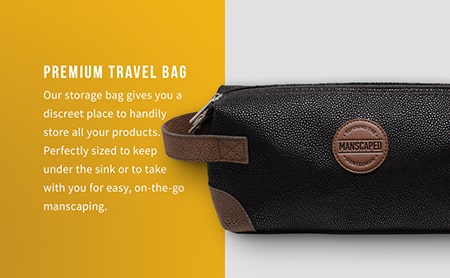 Everything stows away into the black and dark brown zippered travel bag, or what the manufacturer calls the Shed. This is a luxury, high-quality bag. It will store all these shaving kit items and more. There is a brown loop at the end so you can hang it up on a hook. There is a circular brown embossed Manscaped logo on the front middle of the bag. You can pack it into your luggage when you travel, or toss it into your briefcase if you need to freshen up after work. You can also toss all your items into the bag and keep them on top of your bathroom counter. This is a discreet way to keep all your needed items within reach. It's also the perfect size to keep your items stored under the sink.
Another item in this kit is the shaving mat, called the Magic Mat, to make your feet feel more comfortable during shaving. This also captures the hair so cleanup is much easier after you've finished your body grooming. You can also place it in the shower so that you don't slip while doing your body grooming. This has been uniquely designed just for shaving.
The Lawn Mower 2.0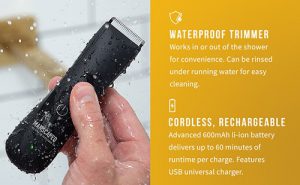 The included men's hair trimmer included in the MANSCAPED 2.0 has a black matte finish and is slightly elongated on both ends, making it much easier to hold in the hand. Unlike most men's hair and body trimmers, this one is actually cordless and waterproof, so you can bring it into the shower with you. The head is easily detachable so that you can easily clean it off after use. While it should be okay if you drop it into a sink full of water, you shouldn't keep it fully immersed for any length of time. You can use the Lawn Mower 2.0 in the shower or bath, or in front of the sink to your convenience.
The Lawn Mower has been specifically designed for grooming a man's sensitive regions. Groinal region hair is different than hair that grows on the head, face, or even the chest. This nether region is also highly sensitive. You need a grooming solution that won't yank or pull out hairs, or be itchy or sore after shaving. The MANSCAPED 2.0 Kit has been specially engineered and formulated for below-the-waist men's grooming.
…that won't yank or pull out hairs, or be itchy or sore after shaving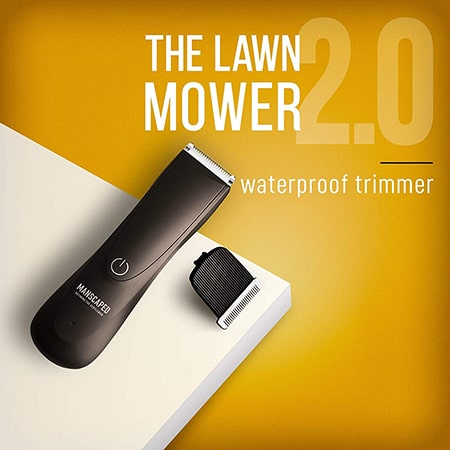 The Lawn Mower also has a shaving guard that helps to protect the skin from the blades, and keeps the blades from pulling out hairs. This advanced SkinSafe technology will help to reduce the likelihood of nicks and cuts. This is also the best reason to buy a separate hair trimmer for the lower body, rather than using your facial men's hair shaver, which may not give the smoothest shave.
…the best reason to buy a separate hair trimmer for the lower body
It's been designed to be smaller, to make hair shaving easier. A smaller lighter shaver is better for the nether regions than one for the face. This smaller shape also offers better maneuverability, so you can get around the corners and not miss any hairs. The MANSCAPED 2.0 will give you the smoothest and cleanest shave in the lower regions of your body. It will minimize discomfort, so if you choose to shave every day, you can, or simply once a week, or for special occasions.
Once you're done you're body grooming, you can rinse the waterproof trimmer under warm running water for simple cleaning.
Cordless Rechargeable Battery
The Manscape is cordless and fully rechargeable with a quality 600mAh li-ion battery. One full charge will give you up to sixty minutes of run time which is more than your standard men's shaver. You can recharge it with the USB universal charger included, which easily plugs into your wall outlet, but you'll have to supply the cord.
Additional Manscaped Items
There's a lot in this kit, but the product line has additional items for purchase. If you run out of the Crop Cleanser, Crop Reviver, or Crop Preserver, you can purchase them separately, or buy a replacement shaving mat or new toiletry bag. There is also the Manscaped 3.0 Kit if you want to up your game.
Detailed Manscaped Specs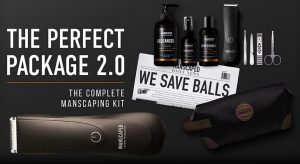 The Manscaped body trimmer weighs 2 pounds and measures 13 x 4 x 6 inches. It's fully rechargeable but won't turn on when it's plugged into the wall, nor should it be used with water when it is. It has an International Electrotechnical Commission (IEC) Standard 60529 rating of IPX7 and can withstand immersion in up to one meter of freshwater, for up to 30 minutes.
You may never have realized that you need the MANSCAPED Perfect Package 2.0 Kit until you see it for sale. This kit provides a bit of humor in looking after a sensitive part of the body that not every man wants to talk about. Your female partner may even borrow it so you might have to buy two for your bathroom. Now you have the best solution for trimming your groinal region hair so you look and feel your best for you and your partner.
MANSCAPED Perfect Package 2.0 Kit: The Lawn Mower 2.0