When you're a woman, packing for a trip away is always an issue. There are so many items needed for a trip that it's difficult fitting everything into a suitcase. Many women simply don't want to pack their bulky woman's shaver, yet they know they need it to look great on the beach or while wearing dresses. Remington has solved the issue of a travel shaver for women with their Remington WSF4810 Women's Smooth & Silky Travel Foil Shaver. This shaver is battery operated and is suitable for both wet and dry shaving. Woman can also use special shaving products to ensure that their legs are always smooth and silky.

This Remington WSF4810 Women's Smooth & Silky Travel Foil Shaver is designed in a small, compact shape, with a pink and white plastic casing that fits comfortably within the palm of the hand. It's been designed with ergonomics in mind.
Even though this shaver is compact in design, it still has the same full-size foil head that other women's shavers have. This means that it'll still take less time to shave quickly. The foil has dozens of minute circular tiny slots so that the hair slips into them and can be quickly snipped off. Besides the central foil-style shaver head, there are also one set of blades on the front and back of the shaver, making it a three-blade shaver system.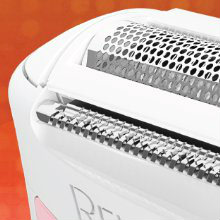 The shaver has a foil style head at the top, with a large oval grey on/off button on the middle of the appliance. The Remington logo is located at the very top front in grey lettering. The back of the shaver is solid white. There is a handy silver hook at the base of the shaver so you can attach a silk cord. This makes it easier to hang it up in the bathroom, on the tap, or to wrap around your wrist in case you should drop it. It will keep it from becoming damaged. The angled shaver head will also help you to shave any part of your body, without having to awkwardly move it into strange angles.
| | | | |
| --- | --- | --- | --- |
| | Remington WSF4810 Women's Travel Foil Shaver | Braun Series 7-790cc | Braun Series 9 9095cc |
| Score | 4.2 | 4.6 | 4.4 |
| Battery | 50m | 50m | 50m |
| Display | | LED | LED |
| Blade Type | Foil | Foil | Foil |
| Wet and Dry | | | |
| Trimmer | | | |
| Cleaning Unit | | | |
| | Read the full review | Read the full review | Read the full review |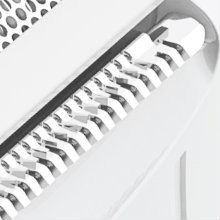 The foil style head has two rows of dual trimmers. It's great for the entire body: armpits, legs, and bikini line. This shaver is designed to protect skin from nicks or cuts, and will not tug or pull on hairs. The foil head has also been designed to be angled, which will provide for a faster shave. The metal contained within the foil shaver has been created with a hypoallergenic metal that will minimize irritation of the skin. This shaver is perfect for women who may have sensitive skin, but all skin types will enjoy using it.
These dual trimmers are built with a special design so that they lift, guide and cut all types of hairs, even ones that are laying flat against the skin. It doesn't matter if you're shaving day old stubble or two weeks of hair growth, the Remington WSF4810 Women's Smooth & Silky Travel Foil Shaver will still do a perfect job of keeping legs looking their best.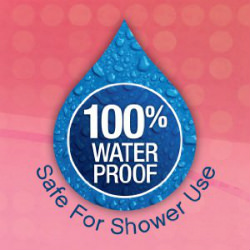 This shaver can be used wet or dry, so women can shave in the shower if they wish. They can also use women's shaving gels, foams, soaps, or creams that have been designed to soften and smooth the skin, and help to minimize that itchy sore feeling that can often occur after shaving. This Remington Silky & Smooth shaver is 100% waterproof, making shaving a more pleasant experience, as well as being much easier to clean after you're done shaving. Using the Smooth & Silky shaver will help women to keep their legs always looking great.
If you do use this shaver wet, be sure to rinse it out thoroughly after shaving to get out all the hairs and the shaving products. Open it up and shake out the water and pat dry. Let the shaver dry thoroughly before reassembling. You'll find that your shaver lasts much longer with a few minutes of maintenance.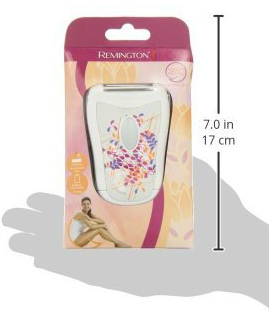 This shaver measures 2.5" x 3.9" x 7.9 inches. It weighs 3.2 ounces. The Remington WSF4810 Women's Silky Smooth Travel Foil Shaver is extremely affordable at just under $10. Women can pack it in their purse and do a quick shave in the ladies' room after work for a special event, or they can pack it in their luggage for a trip. Most women will want to purchase a travel shaver so they can keep it packed and ready to go for the next trip.
The WSF4810 Women's Travel Foil Shaver works on batteries, which you'll need to purchase separately from the shaver. You can always purchase a rechargeable battery kit if you're concerned about dumping used batteries into the landfills. This will also save you money over time. You'll need to insert two AAA (Triple A) types of batteries into the shaver base. To remove the battery cover, you need to twist the piece where the cord is attached.
There is a two year Remington warranty on the WSF4810 Women's Travel Foil Shaver to back up the purchase. Reviews have been generally favourable for this shaver, with about four out of five consumer star ratings.
If you're seeking an affordable shaver to shave your legs and body, the Remington WSF4810 Women's Smooth & Silky Travel Foil Shaver may be the perfect shaver for you. It works wet or dry, and is compact enough to tuck into purse or bag.
Remington WSF4810 Women's Travel Foil Shaver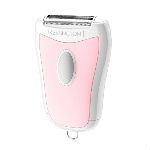 Pros
Smooth & Silky
Dual Trimmers
Angled Head
Full-Size Foil Shaver
Great for travel