The Philips S5600/41 Series 5000 Aqua Touch is a men's premium shaver with many great features. This is a rotary style shaver made in a dark blue casing with black anti-slip grip. It has a curved design that makes it easy to hold in the hand. The shaver can be used wet or dry, and is cordless and rechargeable.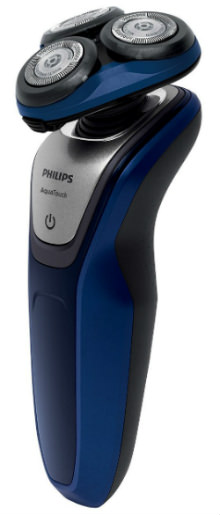 This shaver will give the best shave while wet, but you can also bring it on the road with you, and it'll give you the convenience of a quick dry shave at any time of day.
This shaver is supposed to be safer than the average men's razor, protecting ten times better than simply using a razor blade, meaning that there will be no nicks or cuts. You'll find that you get a completely refreshing shave, but it'll still be gentle, with less discomfort, and no redness or burning afterwards.
The rotary style head consists of three smaller rotating sections. Each of these smaller heads has five directional flexing, meaning that you'll get an unbeatably close shave. These three heads will hug the contours of your face and neck. You'll find that you don't have to re-shave the same area of your face and neck again and again. This means that you won't have any nicks, grazes, or razor burn after you're done shaving.
| | | | |
| --- | --- | --- | --- |
| | Philips Series 5000 Aqua Touch | Braun Series 7-790cc | Braun Series 9 9095cc |
| Score | 4.1 | 4.6 | 4.4 |
| Battery | 50m | 50m | 50m |
| Display | | LED | LED |
| Blade Type | Rotary | Foil | Foil |
| Wet and Dry | | | |
| Trimmer | | | |
| Cleaning Unit | | | |
| | Read the full review | Read the full review | Read the full review |
The blades built within the Philips s5600/41 shaver have been designed with a MultiPrecision blade system. This consists of three rounded profile heads that glide over the surface of your face, and protect your skin. Each of the blades has a Super Lift and Cut action, so they'll trim even those stubborn whiskers that lay flat against your skin. The blades will lift them up, and then they'll be effectively trimmed off. This shaver is also perfect for shaving even the shortest stubble off the face.
This shaver has Phlilips' patented Aqua Tec system, meaning that it's completely waterproof. Men can use this shaver over the sink, or in the shower, or the bathtub. Men can also use shaving creams, gels, foams, and lotions, particularly if they want to get an even closer shave than possible.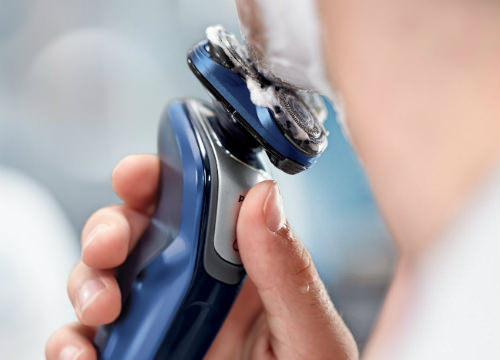 Men who have beards or who like to maintain a minimum level of facial hair can also use this shaver, as it has a smart click beard trimmer. This attachment fits on when you need it, and then can pop off when you don't. It can be used to trim a beard to an even length. It can also be used to trim around a mustache or sideburns.
The shaver head can actually be clicked on and off, making it easier for you to switch to the beard trimmer attachment. Both the shaver and the beard trimmer attachment are completely washable, due to the Aqua Tec seal. It's simple to keep your shaver in perfect condition.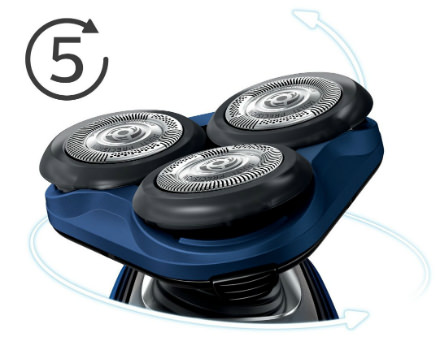 It takes about one hour to fully charge up the Philips S5600/41.
One full charge will give you about fifty minutes of shaving time. This could be up to seventeen shaves, or more than two weeks' worth of shaving.
If you've forgotten to charge up the shaver, there is still a quick five minute charger feature, which will give you enough charge for a cordless morning shave.
This shaver costs about $229, placing it in the premium level of men's shavers. This shaver weights 0.2 ounces, and in the box you'll receive one Philips S5600/41 Series 5000 Aqua Touch men's shaver, the SmartClick beard trimmer, a hard travelling case, a user manual, and the warranty. If you do a lot of travelling, there is also a two pin UK plug in the box, and an adaptor.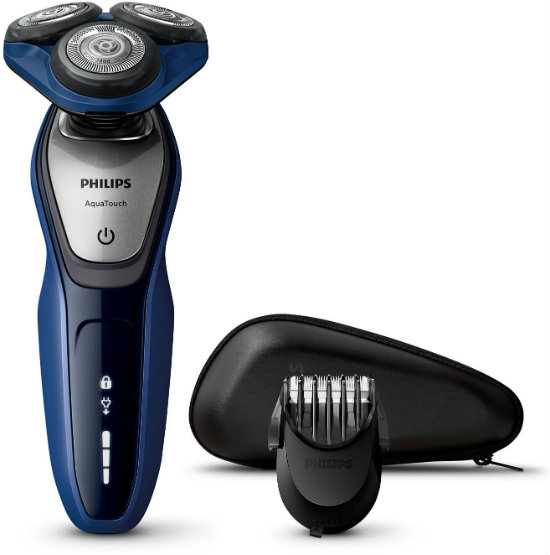 If you're seeking a better quality men's cordless/rechargeable shaver, you may be impressed with how well the Philips S5600/41 Series 5000 Aqua Touch men's shaver will do a great job of shaving your face. Not only does this shaver have a distinctive look, but Philips is known for their excellent line of rotary style shavers. You'll be pleased with how this shaver will leave your face clean, smooth and irritation-free.
Philips S5600/41 Series 5000 Aqua Touch Electric Shaver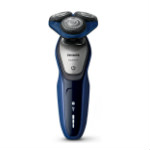 Pros
AquaTec, so it's completely waterproof
SmartClick Beard Trimmer attachment
1 hour charge provides 50 minutes usage
5- direction flexing heads