This product is no longer available, but there is a newer model that we highly recommend
Go to the new model
If you're seeking the ultimate shaving experience, the Panasonic ES-LV81-K is Panasonic's high end cordless electric shaver model that promises to deliver a smooth easy shaving experience. This cordless shaver was Made in Japan, and it shows. This shaver is traditional foil style, with a smooth black finish, LED readout, and separate charging and cleaning station. The shaving head contains five foil blades, to ensure that every length of whisker on your face is cleanly shaved away.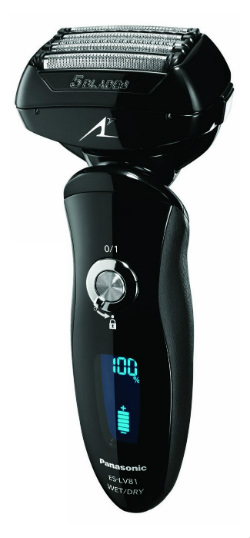 Panasonic spent time developing the best shaving technology for this unit. The head contains five ultra-thin blades within the foil cutting system. They are at a 30 degree angle to provide the best shave. The motor in this shaver is a 14,000 CPM linear motor drive. It allows for a multi-flex pivoting head. The foils and blades of this razor are made with stainless steel. The motor is designed to eliminate tugging and pulling that can happen with lower cost shavers. If you suffer from ingrown hairs, this electric shaver's multi-foil system is perfect for removing them. As you keep on using your Panasonic ES-LV81-K, ingrown hairs should be a thing of the past.
There are three different foils contained in this unit. One is the Life-Tech foil that has reverse tapered edges to cut hair that stubbornly lays flat on the face. The finishing foil will cut hairs that were missed by the others, ensuring your face remains smooth and soft. The slit foil is perfect for cutting long hair and beards to their desired length.
The Panasonic ES-LV81-K also contains a pop-up trimmer for accurately trimming a beard, sideburns, or mustache. There's no need to lose the trimmer in a drawer, as it's simply contained within this unit.
On the handle region of the Panasonic shaver is an LED readout, so you can read the status of your shaver at any given time. There is a ten stage readout. You can lock up the shaver in case you wish to bring it with your while traveling. There's no need to worry about it accidentally turning on.
| | | | |
| --- | --- | --- | --- |
| | Panasonic ES-LV81-K Arc5 | Braun Series 7-790cc | Braun Series 9 9095cc |
| Score | 4.4 | 4.6 | 4.4 |
| Battery | 45m | 50m | 50m |
| Display | LCD | LED | LED |
| Blade Type | Foil | Foil | Foil |
| Wet and Dry | | | |
| Trimmer | | | |
| Cleaning Unit | | | |
| | Read the full review | Read the full review | Read the full review |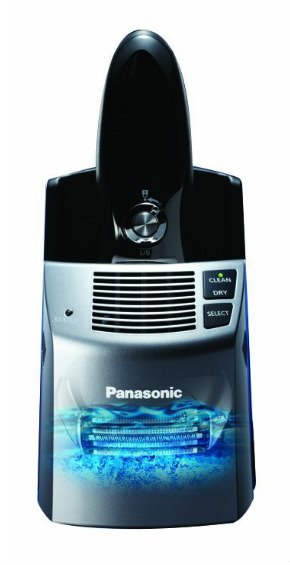 There's an additional Panasonic cleaning system included that will keep your shaver clean and in optimum working order. You can place your shaver in the unit, then press the button. It'll automatically clean and charge up. There's even a sonic vibration mode if you wish to put it in for a quick clean. The cleaning unit utilizes cleaning cartridges that are free of alcohol, to minimize irritation.
The Panasonic ES-LV81-K can be used in wet or dry mode. When used dry, it'll still provide a great shaving experience. It won't pull or tug, so you will not feel obligated to add water or shaving foam. When used wet, you can add shaving gel, foam, or lotion to your face. It's 100% waterproof, so if you need to bring it into the shower with you, it'll be able to withstand the water.
In the package the following items are included: The Panasonic ES-LV81-K shaver, a blade cover, a travel pouch, and an AC adaptor.
To maintain your shaver, Panasonic recommends that you replace the outer foil and the inner blade at least once a year, to ensure a perfect shaving experience every time.
There's not much lacking with the Panasonic ES-LV81-K. It provides the ultimate shaving experience for those who prefer a traditional foiled head. The charging and cleaning unit will make looking after your electric shaver much easier too.