If you have limited space in your small bathroom you don't want a ton of tools that are going to get lost or damaged. You need one solution to trim both your facial hair and your body hair. Philips makes a line of quality men's shavers and hair trimmers for every region of the body. The Philips Norelco OneBlade Pro Face and Body Trimmer is the perfect solution for when you want to simplify your bathroom grooming.
Smooth Clean Hair Shaving & Trimming

This Philips Norelco body trimmer has been designed as a premium hair trimmer for men, at around $100. If you only want to trim around your beard or mustache, or trim the occasional body hair, this will work better than a men's shaver. It has a unique design that's both effective for shaving or hair trimming, and that is safe and irritant-free. There aren't too many men's hair trimmers that are both cordless, rechargeable and that can be used wet or dry, in the bath or shower. This waterproof ability is what makes this a Philips premium model hair trimmer for men.
…cordless, rechargeable and that can be used wet or dry
The Philips Norelco OneBlade Pro will enable you to look your best. The cordless hair trimmer has been designed to only cut your hair, not your skin. If you've ever bought a cheap men's hair trimmer before, it may have pulled and tugged on hair, which is painful and uncomfortable. But Philips has solved that problem with this well-designed hair trimmer. The Philips OneBlade Pro has been designed with a hybrid style head that can be used for a variety of purposes. You'll be able to shave, trim, or create clean lines and edges on any length of hair on face or body.
What's in the Philips Hair Trimming Kit
…a grey and black body that's narrow, making it easier to hold in the hand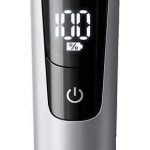 This hair trimmer can be used for both body, neck, and face. It has a grey and black body that's narrow, making it easier to hold in the hand. This trimmer displays the power charge level (starting at 100%) on the front middle of the trimmer, then it will drop by 5% increments. Once it hits 5%, you should plug it in for recharging. Below the battery charge indicator is the power ON/OFF button.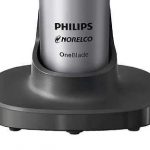 There is a handy charging stand for the trimmer to be easily charged up, but also to sit securely on your bathroom counter for when it's not in use. This keeps it safe and free from damage. There are also six different attachment tools in stainless steel and lime green plastic, depending on the length of hair you desire, and which part of the body you are shaving.
One of these trimming combs is suitable for use on the body. The included skin guard will provide extra protection while shaving the sensitive regions of your body.
The fourteen different length settings that can be used to trim hair can vary from 0.4 mm to 10 mm.

Quality Philips Shaving Blades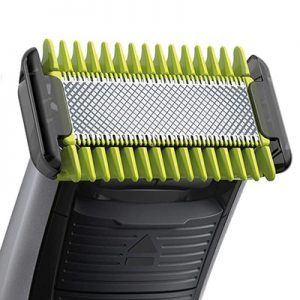 The shaving blades have a unique design in the Philips Norelco OneBlade Pro trimmer that Philips doesn't use with its lower-end types of men's hair trimmers. This trimmer has a flat foil-style shaving head that's encased by dark grey guards on each side, and lime green combs which only shave to your desired thickness of hair.
This Philips OneBlade Pro shaving technology has fast moving cutters that move 200x per second. The included dual-protection system gives an efficient but protective shave, no matter if hairs are short or long, or a combination.
…has fast moving cutters that move 200x per second
You can use this hair trimmer to trim, edge, or shave your face or body. It works for all lengths of hair. The included six hair attachment tools will allow you to trim to fourteen different lengths of hair so there should be a suitable one for you, or two if you prefer to have shorter hair in the summer and longer in the winter.
Cordless and Rechargeable Feature
The Philips Norelco OneBlade Pro can be used both wet and dry, when it's not plugged in for recharging. There is an included charging cord. One full charge of the Philips Norelco OneBlade Pro Trimmer will give you ninety minutes of running time. There is also a quick charge feature in case you forgot to plug it in for charging the previous morning. This will quickly give you the hair trimming time you need, but don't forget to plug it in for a full recharge for the coming days.
More Philips Handy Hair Trimmer Features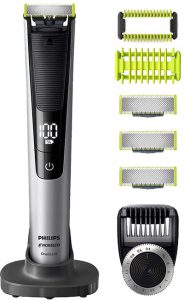 If you travel a lot, or want to pack your hair trimmer to do a touchup during a meeting break at the office, there is a handy travel lock so it won't accidentally turn on and burn off all the power.
This hair trimmer is mainly for trimming facial and body hair. It can be used as a men's shaver on occasion, but if you've decided to have a clean face, it's best to buy one of the many other quality men's face shavers by Philips for that purpose.
Philips OneBlade Specifications


If you're still trying to decide if the OneBlade Pro Face and Body Trimmer is right for you, have a look at the specifications so you understand how it will feel in your hand. It measures 9.06" x 7.8" x 2.72 inches, and weighs 1.19 pounds. Also note it's waterproof, unlike most other men's hair trimmers on the market today. This is also the key difference between the $20 Philips budget hair trimmer, and the Philips Norelco OneBlade Pro that runs over $100.
If you're searching for a waterproof men's hair trimmer, and you want to be guaranteed a quality men's hair trimmer that's not only going to last for years, but will never tug or pull hairs, the Philips Norelco OneBlade Pro face and Body Trimmer may be exactly what you're looking for.