The Norelco line of Philips personal men's shavers provide a clean smooth shave, for a reasonable price. The Philips Norelco 7310 men's shaving system includes a cordless and rechargeable electric shaver, and a charger cord. This shaver is perfect for the man who is looking for a premium shaver, but doesn't want to pay the higher price. The 7310 is rotary-style, and has a black and silver casing. The on/off button lights up, and there are LED lights on the battery status under the on/off switch. The Philips Norelco 7310 has a slanted body, to enable the rotary head to more effectively move against the surface of the face.
The Philips Norelco 7310 is a good shaver. It is washable, and can be used wet or dry, depending on your shaving preferences. It's cordless and rechargeable, so it can be tossed in a briefcase for touch ups later, or packed for a trip. This shaver is both stylish, and easy to use.
The shaver has a curved body, enabling you to grip it more easily in your hand. It has a non-slip grip so you won't accidentally drop it on the floor or the bottom of the tub. The shaver looks quite stylish, so you won't be embarrassed about leaving it out on the counter.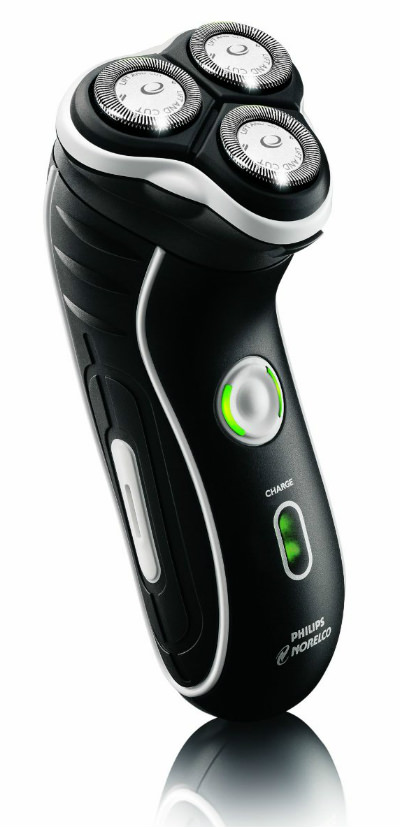 The Philips Norelco 7310 has a patented "Reflex Action System" that follows the contours of the face, without having to push the shaver in that direction. You'll find that the electric shaver smoothly glides over the skin, and that the motor doesn't skip or jump. You'll like how you don't have that feeling of losing control of your shaver.
Its "super lift and cut technology" is able to lift up hairs first, before trimming them down to skin level. Lift and Cut features a two blade system. The first blade will lift up the hairs, while the second blade cuts them off.
Each rotary head contains three individual floating heads filled with blades. These blades align with the surface of your facial skin to get extremely close. These heads float independently of each other, to allow for minute adjustments in the height of the skin's surface. The face is more effectively shaved, when more area can be covered at once, even if the surface varies.
Each of the blades built into the shaver is built with comfort in mind. While each blade is razor sharp, to ensure that there is no tugging or pulling, the blades are designed to not cut or scrape your skin. Comfort is the focus here. They ensure that hairs are snipped off, but not at the expense of leaving red raw skin. In fact, your skin will feel soft and smooth after shaving with the Philips Norelco 7310, and not inflamed or irritated.
The shaver has a pop-up trimmer that is released with a small switch, and a spring release. The trimmer will neatly groom side burns, beard, and moustache hairs. Built into the shaver is a hair collection chamber, so that the hairs won't get all over your sink while you shave in the morning. The hairs accumulate in the chamber, and you can empty it when you're ready.
The on/off button is electronic and lights up, so you know whether your shaver has been turned on or not. There is an LED charge light indicator, so you know when you're charging up your shaver, and when it's ready to go. The battery indicator will also tell you when you have a full charge, and when it's running low. It takes about eight hours to fully charge the shaver up, but you can plug it in if you need it.
It will be simple to clean your shaver. You can safely immerse it in water, or run it under a tap to get out trapped hairs and residue from shaving products.
One nifty feature of this shaver is that you can shave, even when the charging cord is plugged in. Many shavers don't give you that capability, which can be frustrating first thing in the morning if you did forget to plug it in the day before.
The Philips Norelco 7310 is perfect for travelling. Besides the fact that it's rechargeable, and you can charge it up in advance, and not have to worry about bringing the charger cord, the voltage is 110-240 volts, so you can adapt it to work in any country.
The Philips Norelco 7310 is a great shaver for men who want to try something new. They may have tried a foil style before, or perhaps a traditional men's razor. You won't be disappointed with the performance of this men's shaver. It gets almost as close as a real razor blade, but without the itchy, painful discomfort afterwards.
It's an affordable option for when you want a premium shaver, but don't want to pay $300 for the privilege of owning a higher-end model.
Many men also don't want the bulky cleaning and charging system, nor do they wish to pay for expensive cartridges each month. With the Philips Norelco 7310 you can simply clean the shaver yourself, by running it under the tap.
In the box you'll get one Philips Norelco 7310 men's shaver, a charger cord, and a protective rotary razor head cap. Philips backs up its products with a sixty day money back guarantee, in case you change your mind. The Philips Norelco 7310 is backed up by a two year warranty, to ensure that there are no defects. The shaver measures 6.3" by 3.5" by 9.4 inches. The Philips Norelco 7310 mens shaver weighs 1.1 pounds.
If you're searching for the best cordless men's rechargeable shaver to provide a clean smooth shave, the Philips Norelco 7310 men's shaving system may be the perfect shaver for you. You'll be pleased at how well the internal rotary blades function independently of each other, and give you a clean smooth shave.
Philips Norelco 7310