Philips is known for their excellent line of rotary men's shavers. They have shavers at every price point, for consumers on a budget, and for those who want a premium shaver. For those undecided, the Philips Norelco 5700 is right in the middle. This shaver is black and silver. It has a gently curved body, to make it easier to hold in the hand. It's also cordless, rechargeable, and can be used wet or dry. It also comes with a SmartClean system.
The on/off button is on the top third of the body. There is a charging indicator, an LED screen, and a lock to prevent it from turning on while in transit. The LED display has a three level battery indicator.

One full charge of the Philips Norelco 5700 will give you forty-five minutes of cordless shaving time. It takes only one hour to fully charge it up. But if you forgot to do that yesterday, it only takes a quick five minute charge to give you enough power for one morning shave. But be sure to remember to get it ready for the next day by placing it into the SmartClean unit.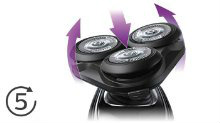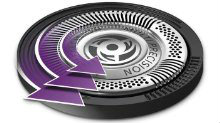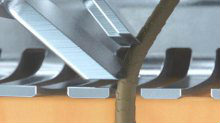 The head of this shaver has three separate rotary shavers to capture all hairs. Each of the rotaries rotates at a rapid pace, as the hairs are trapped within the tiny grooves and snipped off. Each of these is a five-directional flex head that will trim hair and cut hairs off quickly. The heads also move in five different directions, making shaving much faster.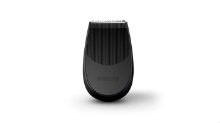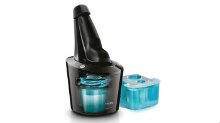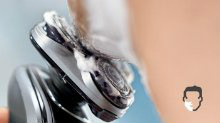 This shaver can be used wet or dry. The Philips shaver is built with Aquatec technology that protects the motor and innards from moisture and water. As a dry shaver, it will provide a close but comfortable shave even when a man is on the run. But when used wet, the blades will get below the surface of the skin, so a clean smooth shave will last for a few hours longer than if you simply shaved dry. And with the addition of water and soap, or shaving products such as gels, lotions, or creams, shaving will be that much easier. You'll feel confident that your shaver is safe, even if you use it under a running tap or take it into the shower or bathtub with you.
| | | | |
| --- | --- | --- | --- |
| | Philips Norelco 5700 | Braun Series 7-790cc | Braun Series 9 9095cc |
| Score | 3.5 | 4.6 | 4.4 |
| Battery | 45m | 50m | 50m |
| Display | | LED | LED |
| Blade Type | Rotary | Foil | Foil |
| Wet and Dry | | | |
| Trimmer | | | |
| Cleaning Unit | | | |
| | Read the full review | Read the full review | Read the full review |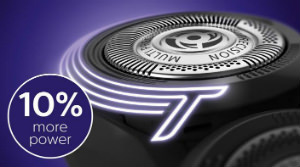 The motor of the Philips Norelco 5700 is turbo-powered to provide the power needed to shave quickly through the densest parts of a beard. It provides 10% more power than if you did not enable the Turbo mode at all. Now you'll be able to get through your morning shave a whole lot faster. This shaver is also suitable for men who have thick dense hair that they struggle to shave through with other brands of shavers. The shaver does not default to turbo mode when you turn it on, so you must activate it while you're doing your shaving.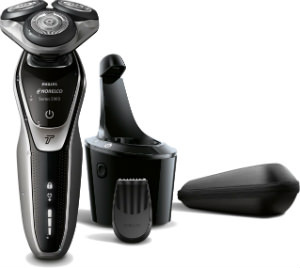 The blades built within this shaver are built in a multi-precision blade system. The blades will raise and then effectively cut long or short hairs, making shaving much faster. You'll get to do fewer strokes, which will also lessen the strain on your hands. Possibly, this shaver may be a good solution for men who have some arthritis or pain in the hands.
The SmartClean system will take the chore of maintenance away from you. Your shaver will be kept in optimum functioning order day after day. You simply place your shaver head down into the black SmartClean unit and press the button.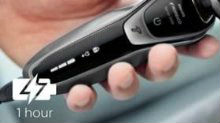 This one touch system will provide for easy cleaning. It will clean your shaver, lubricate it, and charge it up. It will now be ready for another full week of shaving. It's recommended that you do this at least once per week, but you can also rinse your shaver under the tap in between using your SmartClean system.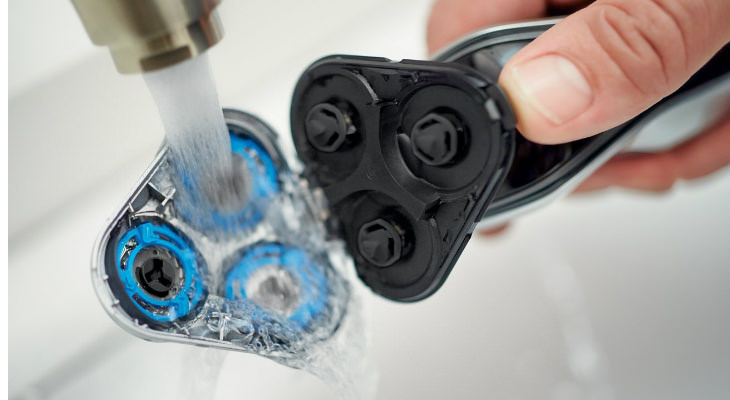 The SmartClean system takes a fluid to help clean your shaver. This fluid is alcohol-free, and uses a skin-friendly formula that will clean ten times better than simply using plain water.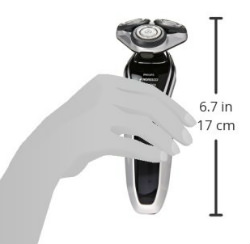 There is also a click-on hair trimmer. The rotary head can be removed, and the trimmer attached. This trimmer will do all the fine edging that the rotary head trimmer won't do. It will trim around beards, sideburns, and moustaches.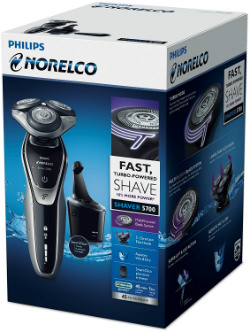 You can buy the Philips Norelco 5700 for around $140. This is a good deal considering that comparable SmartClean systems are quite expensive, particularly with other brands. It's great to know that Philips likes to keep its products affordable for men.
In the box you'll get one Philips Norelco 5700, a SmartClick precision trimmer, the SmartClean system, a power cord, and a travel case.
Philips Norelco 5700