Philips is a well-respected manufacturer of many household products, and the Philips Norelco 1160X/42 SensoTouch 2D won't disappoint either. The Philips Norelco line is available in a variety of different price points. If you want their patented Jet Clean system, the 1160X/42 is their affordable cordless shaver version.
The Philips Norelco SensoTouch comes in a dark blue and black finish with red highlights. It has three shaving heads, to shave the surface of the face faster. The unit is easy to grip, so you won't drop it at the most inopportune times. The shaver is slim, not bulky to hold in your hands.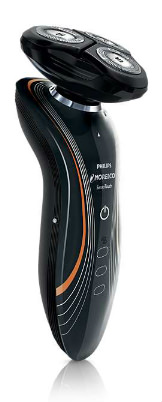 The Norelco shaves in two-dimensional contouring. The heads have a smooth flat surface with rounded edges, so you get a closer shave, without any tugging or pulling. The Philips 2D Gyroflex and Skinglide technology enables your shaver to get into hard to reach places. The shaving heads pivot around and tilt inward to more easily adjust to your facial curves. The shaver does its job with a minimum of irritation, and never tugs or pulls. The SkinGlide system has a flat surface with rounded edges to provide additional comfort. The blades work by lifting away from the face, then cutting. Many times electric shavers don't do a good job on the neck, but the SensoTouch also provides a good shave in this region.
You can use your Norelco shaver wet or dry. It still shaves perfectly, even when used dry, but you'll be able to feel the difference if you shave it with water and shaving foams, and gels. A dry shave will still be comfortable, without discomfort. You can also bring it into the shower with you, if you're in a rush to get ready in the morning. The Aquatec seal will protect the innards from getting wet.
The best electric shavers on the market today provide you the convenience of cordless shaving. You can simply charge up in advance, and go. One hour of charging up the shaver will give you 50 minutes of shaving time, or approximately enough shaves to last for a couple of weeks. There is a quick three minute charge if you forgot to charge up your shaver the night before. This will give you enough charge to do one complete shave. There is a two level battery charge indicator on the handle of the shaver. You'll know at a glance if the shaver charge is full, or whether you need to pop it into the charger ASAP. There are two ways to charge up: with the charger unit, or with the Jet Clean system.
Being able to charge up your shaver to last for a couple of weeks is also particularly handy if you're traveling, and don't want to bring the Jet Clean system with you. There are many travel friendly benefits to the Philips Norelco 1160X/42 SensoTouch 2D. There is a protective cap so your shaver's heads don't get dented. A travel lock will prevent your shaver from turning on while in transit. You can place your shaver in the travel pouch to protect it. The SensoTouch also has a worldwide voltage function, so you can use it in any country. It will automatically adjust from 100 volts to 240 volts for your international travels.
| | | | |
| --- | --- | --- | --- |
| | Philips Norelco 1160X/42 SensoTouch 2D | Braun Series 7-790cc | Braun Series 9 9095cc |
| Score | 4.1 | 4.6 | 4.4 |
| Battery | 50m | 50m | 50m |
| Display | LED | LED | LED |
| Blade Type | Rotary | Foil | Foil |
| Wet and Dry | | | |
| Trimmer | | | |
| Cleaning Unit | | | |
| | Read the full review | Read the full review | Read the full review |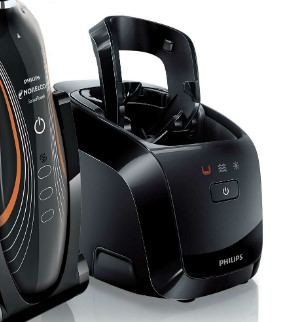 The Jet Clean system is a multi purpose system to expand the life of your electric shaver. One of the issues surrounding most electric shavers is that they jam up with tiny hairs over time. These can eventually cause the motor to drain out. Philips has designed the Jet Clean system to remove hairs from your electric shaver, and lubricate and dry it. Keeping your shaver in perfect working order will prevent the issue of the motor dying out, so your shaver is sure to last for years to come. The Jet Clean system will clean, lubricate, and charge your shaver, without having to do multiple steps by yourself. Simply place your shaver in the Jet Clean unit and press the button to get started. It starts by washing your shaver, then runs lubricant through it, and then dries it. The final step is to get it charged up. Nothing is simpler, as you barely had to do anything! Of course you can just charge up your shaver with just the charging unit.
If you prefer the Philips brand but don't want to spend hundreds on their top of the line model, the Philips Norelco 1160X/42 SensoTouch 2D can be an affordable choice.
The packaging includes: One Philips SensoTouch 1160X/42 electric razor, a charging stand, a combination Jet Cleaner and charging unit, a convenient travel pouch, a protective lid for the heads, one bottle of Jet Clean solution, the power cord, and a cleaning brush.
You don't have to be dismayed at higher end models of the Philip Norelco line, as the 1160X/42 packs nearly as many features into this model as well. Chances are that you wouldn't be using all the features on the more expensive model anyway. You may find that this model is a bit noisier than the other Norelcos, so expect to pay more for a quieter model. The Philips Norelco 1160X/42 will provide a great shave, leaving you looking your best for meetings, dates, and more.
Philips Norelco 1160X/42 SensoTouch 2D with Jet Clean System