Some men are on a tight budget but would still prefer a cordless electric shaver over a classic men's razor blade. The Panasonic ES-RW30-S is a dual blade electric men's razor that can also be used cordless. But don't worry, it doesn't run on disposable batteries, this shaver is fully rechargeable. It has everything that a man is asking for in a shaver, but at a low price. There is a powerful motor built into the Panasonic ES-RW30-S.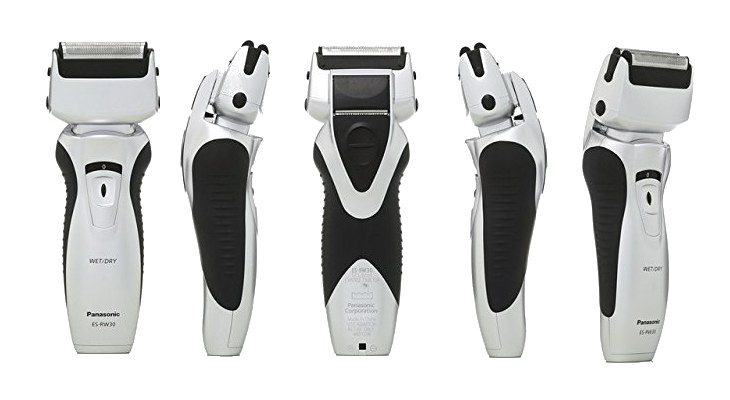 This shaver has a matte silver plastic body with a curved anti-slip black grip on both sides. The head of the shaver is foil style, with two lines of blades, and a lighter grey base. The on/off button is about halfway down the shaver's body.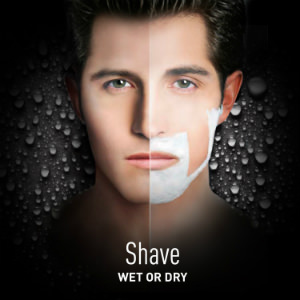 This shaver has an ergonomic profile, making it much easier for men to hold in the hand, even if they have some pain or other issues that morning. This shaver provides for a total trimming and shaving comfort experience.
| | | | |
| --- | --- | --- | --- |
| | Panasonic ES-RW30-S Dual-Blade Electric Razor | Braun Series 7-790cc | Braun Series 9 9095cc |
| Score | 4.1 | 4.6 | 4.4 |
| Battery | 45m | 50m | 50m |
| Display | | LED | LED |
| Blade Type | Foil | Foil | Foil |
| Wet and Dry | | | |
| Trimmer | | | |
| Cleaning Unit | | | |
| | Read the full review | Read the full review | Read the full review |
This shaver can be used wet or dry. It's 100% waterproof. The Panasonic ES-RW30-S is also fully immersible, in case you accidentally drop it in the bathtub. You can shave dry for a great shave, or add water, or shaving products such as shaving gels, lotions, creams, foams, or just soap, all of which will make the shaver glide over your skin, and get closer to the roots of the hairs, effectively snipping them off.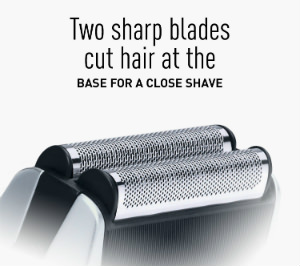 The foil-style head has two large dual blade sections that are covered with shiny silver foils. Each has hundreds of tiny little holes where the hairs will be captured and cleanly snipped off. The foil is super thin. They cut hair off at the base for the closest shave possible. Each of these blade sections are precision honed. The foils are also floating, making it a more comfortable shaving experience.
The foils built within this shaver are made from stainless steel which has been proven to be the best metal for shaving. Since it contains no nickel, allergic reactions will be a thing of the past.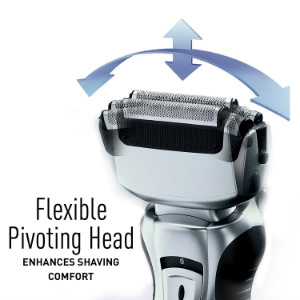 The head of the shaver is flexible from the rest of the body, and it actually can pivot back and forth, and up and down. This enhances its shaving comfort. It also provides for wider coverage of your face, so shaving time is lessened. The quick pivoting head will be able to glide effortlessly around the face, jawline, chin, and even the neck.
There is even a pop-up detailing trimmer located at the back of the shaver, which is often only available on the pricier models of shavers. This detailer will enable for quick detailing and trimming of sideburns, moustache, and beard styling. It's easy to engage the pop-up trimmer for use. Simply push it up to do your detailed shaving, then press back down into place to put it out of the way.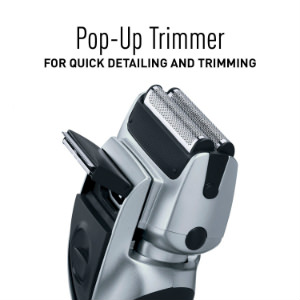 It's simple to maintain your Panasonic ES-RW30-S. All you have to do is rinse it under a tap to remove the fine hairs and any shaving products. Shake out the water and pat dry. This routine will keep your Panasonic ES-RW30-S shaver in optimum working condition for many years.
If you are curious about the difference between this shaver and one in the Norelco line, besides price, there are some notable differences. The Panasonic ES-RW30-S is better for men who shave every day, rather than attempting to shave off three day old growth or longer. Plus, there are no accessories included.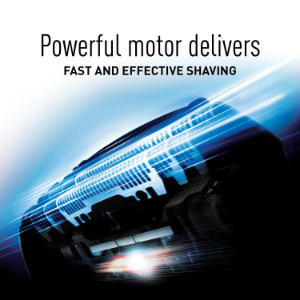 The reviews are favourable for the Panasonic ES-RW30-S, with 3.7 stars out of 5 stars, and over 417 reviews.
The Panasonic ES-RW30-S costs around $30, so most men will be able to afford it. In the box you'll get one Panasonic ES-RW30-S men's shaver and a charging cord. The package measures 2.2" x 1.7" x 6.1 inches, and weighs 5.6 ounces.
If you want a great men's rechargeable shaver that can be used wet or dry, but can't afford to spend $100 on Panasonic's premium line, the Panasonic ES-RW30-S dual blade electric men's shaver may be exactly what you're searching for.
Cordless Panasonic ES-RW30-S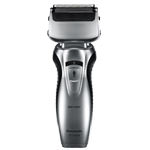 Pros
Wet or Dry Operation
Flexible Pivoting Head
100% washable
Powerful Motor
Cordless