It can be difficult for men to find a stylish but affordable men's 3-blade cordless shaver, but Panasonic has been a trusted brand for decades. The Panasonic ES-RT47-S Arc3 Electric Razor is not only cordless, it can also be operated wet or dry. It includes many great features which are often only included in the more expensive Panasonic models of over $200+.
Best Essential Features in Men's 3-Blade Cordless Trimmer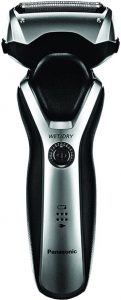 Cordless shaving has become the norm for men nowadays. Now there is no need to find an outlet when travelling or camping. This shaver also has 3 stainless steel blades to ensure that the face is soft and smooth after a shave. Men also have the option to use the shaver wet or dry, to their own personal preferences.
The ES-RT-47S is manufactured in a silver and black colour to make it look stylish, even when sitting on the bathroom countertop.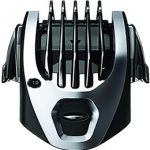 This Panasonic shaver also includes one comb trimming attachment for simple trimming of beard, moustache, sideburns, and facial hair. This comb attachment easily snaps onto the top of the head and has five different settings so you can choose your desired facial hair length. You simply slide it up or down to your preference.
Total weight for the kit is 1.1 pounds, making it light to hold in your hand, and also light for travel.

Precision Cutting Blades
The 3 blades built into this shaver have been precision-honed to ensure that the shave gets close to the skin, but is also safe and cut-free. The stainless steel blades are ultra-thin and installed at 30°. When the shaver is on, the blades move quickly to provide a quick shave.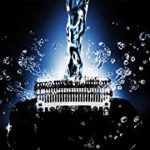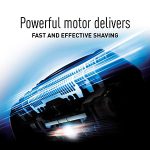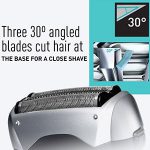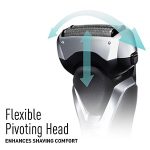 The blades will glide easily over your facial contours, including face, chin, and neck, for a great shave. The head also pivots, which makes shaving effortless. Men will spend a large part of their lives shaving, that's why Panasonic has created a shaver that will provide comfort while shaving. Many men have metal sensitivities, that's why Panasonic has made this shaver with stainless steel blades that are nickel-free.
All shavers wear out after a few years, but you can purchase replacement blades and foil to make your shaver like new again, without having to purchase an entirely new one.
High-Powered Motor for Wet or Dry Shaving
The Panasonic ES-RT47-S Arc3 Electric Razor runs on a powerful 10,000 rpm motor. This motor has been built within a waterproof casing so that the shaver can be used with water, or in the shower or bath. Shaving products such as gel, foam, or soap will help to get a closer shave.
The Panasonic ES-RT47-S Arc3 Electric Shaver is simple and easy to clean. It's also rechargeable and only takes an hour to charge up.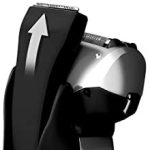 Not only will this shaver make the perfect gift for the man who is complaining his old shaver doesn't work properly anymore, but it will also look stylish sitting on the bathroom countertop.
Panasonic ES-RT47-S Electric Razor