Some men don't like the traditional men's cordless shavers. They'd prefer a brand that is used in the professional barbershops but allows them to shave in the comfort of their own home. The BaBylissPRO FXFS2 FOILFX02 Cordless Metal Double Foil Shaver provides that great barber shop shave, but at home.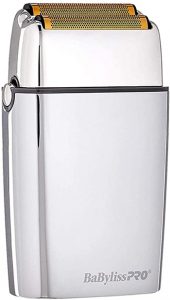 You may not be familiar with the brand name of BaByliss. They are currently the world's top producer of professional and innovative styling tools for men and women. Many businesses choose this brand for their barbershops and salons. This brand has designed their shaving tools to last a long time, rather than your average shaver that may last three years. They promise that their shavers possess the power and performance even with its luxury looks.
Unique Silver & Gold Styling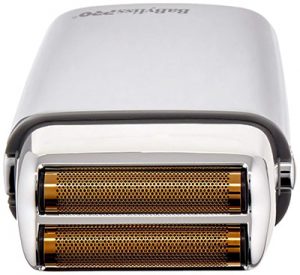 The first thing you'll notice about the BaBylissPRO FXFS2 Shaver is its looks. It has a shiny silver chrome finish with two rotating gold heads. Men will feel proud keeping this on their bathroom counter. And what's so cool about this shaver is that it's a fraction of the cost of expensive pro-barbershop shaving equipment. But this shaver is more than its looks, it also performs well.
It's rechargeable and cordless, and meant for dry shaving. This shaver is also full-size so it will work well for all men.
The metals this shaver are constructed from are hypoallergenic, so there will be no abnormal skin itching after usage.
Powerful BaBaylissPro Motor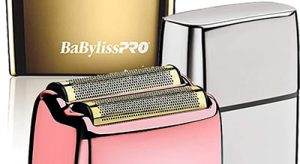 The BaBylissPRO FXFS2 FOILFX02 Cordless Shaver runs on a powerful rotary motor. This shaver is meant for only dry shaving and suitable for men who need to quickly get ready in the morning. It will provide a safer way to have a clean and extra-close shave for the face, neck, and around the hairline.
Each battery charge will provide three hours of run time. This shaver will snip off hairs down to 1/32".
Extra BaBaylissPro Features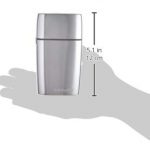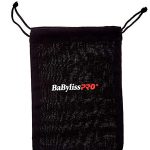 This shaver comes with a storage pouch to keep your shaver dust-free and moisture-free when not in use. Using this pouch will extend the life of your shaver. This shaver also has a protective silver cap to protect the gold shaving heads when not in use.
Your shaver also has an auto shutoff feature. This means if you get distracted and put your shaver down, that it will shut off after a couple of minutes. This helps to retain its battery charge.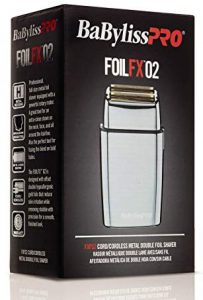 If you're travelling around the world, the shaver does have dual voltage, but you may need to buy an adapter if you think three hours of runtime isn't going to be enough.
Using the BaBylissPRO FXFS2 FOILFX02 Cordless Metal Double Foil Shaver is simple. The manufacturer recommends that you hold the shaver at a right angle to your face and have against the hair growth for the best results. You can hold your skin tight with your other hand. Never push down too hard. It's also recommended you give yourself a few weeks to get used to this shiny but effective BaBylissPRO FXFS2 shaver.