Panasonic makes a line of men's foil-style shavers that promise a smooth close shave. One of the men's shavers with a unique function is the Panasonic ES-LA63-S Arc4 Men's Electric Razor. This men's shaver has a special pivot and flex head that moves with a man's facial contours to give a better shave. The shaver is made in a light grey body with darker sides. The head is installed at a slight angle to the handle of the shaver and is separated, except for a narrow neck that holds it together. This shaver has been designed with a sleek, ergonomic design, so it's easier to hold in the hands.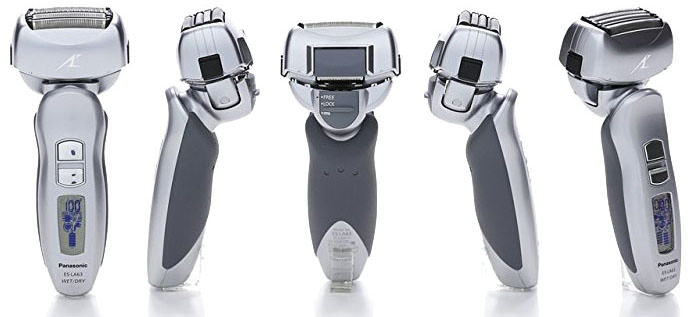 The on/off button is on the middle of the handle, with a blue-on-black light up LCD screen display below. This screen tells the current battery charge. There is a ten stage readout which makes it simple to check the battery status. There is also a charging indicator and a warning for when to clean the shaver. It will also announce when it's time to change the blades. There is a safety lock so when the shaver is packed in luggage it will never accidentally turn on and lose all of its charge.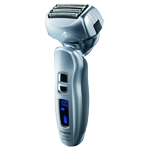 The Panasonic ES-LA63-S is rechargeable and cordless, making it suitable for shaving with water in sink or shower. Shaving gels, creams, foams, soaps, and gels can also be added to make the shaving experience better. The shaver also shaves well dry and is handy for doing a quick touch-up shave at any time.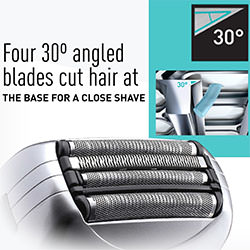 It's simple to clean the Panasonic ES-LA63-S Arc4 Men's Electric Razor. When it's ready to be cleaned there is a sonic vibration mode to choose on the control button. This vibrates to get the water, hairs, and shaving products out of the head. Men can also rinse the shaver quickly under the tap too.
There are actually four rows of blades built into the head of the Panasonic ES-LA63-S. Each of them is angled at thirty degrees. Each blade has been precision honed for durability and sharpness.
This is the optimum angle for a close shave.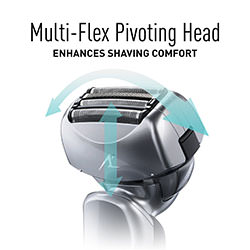 The blades are installed within a multi-flex pivoting head. This head is designed to enhance shaving comfort. This head will be able to glide smoothly around every contour of a man's face, from cheekbones to jawline, and neckline. The multi-arc foil will gently conform to facial curves.
There's a powerful high-speed motor built within the Panasonic shaver. It's also a dual-motor hyper performance shaving system. It delivers constant and smooth blade cutting, making shaving much faster and more effective.
| | | | |
| --- | --- | --- | --- |
| | Panasonic ES-LA63-S Arc4 Men's Electric Razor | Braun Series 7-790cc | Braun Series 9 9095cc |
| Score | 4.4 | 4.6 | 4.4 |
| Battery | 45m | 50m | 50m |
| Display | | LED | LED |
| Blade Type | Foil | Foil | Foil |
| Wet and Dry | | | |
| Trimmer | | | |
| Cleaning Unit | | | |
| | Read the full review | Read the full review | Read the full review |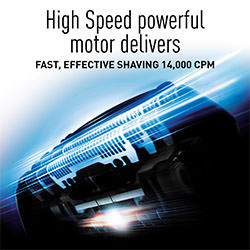 The motor is built with a linear drive that delivers 14,000 CPM, or 14,000 cuts per minute.
Every shave will be close and comfortable.
The motor also moves the flex head from side to side and back and forth. This enables the cutters to lift and position hairs for trimming. It removes hair evenly, no matter if men have thick or coarse hair, or dry or oily skin.
Many men who are bald may also find the Panasonic ES-LA63-S Arc4 is an effective shaver for maintaining an overall bald-headed style.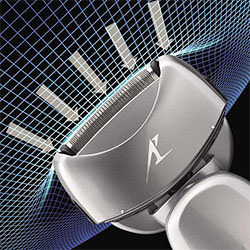 With the four rows of blades, for every minute of shaving, there are 56,000 cross-cutting actions per minute on the face. The second motor in the shaver vibrates the Arc 4 shaving head, causing it to move up and down. This has the function to lift and hold hair for shaving, so that a man's face is clean and smooth afterwards. Men will have an efficient and comfortable shave when they use this shaver.
The blades of this shaver are also made with hypo-allergenic steel.
Men who have nickel allergies will find they get a safe irritant-free shave with the Panasonic ES-LA63 Arc4 Men's Electric Razor as it does not contain any nickel.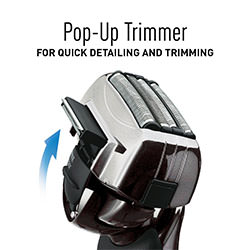 No electric shaver is complete without a pop-up trimmer, and the Arc4 definitely has one. This is a narrow trimmer that pops up from the back of the shaver. It can be used for quick detailing and trimming. The pop-up trimmer will detail a man's sideburns, moustache, or around a beard.
The Panasonic ES-LA63-S Arc4 Men's Electric Razor costs around $100, which is a good price point for most men. This shaver doesn't have the cleaning and charging station that some other shavers have, and it can add a considerable cost to the shaver anyway.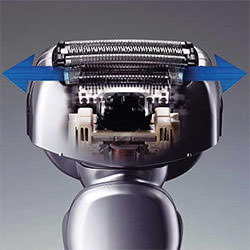 In the package is a black zippered case for travel, the Panasonic ES-LA63-S Arc4, and a clear protective cap.
It's recommended that the blades be replaced after they get dull, or once every year or two. There are also other replacement parts so the shaver can be kept in optimum running order: Arc4 Foil (WES9165PC), Arc4 Blade (WES9068PC) and Arc4 Combo Set (WES9025PC).
The Panasonic ES-LA63-S Arc4 Men's Electric Razor is actually an award-winning product that men can purchase with confidence. It's also in Panasonic's premium tier of men's shavers, but isn't so expensive that it'll put it out of reach of too many men. Men who appreciate the finer things in life, but don't have endless sources of cash, will appreciate how well the Panasonic ES-LA63-S Arc4 shaves their face.