Braun is one of the original manufacturers of the men's electric shaver. They continue to make innovative personal and home care products, at a fair price. The Braun Waterflex shaver can be used wet or dry. It's available in a blue and grey matte finish plastic casing, and has an LED readout on the surface of the unit. According to the leading market research institute, from May 2013 to April 2014, Braun was the world's number one foil shaver brand. There are no numbers in yet for this year, but we're sure they're still up there. This shaver is the NFL's number one locker room choice, "The Official Electric Shaver of the NFL". Braun always promises to make a difference with its electric shavers.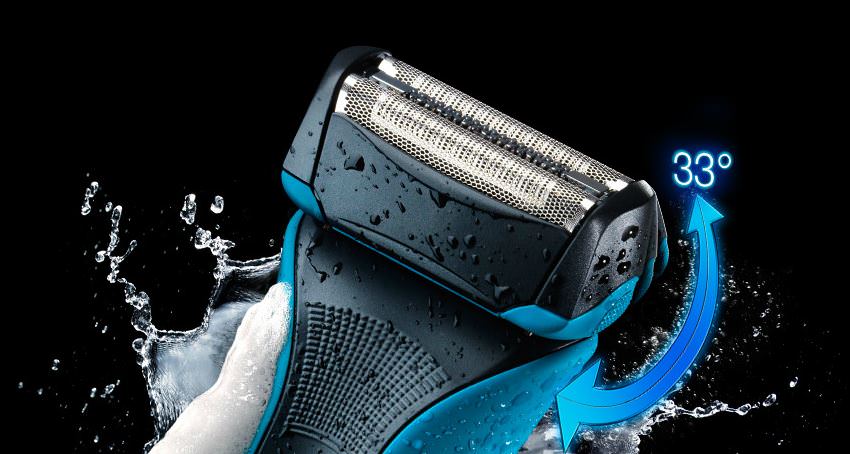 The Braun Waterflex is designed with a foil head, rather than a rotary head. Foil heads promise to deliver a smoother shave, free of irritation. They shave with efficient sideways movements, or up and down movements.
The Braun Waterflex promises a super close shave. It works well dry, or wet in the sink or shower. Shaving foams, gels, soaps, and lotions can be used with it. You have the flexibility to shave however you want, and on the go. You can still use it for dry shaving as well. It can easily be tucked into the briefcase for a touch up before a really important meeting.
The Braun brand promises quality, and continues to manufacture it's products in Germany, so they can bear the "Made in Germany" label. The Braun brand is a well-known label, and many men will only buy a Braun shaver for their personal care needs.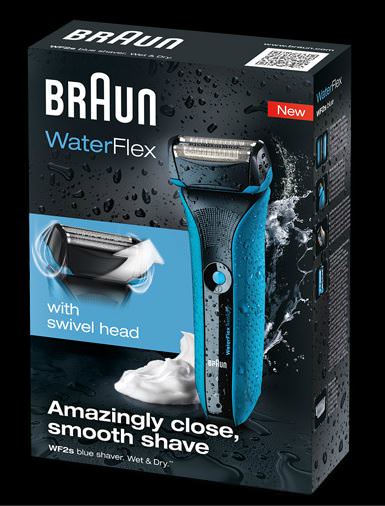 The Braun Waterflex head is fully encased, and is 100% waterproof, so you won't wreck it, even if you drop it in the tub. It's fully sealed body has been IPX7 tested, and will work in up to one meter of immersion. To clean it all you have to do is rinse it under the tap, shake it out, and let it air dry.
The Braun WaterFlex will provide a comfortable shave, without tugging, redness, or other discomfort. Braun has used its best ergonomic design in the making of this cordless shaver. It has a non-slip grip, so that you won't be dropping it in the shower, even if you have soap or lotion on your hands.
One unique feature of the Waterflex is that the head swivels 33 degrees, so it can make its way around the jaw, chin, and neck. The contour adaptive shaving head can get around those sharp corners and into nooks and crannies. Inside the foil head is the ActiveLift middle trimmer, which captures flat lying hair in problem areas. All hairs will be shaved off, making shaving quicker and faster, and less need to do another pass over the skin.
| | | | |
| --- | --- | --- | --- |
| | Braun Waterflex Blue | Braun Series 7-790cc | Braun Series 9 9095cc |
| Score | 4.4 | 4.6 | 4.4 |
| Battery | 45m | 50m | 50m |
| Display | LED | LED | LED |
| Blade Type | Foil | Foil | Foil |
| Wet and Dry | | | |
| Trimmer | | | |
| Cleaning Unit | | | |
| | Read the full review | Read the full review | Read the full review |
This shaver is perfect for men who have thick, wiry hair. Not a lot of extra work is needed to shave off stubborn thick stubble.
Braun has been making electric shavers for over 50 years now. They've spent years developing the OptiBlade advanced foil system for their cordless shavers. OptiBlade has a unique shape that captures more hair than other shavers, and cuts them closer to the skin line.
Inside of every Braun shaver is a 3-stage cutting system for the best shaving experience. Inside are three special cutting elements that can tackle the longest hairs, to the shortest stubble.
There is a slide-up precision long hair trimmer. You can use it to trim beard, or mustache and sideburns. To use, the trimmer simply slides up. When done, you slide it back down again.
This electric shaver has a two stage LED display, so you can see at what point you need to charge it back up again.
The Braun Waterflex can be recharged, and has a 3.6 volt lithium ion battery inside. It has a no-memory effect, meaning that it won't slowly lose usable capacity, like other rechargeable products such as laptops or cell phones, even with repeated recharging.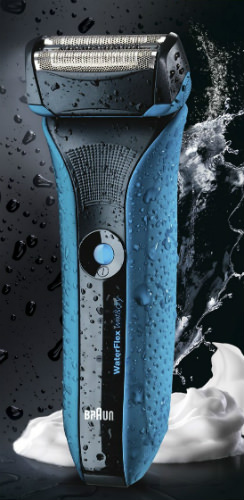 The Braun Waterflex charges up quickly in just one hour. It will last for forty-minutes of cordless shaving time. If you have forgotten to charge it up the morning before, you can plug it in for a quick five minute charge. This is enough to give you one shave that morning. Don't forget to plug it in to fully charge it up for the remaining week though.
While you can shave to your preferences, Braun normally recommends that you shave before hopping in the shower. But with the Waterflex, that is no longer an issue, you can shave in or out, with foam, or gel.
For the best shave possible, it's recommended that you stretch the skin, and shave against the direction of beard growth. Hold the shaver at a right angle of 90 degrees. Keep the pressure even against the skin.
To charge up your Braun WaterFlex, it comes with a Smart Plug. It has either a 110 Volt or 240 Volt adjustment. You can take it traveling with you anywhere.
This Braun electric shaver is a good choice. Inside the box you'll receive one Braun electric shaver, a SmartPlug charger, a cleaning brush, and a cap. The shaver measures 6.1 x 2.2 x 8.7 inches. It weighs 15.8 ounces. It's powered by one lithium ion rechargeable battery.
For optimum shaving, it's recommended that the Braun shaver head be replaced every eighteen months. Replacement head parts are available for additional purchase. There is an indicator light on the LED display to tell you when you need to exchange this part. This will keep your cordless shaver running at 100% optimum performance.
The Braun Waterflex wet and dry shaver, in blue and grey color, is an effective and affordable way to get a clean close shave in the morning. It's flexible head easily gets through the contours of your face. It's a great way to shave wet or dry, any time of day.
Braun Waterflex Blue